OAISYS Receives Customer Interaction Solutions Magazine's 2011 Product of the Year Award
Tracer Honored for Exceptional Innovation
(January 26, 2012)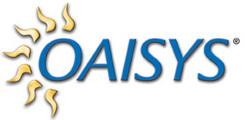 TEMPE, AZ -- (Marketwire) -- 01/26/12 -- OAISYS®, a leader in business call recording and contact center management solutions, today announced that TMC, a global, integrated media company, has named OAISYS' Tracer call recording software solution as a Customer Interaction Solutions® 2011 Product of the Year Award winner. Customer Interaction Solutions magazine is the leading publication covering CRM, call centers and teleservices since 1982.
Tracer's underlying technology, the Talkument® personal voice documentation and collaboration software, utilizes OAISYS Portable Voice Document (PVD™) technology to create digital media documents from business telephone calls, making them available to organize, retrieve, play back, annotate and share as needed. Tracer provides company-wide control over risk management, quality assurance, customer retention, dispute resolution and other critical business concerns.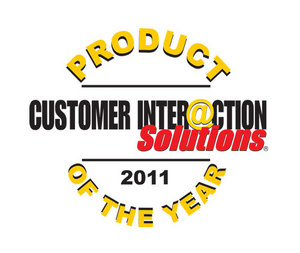 Tracer is the industry's leading call recording solution for contact centers. It leverages OAISYS PVD technology paired with advanced contact center management features, including customizable employee performance evaluations, real-time coaching, live and automatic call monitoring, quality and resource utilization reporting and synchronized desktop video recording and monitoring capabilities.
"Over the past year, we continued our rapid pace of innovation in our solutions," said OAISYS president Brian Spencer. "In addition to adding an extensive set of new features and functionalities for users in a variety of markets, we began an initial foray into providing OAISYS' capabilities in hosted and hybrid environments to ensure users can take advantage of the benefits OAISYS solutions provide regardless of their telephony environment. We are honored Customer Interaction Solutions has once again seen fit to acknowledge our commitment to service and innovation with a Product of the Year Award."
"OAISYS was selected to receive a 2011 Product of the Year Award for its achievement in advancing CRM, contact center and call center technologies. Tracer has demonstrated excellence as well as provided ROI for the companies that use it," said Rich Tehrani, CEO, TMC. "Customer Interaction Solutions magazine has been recognizing innovative companies for 14 years, and OAISYS has earned its place with this distinguished honor."
The 14th Annual Product of the Year Award winners are published in the January/February 2012 issue of Customer Interaction Solutions magazine, www.cismag.com.
For more information about the Customer Interaction Solutions 2011 Product of the Year Awards or any of the TMC media properties, please visit www.tmcnet.com.
About OAISYS:
OAISYS® (www.oaisys.com) is a leading developer of call recording and contact center management solutions for a wide range of organizations, from small- to medium-sized businesses to multi-site large enterprises. The OAISYS voice documentation and interaction management solutions help companies within a variety of industries -- including healthcare, automotive dealerships, financial services, and the public sector -- attract and retain customers by digitally capturing phone-based interactions for simple retrieval, playback and management. Compatible with leading business communications system providers, including Avaya, Mitel, ShoreTel and Toshiba, as well as SIP-based communications services, OAISYS Tracer and Talkument applications help companies improve risk management, quality assurance, customer retention, dispute resolution, regulatory compliance requirements and other critical business concerns. OAISYS is headquartered in Tempe, Ariz. OAISYS Limited is located in Cambridge, England.
About Customer Interaction Solutions
Since 1982, Customer Interaction Solutions (CIS) magazine has been the voice of the call/contact center, CRM and teleservices industries. CIS magazine has helped the industry germinate, grow, mature and prosper, and has served as the leading publication in helping these industries that have had such a positive impact on the world economy to continue to thrive. Through a combination of outstanding and cutting-edge original editorial, industry voices, in-depth lab reviews and the recognition of the innovative leaders in management and technology through our highly valued awards, Customer Interaction Solutions strives to continue to be the publication that holds the quality bar high for the industry. Please visit www.cismag.com for more information.
About TMC
TMC is a global, integrated media company that helps clients build communities in print, in person, and online. TMC publishes the Customer Interaction Solutions, INTERNET TELEPHONY, Next Gen Mobility and Cloud Computing (formerly InfoTECH Spotlight) magazines. TMCnet.com, which is read by two million unique visitors each month, is the leading source of news and articles for the communications and technology industries.TMC is the producer of ITEXPO, the world's leading B2B communications event. In addition, TMC runs multiple industry events: 4G Wireless Evolution; M2M Evolution; Cloud Communications Expo; SIP Tutorial 2.0:Bringing SIP to the Web; Business Video Expo; Regulatory 2.0 Workshop; DevCon5; HTML5 Summit; CVx; AstriCon; StartupCamp; MSPAlliance MSPWorld and more. Visit TMC Events for a complete listing and further information. For more information about TMC, visit www.tmcnet.com.
Image Available: http://www2.marketwire.com/mw/frame_mw?attachid=1866562

Add to Digg Bookmark with del.icio.us Add to Newsvine
OAISYS PR Contacts:
Teri Sawyer
T&Co.
714-536-8407
Email Contact

Roland Murphy
OAISYS
888-496-9040, ext. 1020
Email Contact

TMC Contact:
Jan Pierret
Marketing Manager
203-852-6800, ext. 228
Email Contact


Copyright @ Marketwire
Page: 1
Related Keywords:
OAISYS, Call Recording, Interaction Managment, Mitel, Avaya, Toshiba, ShoreTel, SIP, Voice Document, Applications,Sales & Marketing,Business Issues,Management,CEO/CFO,England,Marketwire, ,Financial,Business,england,Other,
---