OAISYS' New Version 7.2 of Tracer and Talkument Call Recording Solutions Features Expanded Voice Documentation Compliance
New Release Offers the Industry's Most Comprehensive Solution for Voice Documentation Compliance, Now With Archiving Appliance
(April 03, 2012)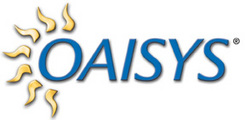 TEMPE, AZ -- (Marketwire) -- 04/03/12 -- OAISYS®, a leader in business call recording and contact center management solutions, today announced the release to general availability of version 7.2 of its industry-leading Talkument® and Tracer call recording software solutions, now featuring expanded voice documentation compliance capabilities and a new Archiving Appliance offering.
Version 7.2 of the OAISYS solutions marks the company's most encompassing release to date in terms of ensuring customers' empowerment in meeting all their unique business and regulatory compliance obligations when it comes to voice documentation and archiving their call recordings.
"Our customers tell us regulatory compliance is a top-of-mind issue, one for which we have been targeting solutions for many years," said Brian Spencer, president of OAISYS. "With Tracer and Talkument version 7.2, I am proud to say we have achieved a unique and comprehensive compliance solution for customers in any industry."
Organizations in nearly every industry that conduct all or part of their business by telephone must comply with a complex web of regulatory guidelines from governments, industry groups or both. With version 7.2, they now have a complete array of tools and features to tailor targeted methods of meeting their specific compliance needs, regardless of their industry or unique situations.
Tracer and Talkument version 7.2 offers several additional features and functionalities to provide users a complete compliance solution to fit their call recording and archival needs in any situation. Chief among these is the addition of a new Archival Database.
Many compliance regulations require organizations to store data for years before deleting, in the event a complaint or dispute may arise. With version 7.2, OAISYS' storage functionalities enable automatic, targeted relocation from a primary database to an archival database that still enables instant search to access the same interface used to manage online recordings. The system administrator can create custom archiving rules based on call data. When combined with Variable Lifecycle Management functionality, any call in the archival database, along with its associated data and supplemental information such as annotations and screen recordings, can be instantly retrieved. If additional supplemental information is added after retrieval, the file is automatically updated.
Version 7.2 enables users to further restrict and control information in individual call recordings on an as-needed basis to ensure instance-by-instance compliance with regulations and guidelines. These media management enhancements include:
Call Slicing: This feature allows users to separate a single recording into multiple recordings. For example, in a public safety dispatch center, two portions of a radio call captured as a single, extended-length recording may deal with two distinct incidents. The single call recording can now be sliced into two separate calls, which enables clearer incident reconstruction and analysis.
Call Merging: This enhancement allows users to merge the segments of two or more recordings into a single recording for ease of organization and improved incident reconstruction. For example, three separate calls all pertaining to a single incident can be merged into one recording, enabling a more holistic analysis of a chain of events.
Call Redacting: Sometimes called "Blurring" or "Scrubbing," this feature provides users the ability to highlight a section of the recording and play silence over the audio. For example, if a public safety agency shares a 9-1-1 call with local media outlets, the administrator can now play silence over sensitive information, such as the caller's name or address.
Call Segment Exporting: Now users can highlight a specific segment of a call and export only that portion as a WAV or other industry standard file format if desired. For example, if a long 9-1-1 call contains pauses of significant duration, the administrator can choose to highlight the sections where conversation is taking place and export only those segments. A beep tone is played to indicate that one segment has concluded and the next is about to start.
Concurrent with the general release of the version 7.2 software, OAISYS is announcing the availability of an Archiving Appliance designed to easily and efficiently archive up to one million call records for reliable, secure and instant access. Used in combination with any of the Talkument and Tracer deployment packages, this offering makes long-term compliance and voice document retention simple and affordable.
"With Tracer and Talkument version 7.2 and our Archiving Appliance, our solutions provide customizable, richly detailed tools that are simple to use and manage and will enable any organization to manage its compliance obligations with comfort and security, regardless of its specific regulatory and process requirements," Spencer said.
The new voice documentation and archival capabilities introduced in version 7.2 of the OAISYS Tracer and Talkument solutions build upon the multiple features and functions already available to benefit organizations' compliance needs. Among these are:
Portable Voice Document (PVD™) Recording Technology: A highly secure, proprietary format requiring OAISYS software for recording access, PVD allows conversation files to be recorded, stored and organized and then preserved along with any associated screen activity in a central repository. Access to PVD files occurs via encrypted streaming, and sharing is achieved through link distribution rather than file transfer.
Restricted Information Access: User access to calls is granted or restricted by a combination of call data and filters. Agents can be assigned access based on information such as ACD groups, extension, account code and other criteria and can only access those calls for which they have specific permission. Further restrictions, such as the ability to share calls, can also be assigned.
Digital Watermarking: The ability to verify and prove that call files have not been altered in any way is paramount if the files are to be used as evidence in court cases or regulatory and compliance disputes. OAISYS solutions embed a unique, proprietary digital signature in each voice document to demonstrate the integrity and veracity of the call.
Variable Data Lifecycle Management: OAISYS solutions permit organizations to custom tailor how calls are stored, staged and purged based on a variety of criteria, such as account code, extension, caller ID and other forms of user data. This permits call files to be automatically stored or purged based on their unique individual criteria rather than requiring tedious and inefficient manual review.
About Talkument:
Talkument personal voice documentation and collaboration software utilizes patent-pending OAISYS PVD technology to create digital media documents from business telephone calls, making them available to organize, retrieve, play back, annotate and share as needed. It provides company-wide control over risk management, quality assurance, customer retention, dispute resolution and other critical business concerns.
About Tracer:
Tracer is the industry's leading call recording solution for contact centers. Tracer also leverages OAISYS PVD technology paired with advanced contact center management features, including customizable employee performance evaluations, live and auto call monitoring, quality and resource utilization reporting and synchronized desktop video recording capabilities.
About OAISYS:
OAISYS® (www.oaisys.com) is a leading developer of call recording and contact center management solutions for a wide range of organizations, from small- to medium-sized businesses to multi-site large enterprises. The OAISYS voice documentation and interaction management solutions help companies within a variety of industries -- including healthcare, automotive dealerships, financial services, and the public sector -- attract and retain customers by digitally capturing phone-based interactions for simple retrieval, playback and management. Compatible with leading business communications system providers, including Avaya, Mitel, ShoreTel and Toshiba, as well as SIP-based communications services, OAISYS Tracer and Talkument applications help companies improve risk management, quality assurance, customer retention, dispute resolution, regulatory compliance requirements and other critical business concerns. OAISYS is headquartered in Tempe, Ariz. OAISYS Limited is located in Cambridge, England.
Add to Digg Bookmark with del.icio.us Add to Newsvine
OAISYS PR Contacts:
Teri Sawyer
T&Co.
714-536-8407
Email Contact

Roland Murphy
OAISYS
888-496-9040, ext. 1020
Email Contact


Copyright @ Marketwire
Page: 1
Related Keywords:
OAISYS, Call Recording, Business Compliance, Regulatory Compliance, Voice Documentation, Broadcast,Management,Streaming,Digital,Business,Business Communications,Internet Media,England,Marketwire, ,Financial,Internet Technology,Business,england,Other,
---