OAISYS Launches Early Adopter Tracer and Talkument Call Recording Solutions Version 7.2 With Enhanced Call Management and Playback Features
New Features Expand Incident Reconstruction and Confidential Data Handling Capabilities
(December 14, 2011)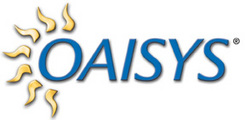 TEMPE, AZ -- (Marketwire) -- 12/14/11 -- OAISYS®, a leader in business call recording and contact center management solutions, today announced the early adopter release of version 7.2 of its industry-leading Talkument® and Tracer call recording software solutions.
Version 7.2 adds several new features of particular interest to the public safety and state and local government markets in addition to general business users. These advancements provide more effective incident reconstruction capabilities and serve to better address privacy and confidentiality concerns. New features introduced include:
Call Slicing: This feature allows users to separate a single call recording into multiple recordings. For example, in a public safety dispatch center, two portions of a radio call captured as a single, extended length recording may deal with two distinct incidents. The single call recording can now be sliced into two separate calls, which enables clearer incident reconstruction and analysis.


Call Merging: This enhancement allows users to merge the segments of two or more recordings into a single recording for ease of organization and improved incident reconstruction. For example, three separate calls all pertaining to a single incident can be merged into one recording, enabling a more holistic analysis of a chain of events.


Call Redacting: Sometimes called "Blurring" or "Scrubbing," this feature provides users the ability to highlight a section of the recording and play silence over the audio. For example, if a public safety agency shares a 9-1-1 call with local media outlets, the administrator can now play silence over sensitive information, such as the caller's name or address.


Call Segment Exporting: Now users can highlight a specific segment of a call and export only that portion as a WAV or other industry standard file format if desired. For example, if a long 9-1-1 call contains pauses of significant duration, the administrator can choose to highlight the sections where conversation is taking place and export only those segments. A beep tone is played to indicate one segment has concluded and the next is about to start.


Additional new features and benefits include:
Automated Call Distribution Enhancement: This configuration option attaches ACD Agent IDs on calls not associated with an ACD group and applies to both outbound and inbound calls that do not route through the ACD. This makes finding a particular agent's calls significantly more simple and efficient in most environments.


Extension and Agent ID Columns: Particularly useful for sites with a large number of users and extensions, this functionality allows users to quickly identify which extension or agent ID is associated with a particular user for more efficient call location and review.


Embedded Multi-Call Player: Users can now select up to eight calls and play them back in a multi-call player embedded in the Management Studio. The multi-call player was previously a separately launched application. It has been integrated with the main application interface to deliver a more seamless user experience.


"We have spent the past two years aggressively expanding the features, functions and benefits of our call recording and interaction management solutions," said OAISYS president Brian Spencer. "In version 7.2, we've ramped that up even more, producing a host of new options for our users to help them maximize their return on investment and improve their business processes and profitability."
OAISYS is currently seeking early adopter sites to help field test version 7.2 prior to releasing the product to general availability.
Compatible with leading business communications systems, including those from Avaya, Mitel, ShoreTel, Toshiba and others, as well as SIP-based communications services, Talkument and Tracer solutions help companies improve customer service, reduce costs, increase revenue and drive overall profitability.
Tracer functionality is built on a foundation of OAISYS' Talkument voice documentation solution. Talkument captures digital recordings, or voice documents, of authorized users' phone-based conversations using patent-pending OAISYS Portable Voice Document (PVD™) technology. Conversations are captured in their entirety and can be easily and securely shared with other authorized users and supervisors for improved collaboration, accuracy and training. Tracer adds advanced interaction management functionality, including customizable performance evaluations, live and automatic call monitoring, quality and resource utilization reporting and synchronized desktop video recording.
About Talkument:
Talkument personal voice documentation and collaboration software utilizes patent-pending OAISYS PVD technology to create digital media documents from business telephone calls, making them available to organize, retrieve, play back, annotate and share as needed. It provides company-wide control over risk management, quality assurance, customer retention, dispute resolution and other critical business concerns.
About Tracer:
Tracer is the industry's leading call recording solution for contact centers. Tracer also leverages OAISYS PVD technology paired with advanced contact center management features, including customizable employee performance evaluations, live and auto call monitoring, quality and resource utilization reporting and synchronized desktop video recording capabilities.
About OAISYS:
OAISYS® (www.oaisys.com) is a leading developer of call recording and contact center management solutions for a wide range of organizations, from small- to medium-sized businesses to multi-site large enterprises. The OAISYS voice documentation and interaction management solutions help companies within a variety of industries -- including healthcare, automotive dealerships, financial services, and the public sector -- attract and retain customers by digitally capturing phone-based interactions for simple retrieval, playback and management. Compatible with leading business communications system providers, including Avaya, Mitel, ShoreTel and Toshiba, as well as SIP-based communications services, OAISYS Tracer and Talkument applications help companies improve risk management, quality assurance, customer retention, dispute resolution, regulatory compliance requirements and other critical business concerns. OAISYS is headquartered in Tempe, Ariz. OAISYS Limited is located in Cambridge, England.
Add to Digg Bookmark with del.icio.us Add to Newsvine
OAISYS PR Contacts:
Teri Sawyer
T&Co.
714-536-8407
Email Contact

Roland Murphy
OAISYS
888-496-9040, ext. 1020
Email Contact


Copyright @ Marketwire
Page: 1
Related Keywords:
OAISYS, Tracer, Call Recording, Voice Documentation, Mitel, ShoreTel, Toshiba, Avaya, England, Marketwire, , Financial, Business, england, Other,
---