OAISYS Announces State-of-the-Art Mobile Recall Application
Mobile Web Solution Provides Easy On-the-Go Access to Call Recordings
(April 17, 2012)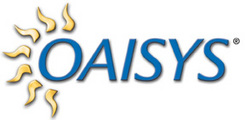 TEMPE, AZ -- (Marketwire) -- 04/17/12 -- OAISYS®, a leader in business call recording and contact center management solutions, today announced the early adopter release of its Mobile Recall application, which enables Web-based access to key functionality offered by the industry-leading OAISYS Talkument® and Tracer software solutions.
As more businesses embrace various types of communications and computing technologies, such as smart phones and tablets, OAISYS has optimized the on-the-go user experience for accessing recordings.
Built on an HTML5 framework, Mobile Recall is specifically engineered to support mobile Web access to call recordings, delivering a rich user experience that requires no software download or installation on the access device. It provides search and playback functions, empowering the user to view desired interaction metadata, such as notes or transaction references, with the extreme simplicity demanded when mobile.
"When we introduced the predecessor of Mobile Recall almost three years ago, it was a proactive measure addressing what has since been dubbed the 'Bring Your Own Device' trend. Since that time, we have taken full advantage of evolving technology to make the Mobile Recall user experience even simpler and to promote cross-device extensibility," said Brian Spencer, president of OAISYS.
With Mobile Recall, from any browser-enabled device individuals can:
Run ad-hoc searches for one or more recorded calls;
Save routine searches for instant access anytime;
Drill down from a list to specific recordings using a multitude of criteria;
View informative business data related to the interaction, and
Play recordings.
"We purposefully designed Mobile Recall using HTML5 as a means to ensure users have easy access to their call recording data regardless of the device platform they choose," said Spencer. "What I'm especially excited about, though, are the holistic benefits to be realized when combining Mobile Recall with the advantages offered by cloud computing, which include anytime, anywhere data access, dynamic scalability, high availability and increased cost savings. This is an area of strategic importance to OAISYS, and it will continue to be a primary focus for our technology group."
OAISYS is currently accepting a limited number of customers to participate in early adopter field trials of its Mobile Recall application.
About Talkument:
Talkument personal voice documentation and collaboration software utilizes patent-pending OAISYS PVD technology to create digital media documents from business telephone calls, making them available to organize, retrieve, play back, annotate and share as needed. It provides company-wide control over risk management, quality assurance, customer retention, dispute resolution and other critical business concerns.
About Tracer:
Tracer is the industry's leading call recording solution for contact centers. Tracer also leverages OAISYS PVD technology paired with advanced contact center management features, including customizable employee performance evaluations, live and auto call monitoring, quality and resource utilization reporting and synchronized desktop video recording capabilities.
About OAISYS:
OAISYS® (www.oaisys.com) is a leading developer of call recording and contact center management solutions for a wide range of organizations, from small- to medium-sized businesses to multi-site large enterprises. The OAISYS voice documentation and interaction management solutions help companies within a variety of industries -- including healthcare, automotive dealerships, financial services, and the public sector -- attract and retain customers by digitally capturing phone-based interactions for simple retrieval, playback and management. Compatible with leading business communications system providers, including Avaya, Mitel, ShoreTel and Toshiba, as well as SIP-based communications services, OAISYS Tracer and Talkument applications help companies improve risk management, quality assurance, customer retention, dispute resolution, regulatory compliance requirements and other critical business concerns. OAISYS is headquartered in Tempe, Ariz. OAISYS Limited is located in Cambridge, England.
Add to Digg Bookmark with del.icio.us Add to Newsvine
OAISYS PR Contacts:
Teri Sawyer
T&Co.
714-536-8407
Email Contact

Roland Murphy
OAISYS
888-496-9040, ext. 1020
Email Contact


Copyright @ Marketwire
Page: 1
Related Keywords:
OAISYS, call recording, tracer, SIP, talkument, bring your own device, England, Marketwire, , Financial, Internet Technology, Business, england, Other,
---