Next Year in the Threat Webscape -- Websense Security Labs Predictions for 2010
Websense Security Experts Analyze and Predict Trends for the Coming Year -- Smartphones, Windows 7, Search Engines and Legitimate Ads Are Targets of Next Year's Attacks
(December 03, 2009)
SAN DIEGO, CA -- (Marketwire) -- 12/03/09 -- Websense, Inc. (NASDAQ: WBSN) today released its list of security predictions and trends anticipated for 2010. Researchers in the Websense® Security Labs(TM) have identified emerging security exploits and trends anticipated to increase during the next 12 months. The emerging trends and predictions show an overall blending of security threats across multiple attack vectors for the purpose of roping computers into bot networks and stealing valuable confidential information. Researchers believe that hackers will look to compromise new platforms such as smartphones and take advantage of the popularity of Windows 7. They are also expected to compromise the integrity of search engine results and use legitimate advertisements to spread their malicious content.
"Threats on the Web continue to parallel Internet users' Web use patterns," said Dan Hubbard, chief technology officer, Websense. "As audiences are moving quickly into the social Web, so are the attacks. Additionally, as emerging operating systems and platforms like Macs and mobile devices become more popular, they are more targeted. At the same time, malicious attackers are increasing the number of traditional attacks on PCs, with quickly changing tactics and new twists on old exploits."
On December 9th Websense will host an interactive Webinar discussing 2010 security threat predictions and trends with Websense Security Labs Manager Patrik Runald. To register: Websense Security Labs 2010 Threat Predictions Webinar.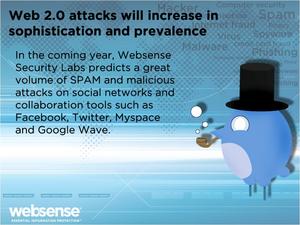 In 2010, Websense Security Labs anticipates the emergence and growth of the following trends:
1. Web 2.0 attacks will increase in sophistication and prevalence
In the coming year, Websense Security Labs predicts a greater volume of spam and attacks on the social Web and real-time search engines such as Topsy.com, Google and Bing.com. In 2009, researchers have seen increased malicious use of social networks and collaboration tools such as Facebook, Twitter, MySpace and Google Wave to spread attackers' wares. Spammers and hackers use of Web 2.0 sites have been successful because of the high level of trust users place in the platforms and the other users. We anticipate this trend to continue in 2010.
2. Botnet gangs will fight turf wars
In the past year, Websense Security Labs noted an increase in botnet groups following each other and using similar spam/Web campaigns tactics such as fake DHL and USPS notifications and other copy-cat behavior. We expect this to continue in 2010. In addition, we anticipate more aggressive behavior between different botnet groups including bots with the ability to detect and actively uninstall competitor bots. Websense Security Labs has already seen some turf wars, with the Bredolab botnet disabling the Zeus/Zbot on infected computers.
3. Email gains traction again as a top vector for malicious attacks
In 2010, email used as a vector for spreading malicious attacks will evolve in sophistication. During 2009, Websense Security Labs saw a huge uptake in emails being used to spread files and deliver Trojans as email attachments, after being nearly non-existent for several years. Attackers are more often using timely topics to lure recipients to open mail, attachments and click on malicious links. Not only are more emails containing malicious attachments, researchers also have seen increased sophistication of blended attacks that are difficult to close down. During 2010, this trend will continue and we will see more emails containing malicious data stealing attachments and malicious URLs.
4. Targeted attacks on Microsoft properties, including Windows 7 and Internet Explorer 8
With the expected fast adoption of Windows 7, we will see more malicious attacks targeting the new operating system with specific tricks to bypass User Access Control warnings, and greater exploitation of Internet Explorer 8. The User Access Control in Vista was originally implemented to prevent malware from making permanent changes to the system such as startup files. However, it allowed pop-ups every time a change was made to the system, such as a change to an IP address, time zone, etc. The pop-ups occurred so frequently that users ignored the warnings or turned off the feature leaving them vulnerable. While Windows 7 tries to reduce the pop-ups by allowing four levels of User Access Control, security challenges to the interface and the operating system still exist. In fact, during a Patch Tuesday cycle in October 2009, five updates were for Windows 7 -- even before it was released to the general public.
5. Don't Trust Your Search Results
A malicious SEO poisoning attack, also known as a Blackhat SEO attack, occurs when hackers compromise search engine results to make their links appear higher than legitimate results. As a user searches for related terms, the infected links appear near the top of the search results, generating a greater number of clicks to malicious Web sites. In the last year, attackers have used this technique to poison search results on everything from MTV VMA awards and Google Wave invites, to iPhone SMS features and Labor Day sales. SEO poisoning attacks are successful because as soon as a malicious campaign is recognized and removed from search results, the attackers simply redirect their botnets to a new, timely search term. These ongoing campaigns are likely to gain steam in 2010 and may cause a trust issue in search results among consumers, unless the search providers change the way they document and present links.
6. Smartphones are hackers' next playground
At the end of 2009 Websense Security Labs documented four iPhone exploits in a span of a few weeks -- representing the first major attacks on the iPhone platform and the first iPhone data-stealing malware with bot functionality. Smartphones such as the iPhone and Android, which are used increasingly for business purposes, are essentially miniature personal computers and in 2010 will face the same types of attacks that target traditional computing. Additionally, poor security for applications on smartphones can put users' and organizations' data at risk. With a rapidly growing user base, business adoption and increasing use for conducting financial transactions with these devices, hackers will begin more dedicated targeting of smartphones in 2010.
7. Why corrupt a banner ad serve, when you can buy malvertising space?
In a high-profile incident in 2009, visitors to the New York Times Web site saw a pop-up box warning them of a virus that directed them to an offer for antivirus software, which was actually rogue AV. This attack was served up through an advertisement purchased by someone posing as a national advertiser. The successful attack was a worthwhile investment for the criminals and so in 2010 Websense Security Labs predicts that more malicious ads will be legitimately purchased by the bad guys.
8. 2010 will prove once and for all that Macs are not immune to exploits
Hackers have noticed Apple's rapid growth in market share in both the consumer and corporate segments. There exists additional risk for Mac users because many assume Macs are immune to security threats and therefore employ less security measures and patches, so attackers have additional incentive to go after the OS X platform. During 2009, Apple released six large security updates for Macs showing the potential for attacks. In 2010, there will be even more security updates as hackers ramp up attacks targeting the platform. There is also the potential for the first drive-by malware created to target Apple's Safari browser.
The dynamic nature of Web 2.0 attacks, the use of email to drive users to malicious Web sites, and tactics like SEO poisoning and rogue AV all demonstrate the need for organizations to have a unified content security platform that protects against blended Web, email and data security threats.
"The blended nature of today's threats mandates that a core understanding of the Web must pervade all security measures -- and that email, Web and data awareness must be integrated to protect organizations' information and networks," said Devin Redmond, vice president of business development and product management at Websense. "Our ability to anticipate, discover and mitigate these evolving threats is a central part of our technology strategy. We build that content and threat knowledge into our unified Web, email and data loss prevention solution and deliver that protection and control to our customers and partners through industry-leading appliances, security-as-a-service solutions and hybrid combinations of the two. As the leader in content security, Websense is uniquely positioned to protect organizations from today's threats."
The Websense Security Labs uses the Websense ThreatSeeker® Network to discover, classify and monitor global Internet threats and trends. Every hour, the ThreatSeeker Network scans more than 40 million Web sites and ten million emails for unwanted content and malicious code. Using more than 50 million real-time data collecting systems, the Websense ThreatSeeker Network parses through more than one billion pieces of content daily, searching for emerging security threats. The Websense Security Labs provides breaking alerts and blogs detailing emerging exploits on its blog at http://securitylabs.websense.com.
Download the full Websense Security Labs Predictions for 2010 report
Click here for more information and to download the full Websense Security Labs Predictions for 2010 report along with a SlideShare presentation.
About Websense, Inc.
Websense, Inc. (NASDAQ: WBSN), a global leader in integrated Web, data and email security solutions, provides Essential Information Protection(TM) for more than 40,000 customers. Distributed through its global network of channel partners, Websense software and hosted security solutions help organizations block malicious code, prevent the loss of confidential information and enforce Internet use and security policies. For more information, visit www.websense.com.
Follow Websense on Twitter: www.twitter.com/websense and www.twitter.com/WebsenseLabs.
Copyright 2009 Websense, Inc. All rights reserved.
Websense, the Websense Logo, ThreatSeeker and the YES! Logo are registered trademarks of Websense, Inc. in the United States and/or other countries. Websense has numerous other unregistered trademarks in the United States and internationally. All other trademarks are the property of their respective owners.
This news release contains forward-looking statements that involve risks, uncertainties, assumptions and other factors which, if they do not materialize or prove correct, could cause Websense results to differ materially from historical results or those expressed or implied by such forward-looking statements. All statements, other than statements of historical fact, are statements that could be deemed forward-looking statements, including statements about our technology and product leadership, growth trends and expense management, and statements containing the words "planned," "expects," "believes," "strategy," "opportunity," "anticipates" and similar words. The potential risks and uncertainties which contribute to the uncertain nature of these statements include, among others, risks associated with launching new product offerings, customer acceptance of the company's services, products and fee structures in a changing market; the success of Websense brand development efforts; the volatile and competitive nature of the Internet and security industries; changes in domestic and international market conditions, risks relating to currency exchange rates and impacts of macro-economic conditions on our customers, risks relating to the required use of cash for debt servicing, the risks of ongoing compliance with the covenants in the senior secured credit facility, risks related to changes in accounting interpretations and the other risks and uncertainties described in Websense public filings with the Securities and Exchange Commission, available at www.websense.com/investors. Websense assumes no obligation to update any forward-looking statement to reflect events or circumstances arising after the date on which it was made.
Image Available: http://www2.marketwire.com/mw/frame_mw?attachid=1128847

Add to Digg Bookmark with del.icio.us Add to Newsvine
MEDIA CONTACT:
Matthew Mors
Websense
(206) 992 7518
[email protected]


Copyright @ Marketwire
Page: 1
Related Keywords:
Web security, Internet security, cyber security, email security, data security, Websense, Internet,Digital Media Software,Communications,Digital Audio,Web,Smart Phone,iPods,iphone,Search,Applications,Security,AntiVirus,browser,Google,Blogs/videoblogs,EMail,Applications,Security,Computer Technology,Internet,Business Issues,Threats,Hackers,Virus,Trojans,Mobile Devices,Security,Search,Internet Server Applications,Antivirus,Search Engines,Search Engine Optimization,E-mail,Search Servers,Management,Finance/Accounting,Finance/Accounting,Mac,OS9,OSX,USA,Marketwire, Inc.,IT (Information Technology),Security,Apple Computer,Financial,Appliances,Personal Computers,Internet Technology,Computer Science,Business,Internet,Web 2.0,Spam,Email,Internet Security,Other,
---