Nexsan Announces PG&E Energy Incentives for New Deployments of SATABoy and SATABeast Storage Systems
Nexsan AutoMAID Enables Organizations to "Go Green" by Lowering Energy and Cooling Costs Up to 70 Percent Over Traditional Modular Arrays
(September 09, 2009)

THOUSAND OAKS, CA -- (Marketwire) -- 09/09/09 -- Nexsan, a leading provider of energy-efficient, long-term disk storage, today -- in support of Green IT initiatives -- announced that Nexsan customers are now eligible to apply for incentives from Pacific Gas and Electric Company (PG&E). The PG&E incentive program rewards data center managers who deploy power efficient storage technologies, such as Nexsan AutoMAID(TM) (Automatic Massive Array of Idle Disks), for Intelligent Power Management (IPM).
The SATABoy(TM) and SATABeast(TM) disk storage systems eligible for the PG&E incentive include Nexsan's evolutionary AutoMAID energy saving technology which has enabled companies around the world to lower energy and cooling costs by up to 70 percent without impacting data storage performance. The technology transparently places disk drives into the most energy efficient state without affecting performance, making Nexsan disk storage systems extremely eco- and business-friendly. AutoMAID accomplishes this with user selectable settings that enable users to determine the right level of response time to energy savings.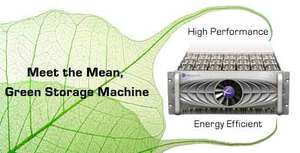 Wikibon Energy Lab, a service provided by the independent IT professional community of Wikibon.org, validated Nexsan's energy savings with PG&E based on a review of actual Nexsan customer installations that included the use of Nexsan's AutoMAID function. According to David Floyer, CTO of Wikibon Energy Lab, "Nexsan AutoMAID technology has been shown to dramatically lower energy requirements up to 70 percent relative to conventional modular arrays. AutoMAID technology improves upon conventional approaches to energy reduction by allowing users to set variable energy savings parameters and ensure optimal application performance."
Boost Peripheral Systems, a Nexsan channel partner, currently deploys Nexsan storage systems in areas that qualify for PG&E energy savings incentives. Its customers are gravitating toward Nexsan's AutoMAID, a feature with all Nexsan SATABeast, SATABeast Xi, SASBeast, SATABoy and SASBoy storage solutions. In one customer installation, the user has a rapidly growing storage environment and approximately 63TB of SATABoy and SATABeast storage systems deployed. Wikibon Energy Lab validated that this customer will significantly reduce energy usage by 92,673 kWh/Yr. This translates to a power and cooling cost savings of $50,000 over a five year period, providing significant TCO advantages over previously installed arrays which were based on older modular technology.
"It is important for any organization to streamline operations by adopting efficient technologies to reduce costs and be ecologically responsible. By reallocating these savings enterprise-wide, IT departments have additional budget to drive other strategic IT initiatives for greater competitive advantage," said Kevin Bush, CEO of Boost Peripheral Systems. "We have seen Nexsan's AutoMAID enabled storage deliver up to 436% kWh/Yr reduction in energy usage when replacing older arrays, without sacrificing performance, generating a positive financial outcome and reduced carbon footprint."
Nexsan's energy-efficient product line includes:
-- Nexsan DeDupe SG: From 80 TB to more than one petabyte of logical data capacity (assuming a 20:1 deduplication ratio), the Nexsan DeDupe SG features data reduction through high-speed deduplication, footprint reduction by utilizing space-efficient arrays, and substantial energy savings using AutoMAID;
-- SATABeast: With up to 42TB in 4U and enterprise class performance, reliability and management, SATABeast offers power efficient storage for secondary, online archive, and nearline storage applications;
-- SATABeast Xi: Designed for the Xserve and Mac Pro systems, SATABeast Xi delivers the same power and space efficiency as SATABeast;
-- SASBeast: Delivers up to 18.9TB SAS storage capacity in only 4U with high-speed read/write performance;
-- SATABoy: The highly scalable SATABoy enables power efficient storage of large amounts of information online, and
-- SASBoy: Built for high transaction performance, the SASBoy provides up to 6.3TB of capacity in only 3U of rack space.
For additional commentary on issues and trends in green and energy efficient data storage, visit Nexsan's Green Storage Blog at http://nexsan.net/.
About Nexsan Technologies
Nexsan Corporation is a leading provider of energy-efficient, long-term storage systems. Nexsan delivers secure storage appliances and modular, capacity-optimized disk-storage systems for a broad range of applications including fixed content storage and archiving, email, medical imaging, compliance and litigation support, disk-based backup, digital video security, and rich media. Nexsan's solutions are the choice of small and medium-sized companies as well as large global enterprises and major governmental agencies around the world who are seeking cost-correct, high density storage solutions. Founded in 1999 and based in Thousand, Oaks, Calif., Nexsan sells its products exclusively through a select global network of VARs, OEMs and system integrators. For more information, please see the company's website at www.nexsan.com.
*A trademark or trade name of an entity other than Nexsan Technologies, Inc.
Image Available: http://www2.marketwire.com/mw/frame_mw?attachid=1059431

Media Contact:
Sabrina Sanchez
Ventana Public Relations
(925) 999-9985
Email Contact


Copyright @ Marketwire
Page: 1
Related Keywords:
storage system, storage solutions, storage, disk storage, RAID, Storage,Mac,OS9,OSX,Marketwire, Inc.,Financial,Appliances,Other,
---