Newly Launched TMNT Fan Site Celebrates 'Heroes in a Half-Shell' in Anticipated Arrival of New Michael Bay 'Ninja Turtles' Reboot
(June 13, 2012)

COMMERCE, MI -- (Marketwire) -- 06/13/12 -- TeenageMutantNinjaTurtles.com announces the official re-launch of their TMNT fan site (the site was originally launched in April, and then was re-launched towards the end of May, 2012). The new TMNT fan site has quickly become the Web's one-stop fan shop for information, news, forums, social media and blogs regarding the quartet of infamous "heroes in a half-shell."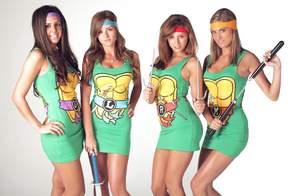 TMNT follows the comic book tale of four turtles that were morphed and mutated into the unlikeliest of ninja saviors by radioactive waste, quickly becoming a household name in the early '90s. Now being revived and rebooted in a new forthcoming major motion picture, TMNT is back and looking to be better than ever before.
TeenageMutantNinjaTurtles.com is the information portal that is attracting hordes of diehard fans daily by providing key information, teasers, news, and much more revolving around TMNT.
The original TMNT movie was epic and gripping, an imaginative offering that merged action, slick melee-fighting moves and comic book greatness with the cutting-edge technology (of the time), rocking box office records as a result.
In lieu of the anticipated return of the TMNT movie that is being produced by Michael Bay, truncated as just "Ninja Turtles," fans of the franchise can learn more about the forthcoming picture, past movies in the franchise, trivia, rumors, and much more on the new TMNT fan site.
According to recent news reports, the four half-shelled ninja turtles and their silver screen revival has been confirmed by esteemed producer Michael Bay (Platinum Dunes), with capable and noted scriptwriters on board, including: Josh Appelbaum and André Nemec (Mission: Impossible - Ghost Protocol).
While there is not a release date in sight for the new TMNT movie, or a teaser trailer -- as the project is still in the early developmental stages -- fans can suffice to know that indeed a new movie is finally on the horizon.
"We've been watching TMNT since we were kids and loving it all along," said Mark Hajjar, co-owner of TeenageMutantNinjaTurtles.com. "For all fans of TMNT comics, cartoons and movies, they will be very pleased at the wide array of coverage that we have to offer on our fan site and on our TMNT Facebook Fan Page."
Image Available: http://www2.marketwire.com/mw/frame_mw?attachid=2011507

Press Contact:
Mark Hajjar
Co-owner/Costume Agent
Telephone: (248) 888-7510
Email: Email Contact
Web: TeenageMutantNinjaTurtles.com


Copyright @ Marketwire
Page: 1
Related Keywords:
TMNT, TMNT movie, ninja turtles, teenage mutant ninja turtles, Marketwire,
---