New iPhone Application on Incoterms® Released for International Trade
(April 29, 2011)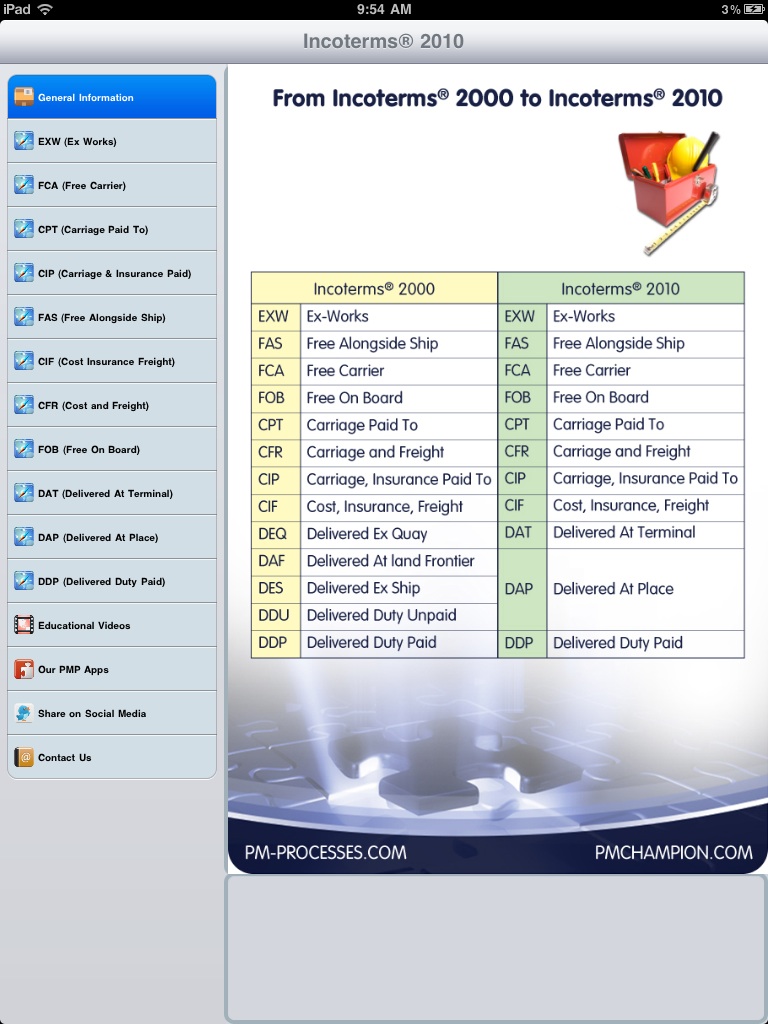 New York, NY (PRWEB) April 26, 2011
PMChampion.com has just released their new app called Incoterms® 2010 Tutorial for iPhone and iPad. This application is an essential tool for all international Import & Export traders. It provides quick and easy access to the 2010 Incoterms®, including descriptions of each term and their applicability to individual trades. Having knowledge of these terms is intrinsic to traders in order to protect themselves and their goods from misinterpretations regarding responsibilities, costs and risks.
Incoterms® are published by the International Chamber of Commerce (ICC). Governments, legal authorities and practitioners worldwide, accept Incoterms® for the interpretation of the most commonly used terms in international trade. Each Incoterm® is referred to by a three-letter abbreviation. There are 11 Incoterms® 2010 which can be listed in order of increasing risk/liability for the seller (exporter).
The new app Incoterms® 2010 Tutorial highlights the changes from Incoterms® 2000 to the new Incoterms® 2010. Changes in technology have prompted changes to the Incoterms including a reduction of rules from 13 to 11. The new terms also include a reclassification based on modes of transportation. All of these changes are summarized in the app provided by PM Champion.
Also provided in the new Incoterms® Tutorial is a description of the breakdown of responsibilities between the buyer and the seller and an overview of the transfer of risk. The application includes several educational videos, Tips & Tricks to avoid unpleasant situations on international contracts, and recommendations for additional in-depth guides.
For traders, Incoterms® are an indispensable guide for conducting business. Now traders have an indispensable tool for referencing at all times.
For more information on Incoterms 2010 Tutorial app and all other PM Champion apps visit http://www.pmchampion.com/incoterms.
# # #
Read the full story at http://www.prweb.com/releases/Incoterms/iphone/prweb8338151.htm.
Page: 1
Related Keywords:
restraint of trade,international (foreign) trade,trade dispute,trade agreements,trade policy,trade balance,fishing industry,shipping service,cinema industry,radio industry,television industry,music industry,process industry,economy, business and finance,financial and business service,insurance,business enterprises,business (general),health insurance,restraint of trade,international (foreign) trade,trade dispute,trade agreements,trade policy,trade balance,automotive equipment,crime, law and justice,law enforcement,
---