New iPhone App Gives GPS a Whole New Meaning
(May 03, 2011)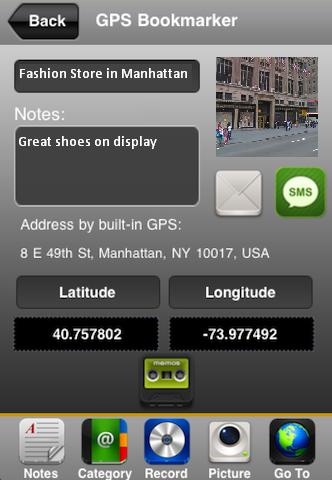 New York, NY (PRWEB) May 03, 2011
Discovering a new location is one thing, finding the way back to Remember that place? Near the red house, on that really narrow street, with the missing street sign is something else entirely.
To help avoid that situation, Typhoon Apps and PM Champion have announced the release of their new application called "GPS Bookmarker", made specifically for iPhone users.
This application is not a typical GPS location device. It allows users to save and personalize their favorite locations by adding details such as a name, a phone number, a photo or even a voice memo about the location.

Ever been heading to an appointment and seen a great new store but just dont have the time to stop and shop? With GPS Bookmarker simply save the location, add a picture and take a leisurely trip back to the store another time.





Ever been through the hassle of looking for a new home? With GPS Bookmarker users can photograph a dream home for sale, save the location, record voice comments about the neighborhood, and go as far as taking a picture of the real-estate yard sign.
What about those enormous parking lots at the mall? Ever gone shopping only to forget exactly where the car is parked? No more worries with GPS Bookmarker users can mark the location, add a picture of the lot location, or add a note such as Lot C, Parking Space 89.
How about meeting a friend at a new restaurant only to have the friend call to say they are completely lost. No problem, with GPS Bookmarker users can simply email or SMS their location to friends.
Once users save a location on their iPhone, they can review the bookmark, check the address, or even ask GPS Bookmarker to navigate to that location using Turn-by-Turn directions. Its that simple!
With GPS Bookmarker iPhone users should now be able to find their way around.
For more information go to http://www.gpsbookmarker.com.
# # #
Read the full story at http://www.prweb.com/releases/iphone/gps_bookmarker/prweb8326317.htm.
Page: 1
Related Keywords:
lifestyle and leisure,lifestyle (house and home),family,family planning,computing and information technology,satellite technology,wireless technology,science and technology,technology (general),identification technology,agricultural research and technology,economy, business and finance,real estate,financial and business service,business enterprises,business (general),estate bestowal,computer crime,sports event,sports disciplinary action,sports awards,sport,sports organisations,automotive equipment,economy, business and finance,financial and business service,business enterprises,business (general),
---