New Web-Based Alpine Illuminator Integrates With EMC Greenplum Chorus, the Social Data Science Platform
The Combination Allows Users to Tap the Predictive Power of a Truly Unified Analytics Platform in a Way That's Accessible to the Entire Organization
(March 20, 2012)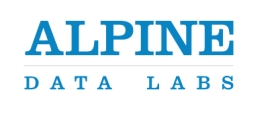 SAN MATEO, CA -- (Marketwire) -- 03/20/12 -- Alpine Data Labs, developer of the first enterprise solution for Big Data predictive analytics, today announced it is integrating its Alpine Illuminator web-based collaboration solution for the development and deployment of predictive analytics with EMC Greenplum Chorus, a Facebook-like social collaboration tool for Data Science teams to iterate on the development of datasets and ensure that useful insights are delivered to the business quickly. The recently launched Alpine Illuminator is tightly integrated with Chorus, combining the power of Illuminator to allow for sharing and execution of advanced analytics workflows with the collaborative and data services functions of Chorus.
Alpine Illuminator provides organizations with a single place to host, share and iterate on predictive models, and thus allows the entire enterprise to work together on its most pressing business challenges. Chorus aims to alter the way people generate value from Big Data by bringing social capabilities to the platforms that support the Big Data analytics process -- an industry first. The integration of the two will enable users to explore, search for and define data sets within the Greenplum database and Hadoop platforms, and use those as the starting point for end-to-end analytics processing in Alpine, all within the collaborative framework of Chorus.
Using the "publish" and "subscribe" features of Illuminator, users can then share those workflows with the entire Chorus community in a rich collaborative environment. This is important because users need a way to take advantage of the power of the Greenplum platform for predictive analytics in a way that's accessible to the entire organization, and because analytic processing needs to be done within a platform that's truly unified and integrated, not a fragmented set of incompatible technologies.
"This is a tremendously exciting time for us to be working so closely with EMC's Greenplum team," said Steven Hillion, Alpine's chief product officer. "Not only is EMC the only company that is providing social software to allow people to deal with Big Data, but their decision to open-source Chorus will allow customers to do collaborative analytics as never before. We are thrilled to be part of their ecosystem of partners that will drive integration and innovation through our early access to the Chorus social data-science platform."
The integration of Illuminator and Chorus aims to benefit customers by giving them full access to the power of predictive analytics for the entire organization, while also allowing all aspects of Big Data analytics to live on a single integrated platform, from provisioning to modeling to publishing of results. The tight integration of the products will also deliver integrated sandbox provisioning with advanced analytics, as well as rich collaborative functions built around an easy-to-use predictive analytics engine.
About Alpine Data Labs
Alpine Data Labs has developed the first solution for Big Data predictive insight, making it faster, easier and less complex to achieve predictive insights from the massive datasets companies can now collect and store due to declining storage costs. Incubated within Greenplum (acquired by EMC in 2010) and founded by an experienced team with strong ties to China, Alpine Data Labs has Big Data in its DNA. The company is based in Silicon Valley and is backed by Sierra Ventures, Mission Ventures, Sumitomo Corporation and Stanford University. For more information, please visit: www.alpinedatalabs.com
About Greenplum
Greenplum, a division of EMC, is driving the future of Big Data analytics with breakthrough products that harness the skills of data science teams to help global organizations realize the full promise of business agility and become data-driven, predictive enterprises. The division's products include Greenplum Unified Analytics Platform, Greenplum Data Computing Appliance, Greenplum Database, Greenplum Analytics Lab, Greenplum HD and Greenplum Chorus. They embody the power of open systems, cloud computing, virtualization and social collaboration‹enabling global organizations to gain greater insight and value from their data than ever before possible.
For more information, visit www.greenplum.com.
About EMC
EMC Corporation is a global leader in enabling businesses and service providers to transform their operations and deliver IT as a service. Fundamental to this transformation is cloud computing. Through innovative products and services, EMC accelerates the journey to cloud computing, helping IT departments to store, manage, protect and analyze their most valuable asset -- information -- in a more agile, trusted and cost-efficient way. Additional information about EMC can be found at www.EMC.com.
EMC, Greenplum and Greenplum Chorus are either registered trademarks or trademarks of EMC Corporation in the United States and other countries. All other trademarks used herein are the property of their respective owners.
Contact:
Jamie Larson
512-296-9611
Email Contact


Copyright @ Marketwire
Page: 1
Related Keywords:
big data, analytics, emc greenplum, USA, China, Marketwire, , Biology, Genetics, Business, Science, china, Other,
---