New WVC Plaza, New Services, Fun Health Workouts, and Fabulous CE Are This Year's Conference Hallmarks
84th Annual Western Veterinary Conference Slated for February 19-23, 2012, in Las Vegas
(February 02, 2012)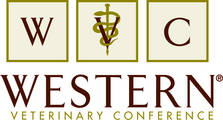 LAS VEGAS, NV -- (Marketwire) -- 02/02/12 -- More than 900 hours of programming fill the agenda of the 84th Annual Western Veterinary Conference (WVC) being held at the Mandalay Bay Convention Center in Las Vegas from February 19-23, 2012. Along with nearly 700 hours for Veterinarians, the Conference offers 80 additional hours especially for Veterinary Technicians and 68 hours dedicated to Practice Management. In just 5 days, attendees can accrue 45 CE credit hours and have a truly memorable experience. This year's program also includes more than 30 Hands-on Labs, 42 Symposia, 9 Workshops, 4 of which are free with Conference registration, 9 Lunch & Learn sessions, and a complimentary panel discussion for Veterinary Technicians who would like to become Specialists. Conference attendance is expected to reach nearly 15,000.
Held annually in Las Vegas, WVC is recognized as the top convention in the veterinary field, assembling first-class presenters from around the globe to focus on high-impact topics with immediate practical application. WVC President James E. Creed says, "You can be assured our outstanding WVC staff and dedicated Education Committee have spent most of the past year developing a 2012 program fitting for the world's premier veterinary conference."
Hands-on Labs are conducted at the Conference's state-of-the-art Oquendo Center located just minutes from Mandalay Bay. Equipped with today's most advanced technology and equipment, lab participants can master specific techniques with the help of concentrated personal instruction from experts in their specialties.
BRAND-NEW in 2012 is the Conference Orientation program on Sunday evening and Monday morning for first-timers and attendees who haven't been to WVC for a while, presented by Dr. Jim Humphries. Also NEW this year are a WVC Technology Help Desk for assistance in accessing WVC-Connect and the WiFi network and a complimentary early-morning Health & Fitness Program featuring Yoga, Jazzercise®, and Zumba® workouts on Monday, Tuesday, and Wednesday. WVC is also introducing two NEW services from 7:00a to 6:00p on Thursday, the final Conference day: Luggage Storage Service and Return Airport Shuttle Service.
Back by popular demand is the WVC VIP Discount Card featuring price reductions on shows and dining as well as local attractions, complimentary WiFi on Levels 2 and 3 of the Convention Center, the easy-to-use WVC-Connect app, and a Mother's Lounge designed specifically to meet a new mother's needs. Of course, the extremely popular broadcasts on WVC-TV® will again be available in a number of Conference hotels as well as in Convention Center walkways.
This year's star-studded entertainment spectaculars include a Sunday kickoff with Billy Gardell from the hit CBS series "Mike and Molly," sponsored by Hill's Pet Nutrition. Tuesday evening Bayer Animal Health will invite the audience to rock out with Kool & The Gang and their 70s flashback concert, and on Wednesday Virbac Animal Health presents the intriguing Bear Grylls from Discovery Channel's "Man vs. Wild."
In 2012 more than 550 exhibitors will display and discuss products and services in the world's most complete assembly of veterinary exhibits under one roof. Joel Altman, WVC Exhibits
Manager, comments, "Surely WVC offers the most welcoming large exhibition area anywhere. This year we've brought back the Grand Pavilion and dramatic video wall introduced last year because it was such a hit and we're adding a WVC & Me photo booth and Memory Board for attendees to capture their WVC Experience on film and video. In addition, we've added our new WVC Plaza, a park-like area for resting and refreshing that will make the Exhibit Hall even more accommodating with staple WVC features such as the Cyber Cafe, Classifieds Board, and the scholarship-supporting Silent Auction and new favorites, Massage Zone and New Product Showcase." Attendees will find helpful Mobile Quick-Charge Stations, additional food service areas, water stations, and many show specials to assist with purchasing, too.
It's never all work and no play at WVC! Special events this year include our now-traditional Wine Tasting, a NEW Beer Tasting, and a NEW Champagne and Wine Tasting; a 5K Canine Fun Run/Walk; the annual Golf Tournament; the much-in-demand Wolfgang Puck Cooking Classes; Alumni and International Receptions; and Tuesday's complimentary Shopping Excursion. Guest Program registrants will be delighted by their 2012 agenda, which includes a fashion show, professional organizing tips, and a tour of Springs Preserve as well as a light breakfast daily and open access to the Guest Lounge.
The complete 2012 WVC program and other conference information are online at wvc.org.
Registration is available onsite. Details about the Oquendo Center and courses offered year-round can be accessed at oquendocenter.org. Additional information on either WVC or the Oquendo Center is also available by calling: 702.739.6698 or toll-free 866.800.7326.
About Western Veterinary Conference
WVC is an annual interactive educational opportunity and a networking event for the forward-thinking veterinary community. The Conference provides comprehensive continuing education to veterinary professionals and related groups in a world-class destination -- Las Vegas, The Entertainment Capital of the World. International authorities and emerging speakers present the most advanced information in superb convention facilities and Hands-on Labs in the high-tech Oquendo Center. For information, visit wvc.org. Contact Dr. Guy Pidgeon, [email protected] or 702.739.6698, with questions.
Add to Digg Bookmark with del.icio.us Add to Newsvine
Copyright @ Marketwire
Page: 1
Related Keywords:
Western Veterinary Conference, WVC 2010, WVC-Connect, veterinary conference, Oquendo Center, Office Equipment,Help-Desk,Education,Storage,Networking,Services,Misc,Management,Marketwire, ,Sports,Discount,Film,Lifestyle,Communications Technology,Internet Technology,Agricultural Science,Entertainment,Golf,Other,
---