New Taleo/HCI Research Study Investigates the Business Impact of Talent Intelligence
Report Illustrates How the World's Leading Organizations Prioritize, Access and Utilize Workforce Data to Guide Critical Business Decisions
(March 06, 2012)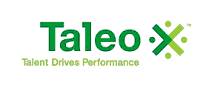 DUBLIN, CA -- (Marketwire) -- 03/06/12 -- Taleo Corporation (NASDAQ: TLEO), a global leader of SaaS-based Talent Management solutions, in conjunction with partner Human Capital Institute (HCI), today released a research report on the economics of Talent Intelligence. The report, based on an extensive survey of more than 600 global organizations, examines the far-reaching economic impact of talent intelligence, identifying connections between its use and overall corporate performance. The report reveals the companies that best satisfy the demands of their leaders are those that place heightened importance on and provide greater visibility into workforce data, delivered in a way that empowers managers to make more informed, rapid business decisions. Talent Intelligence remains a key differentiator in today's hyper-competitive world where the human capital of an organization is its principle engine of production.
As the global economy continues its slow recovery and organizations grapple with an uncertain business climate, the ability to define current and future talent needs and vulnerabilities is essential to success. Companies on the leading edge today are using Talent Intelligence in combination with other business information to drive critical decisions. They are leveraging Talent Intelligence technologies to provide historical, current, and predictive views of the workforce and its direct impact on business operations. Among the report's key findings are the following:
Only 43 percent of respondents believe their organizations are adept at analyzing workforce data, and nearly half indicated their business leaders were dissatisfied with the data provided to them, underscoring the fact that workforce data analytics remain an important development opportunity for many companies.
Among data deficient organizations, the main obstacle to using more robust talent insights are primarily a lack of tools and resources, as well as a lack of executive support. The findings suggest that this is not just a matter of cost; the real barriers are leadership and vision. Without leadership support these companies will be at a considerable competitive disadvantage for identifying, sourcing and retaining talent.
Organizations that rated themselves "proficient" in workforce data analysis were far more likely to rate their business leaders as "satisfied" with the data, to draw connections between retention and recruiting, and to calculate HR's impact on business strategy.
Organizations that rated themselves "proficient" in workforce data were more likely to outperform those who rated themselves as "deficient" at workforce data analysis.
Among those organizations proficient at analyzing workforce data, more than 75 percent are successfully addressing the workforce data needs of their businesses versus just 39 percent of less proficient organizations, suggesting that leaders require Talent Intelligence that is accurate, insightful, and actionable to drive organizational success.
There is an apparent positive correlation between Talent Intelligence and several key financial performance metrics including return on assets, relative stock market performance, and market-to-book ratios. Given that industry analysts report knowledge workers have driven the majority of economic growth in the U.S. over the past three decades, and today's new jobs overwhelmingly require complex knowledge skills, a connection between improved talent awareness and management and business performance would be expected.
Critical roles with no identified successors and succession bench strength are important metrics in succession planning and talent mobility. The demand for robust succession planning analytics may be reflective of a tightening in the leadership pool as baby boomers retire from the workforce.
While data proficient organizations tend to value many of the same metrics as data deficient organizations, they place markedly higher importance on those that enable measuring and tracking internal talent demand, quality of hire, engagement, and fit within the organization.
Among several metrics with high importance ratings, significantly fewer respondents indicated they also had access to reliable data in key areas including: competency/skills gap analysis, cost of turnover, employee engagement, quality of hire, employee productivity, succession planning, learning and development, and others.
"As evidenced in this report, Talent Intelligence is a driver of business success and an essential link between HR, business leadership, and the human capital that drives our knowledge economy," said David Wilkins, vice president of research at Taleo. "The digitized workplace of the 21st century produces incredible amounts of talent-related data. Those who take advantage of this can rapidly differentiate themselves and gain strategic advantages over organizations that disregard it."
Talent Intelligence has already been embraced by many leading firms, and a majority of the organizations surveyed use at least a rudimentary form. But organizations using sophisticated Talent Intelligence approaches do much more than just track the typical "administrative" HR data points. Advanced Talent Intelligence practitioners measure complex data like quality of hire, competency/skills gaps, and employee engagement. They create accurate and clear profiles of large or dispersed workforces. They are also able to connect HR metrics to organization-wide strategy and performance, and can reach across functional silos to both capture data and provide actionable information to leaders, culminating in a substantial competitive business advantage. For more information and access to the full report, please visit www.taleo.com.
About Taleo
Taleo (NASDAQ: TLEO) helps organizations improve the performance of their business by unlocking the power of their people. Taleo is the only company to provide industry leading solutions in every category of Talent Management. Through its cloud-based platform, Taleo optimizes recruiting, performance management, learning and compensation -- and integrates them all so managers have the insights they need to achieve Talent Intelligence. Customers also plug into Taleo's unique Talent Grid community to harness proven best practices, millions of candidates, and Taleo-ready partner solutions. From small and medium sized businesses to large enterprises, more than 5,000 organizations rely on Taleo every day to pursue growth, innovation and customer success.
Forward-looking Statements
This release contains forward-looking statements, including statements regarding the demand for and benefits from the use of Taleo's solutions. Any forward-looking statements contained in this press release are based upon Taleo's historical performance and its current plans, estimates and expectations and are not a representation that such plans, estimates, or expectations will be achieved. These forward-looking statements represent Taleo's expectations as of the date of this press release. Subsequent events may cause these expectations to change, and Taleo disclaims any obligation to update the forward-looking statements in the future. These forward-looking statements are subject to known and unknown risks and uncertainties that may cause actual results to differ materially. Further information on potential factors that could affect actual results is included in Part II, Item 1A of Taleo's Quarterly Report on Form 10-Q, as filed with the SEC on November 9, 2011, and in other reports filed by Taleo with the SEC.
Copyright @ Marketwire
Page: 1
Related Keywords:
Taleo Corporation, USA, Marketwire, , Financial, Business, Other,
---