New Taleo Services Partner Program Establishes Global Network to Optimize Talent Solutions for Customers
Participating Partners Enjoy Predictable, Reliable and Profit-Generating Engagement Model
(March 27, 2012)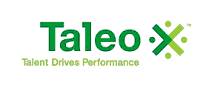 DUBLIN, CA -- (Marketwire) -- 03/27/12 -- Taleo Corporation (NASDAQ: TLEO), a global leader of SaaS-based Talent Management solutions, today formally launched the Taleo Services Partner Program, a partnership framework that provides customers access to certified, world-class consulting resources to help optimize and align their Talent Management practices with their business goals and gain Talent Intelligence. Customers will have the flexibility to select from an extensive ecosystem of best-fit solutions designed to achieve broad strategic goals for diverse organizations, delivered by experienced partners that are trained and certified to maximize their Talent Management ROI. The program offers participating partners the ability to expand their Talent Management practice through a predictable and reliable engagement model that leverages the industry-leading cloud-based solution.
The Taleo Services Partner Program offers critical support for partners developing a comprehensive Taleo-centric Talent Management practice designed to provide complimentary services to assist Taleo customers in realizing the full benefits of Talent Intelligence through: ROI/business Case Justification, HR strategy & transformation, change management, project management, regulatory compliance, implementation & configuration, and systems integration.
"Baker Tilly's ultimate goal is to deliver exceptional business results to our clients through a robust set of consulting and advisory services. It's critical that we provide our clients with a cloud technology ecosystem that can help manage today and tomorrow's dynamic workforce," said Bryan Majewski, Managing Principal, Baker Tilly. "Joining the Taleo Services Partner Program will provide our clients with the benefit of embedding one of the leading Talent Management solutions into our HR transformation services."
Participation in the Taleo Services Partner Program will provide a number of benefits including:
An expanded Talent Management practice through new customer acquisition and increased sales. Partners may accelerate revenue through implementation and other Talent Management services complementary to the Taleo product suite. Taleo's partner-centric program will assist partners in gaining access to new prospects and business, helping to achieve growth goals through joint business planning, marketing events and direct sales team engagement.


Alignment with the industry-leading cloud-based solution for an expanded Talent Management footprint. Taleo's cloud-based SaaS applications leverage the largest and most robust Talent Management solutions in the world to serve customers of all sizes, from SMBs to the Fortune 10. Taleo's cloud offering provides a complete range of solutions that serves over 20 million users a year.


Development of a comprehensive Taleo-centric practice through a predictable and reliable engagement model. A partner-friendly program with clearly defined rules of engagement for all partners minimizes guesswork, and helps to ensure long-term success. Partners have access to tailored comprehensive training and certification programs, the Taleo Knowledge Exchange™ knowledge base, as well as ongoing visibility into Taleo's product roadmap and the development of a combined value proposition to drive long-term, profitable customer relationships.


The program launches with a global partner network that includes Baker Tilly, Futurestep (a Korn/Ferry International company), Qikker, HRMS, Cloudator, Promerit, Silicon Strategy, HRchitect, ThinkTalent, and Bersin and Associates.
Spearheading the new program is Brett Walker, senior director of alliances at Taleo. A 13-year veteran in the Talent Management SaaS space, Walker brings extensive pre-sales, management, and international experience working with Fortune 500 and Global 2,000 organizations.
"The new services partner program offers our customers easier access to organizations that provide world-class consulting services to help them realize the ongoing benefits of Talent Intelligence and drive their business performance," said Walker. "Customers choose Taleo for many reasons, but primarily because they believe in Talent Intelligence and trust in Taleo's ability to deliver business results. They don't just want to be better at HR, they want to be better at business and extending our relationship with organizations that can help our customers achieve exactly that, makes perfect business sense."
Over the past 11 years Taleo has established an unmatched track record of overcoming customers' most complex business process challenges to deliver success. "We are witnessing a fundamental shift in how organizations look to their Talent Management partners to help them solve increasingly complex business challenges through Talent Management," said Neil Hudspith, executive vice president, and Chief Customer Officer at Taleo. "There is a very real need to think beyond simply automating a review process or improving a company's candidate sourcing strategy and understand how the Talent Management practices an organization embraces will impact their business performance. The time has never been better for our strong group of partners that provide consulting and implementation services to help customers realize the significant value of Talent Intelligence."
"Futurestep is proud to partner with an industry leader such as Taleo," said Dave Marzo Vice President & General Manager, North America Consulting. "Their Talent Management suite provides tremendous opportunities for organizations to improve their competitiveness. Taleo has delivered continuous innovation that has facilitated a more strategic discussion around talent management within their customer base which includes global mobility, hi-potential development and integrated metrics."
"Our extensive research shows that customers with mature Talent Management processes report median revenue that is 26 percent higher per employee than their peers, turnover that is 40 percent lower, and innovation and responsiveness that are 36 percent better than peer organizations," said Josh Bersin, chief executive officer and president, Bersin & Associates. "Our research and consulting services provide the strategies and processes to help customers achieve those goals. We look forward to working with Taleo to help more organizations enjoy the business benefits of Talent Management maturity."
For more information about the partner program please visit http://www.taleo.com/solutions/partner-programs
About Taleo
Taleo (NASDAQ: TLEO) helps organizations improve the performance of their business by unlocking the power of their people. Taleo is the only company to provide industry leading solutions in every category of Talent Management. Through its cloud-based platform, Taleo optimises recruiting, performance management, learning and compensation -- and integrates them all so managers have the insights they need to achieve Talent Intelligence. Customers also plug into Taleo's unique Talent Grid community to harness proven best practices, millions of candidates, and Taleo-ready partner solutions. From small and medium sized businesses to large enterprises, more than 5,000 organizations rely on Taleo every day to pursue growth, innovation and customer success.
Forward-looking Statements
This release contains forward-looking statements, including statements regarding the demand for and benefits from the use of Taleo's solutions. Any forward-looking statements contained in this press release are based upon Taleo's historical performance and its current plans, estimates and expectations and are not a representation that such plans, estimates, or expectations will be achieved. These forward-looking statements represent Taleo's expectations as of the date of this press release. Subsequent events may cause these expectations to change, and Taleo disclaims any obligation to update the forward-looking statements in the future. These forward-looking statements are subject to known and unknown risks and uncertainties that may cause actual results to differ materially. Further information on potential factors that could affect actual results is included in Part I, Item 1A of Taleo's Annual Report on Form 10-K, as filed with the SEC on February 29, 2012, and in other reports filed by Taleo with the SEC.
About Baker Tilly
With staff totaling more than 1,400, Baker Tilly provides a wide range of accounting and consulting services. It is headquartered in Chicago, Illinois, and is an independent member of Baker Tilly International, a worldwide network of 150 high quality, independent accounting and business advisory firms in 120 countries, with more than 25,000 professionals. The combined worldwide revenue of independent member firms exceeds $3 billion. Baker Tilly is ranked as one of the top 20 largest accounting and advisory firms in the United States*. With 11 offices throughout the US, Baker Tilly has received numerous national and regional awards for its strong growth, solid financial position, and industry leadership.
For more information about Baker Tilly, please visit www.bakertilly.com. *According to Accounting Today's 2012 list of "Top 100 Firms." SPECIAL INSTRUCTIONS FOR ALL MINNESOTA MEDIA OUTLETS ONLY:
All company references to Baker Tilly in this press release must be listed as Baker Tilly Virchow Krause, LLP. No shortened version of the company name is permitted. All references to Baker Tilly International do not require modification.
About Bersin & Associates
Bersin & Associates empowers HR and learning organizations to drive bottom-line impact through world-class research and consulting. The company's WhatWorks® membership gives human resources, learning and talent-acquisition professionals the information and tools they need to drive change in their organizations as strategic business partners.
Members use Bersin & Associates' insights and tools to benchmark themselves against best practices, design and implement programs across the HR and learning spectrum and select and implement systems. A piece of Bersin & Associates research is downloaded every other minute during the business day. More than 5,000 organizations worldwide, including more than 60 percent of the Fortune 100, use Bersin & Associates research and consulting to guide their learning, talent, and human resources strategies. For more information about Bersin & Associates, please visit www.bersin.com.
About Futurestep
Futurestep is the global industry leader in high-impact recruitment solutions; offering fully customized, flexible strategies to help organizations meet specific workforce needs. Our clients turn to us for proven expertise, a global process and infrastructure, proprietary competency models, innovative sourcing strategies, and a unique approach to measure and optimize business impact.
As a Korn/Ferry Company, Futurestep can meet a variety of workforce requirements; from RPO and project recruitment, to single search and consulting, our solutions apply a truly world-class capability to deliver talent with impact, providing the experience and global reach to identify, attract and retain the people who drive business success. To learn more, visit www.futurestep.com.
About Korn/Ferry International
Korn/Ferry (NYSE: KFY), with a presence throughout the Americas, Asia Pacific, Europe, the Middle East and Africa, is a premier global provider of talent management solutions. Based in Los Angeles, the firm delivers an array of solutions that help clients to attract, engage, develop, and retain their talent. Visit www.kornferry.com for more information on the Korn/Ferry International family of companies, and www.kornferryinstitute.com for thought leadership, intellectual property and research.
Media Contact
Ally Zwahlen
Senior Director | Corporate Communications
Taleo Corporation
T. 925.452.3394
[email protected]


Copyright @ Marketwire
Page: 1
Related Keywords:
talent management, ROI/business Case Justification, HR strategy & transformation, change management, Africa,Marketwire, ,Financial,Management Services,Business,middle east,Family,Other,
---