New Survey Finds Majority of Americans Don't Use the White Pages Phone Book, Don't Recycle It, Don't Want It Automatically and Go Online to Find Contact Information
WhitePages.com and Its Ban the Phone Book Initiative Announces $10,000 Research Grant to Examine the Environmental and Economic Impact of Printing, Distributing and Disposing of the Phone Book
(January 19, 2011)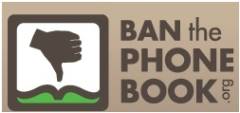 SEATTLE, WA -- (Marketwire) -- 01/20/11 -- WhitePages.com (www.whitepages.com) and its Ban the Phone Book (http://www.banthephonebook.org) initiative today announced the results from a December online survey conducted on its behalf by Harris Interactive. The survey shows that nearly 7 out of 10 American adults rarely or never use the white pages phone book for looking up phone numbers and addresses for people or businesses, 87 percent support opt-in initiatives where they would receive the phone book only if requested, and 60 percent of online adults find the contact information they need through online channels (online directories -- 29 percent, search engines -- 28 percent or social networks -- 3 percent).
The survey also discovered that only 22 percent of adults recycle their white pages phone books, which supports Ban the Phone Book's estimate that 165,000 tons of white pages phone books end up in landfills every year. Ban the Phone Book's current research also estimates that five million trees are needed per year to publish white pages phone books and that up to $17 million in annual taxpayer money is used to fund recycling fees.
To further research the environmental impact and taxpayer costs of producing phone books, WhitePages.com is announcing a $10,000 research grant for one student at an accredited university. With the grant, Ban the Phone Book aims to capture timely and accurate research that provides greater environmental and economic details about the production, distribution and disposal of white pages phone books. Ban the Phone Book will then effectively share those findings with appropriate constituents -- citizens, policymakers, telephone companies, and academic communities to help them make informed decisions about existing phone book policies.
"The white pages phone book opt-in movement has made significant headway over the last year on a nationwide level, but even as recently as December of last year the Maryland Public Service Commission denied Verizon's request to stop distributing residential white pages," said Alex Algard, CEO of WhitePages.com. "Sometimes people need to see hard numbers before they re-think the status quo, especially when you're talking about a 132-year-old habit to kick. WhitePages.com alone handled nearly one billion online searches for people last year and that doesn't include millions who use Google, 411.com and other free alternatives for people search. It's time to move away from paper and into the 21st century."
Ban the Phone Book estimates that at least 70 percent of states require telephone companies to print and distribute a phone book to every landline customer, including multiple books for households with multiple numbers. According to the Washington Post, Verizon and AT&T are the nation's two dominant landline carriers, yet Verizon has only successfully secured permission from regulators to stop automatically delivering the residential white pages statewide in Florida, New Jersey, New York, Pennsylvania and Virginia. AT&T did the same across counties in Georgia, Texas, Missouri, Oklahoma and Wisconsin. Since 2007, states that have granted permission, either statewide or across certain counties, to quit printing residential listings or that have requests pending include: Alabama, Delaware, Florida, Georgia, Indiana, Missouri, New Jersey, New York, North Carolina, Ohio, Oklahoma, Pennsylvania, Texas, Virginia and Wisconsin. Verizon plans to seek regulatory approval in all 12 states where it operates landline telephone service, which the company estimates would save 17,000 tons of paper throughout its service areas.
Algard continued, "A year ago, our own survey revealed that 81 percent were ready to embrace opt-in and the current survey reveals that we're at 87 percent. We've had 50,000 people sign our petition to Ban the Phone Book who aren't asking to eliminate the phone book altogether, but to just stop automatically delivering it. We are hopeful that with hard research, we can help this movement progress even further in 2011."
Students at accredited universities interested in applying for the Ban the Phone Book grant can send an email to [email protected]. Consumers can help spread the word about Ban The Phone Book by signing the petition, Liking us on Facebook and sharing the new "When is the Last Time You..." YouTube video.
Methodology
This survey was conducted online within the United States by Harris Interactive on behalf of WhitePages.com from December 7-9, 2010 among 2,257 adults ages 18 and older. This online survey is not based on a probability sample and therefore no estimate of theoretical sampling error can be calculated. For complete survey methodology, including weighting variables, please contact Liz Powell ([email protected]).
About WhitePages
WhitePages is the leading provider of people search and business search in the U.S. With over 20 million unique monthly users and powering over 2 billion searches on over 1,500 sites including MSN and the United States Postal Service, only WhitePages offers consumers one-click access to more than 200 million adults, also offering them the ability to edit and control their own listings. The company's suite of mobile products include a top-50 mobile website and popular iPhone, Android, and BlackBerry applications that have been downloaded more than 7 million times. WhitePages' social buying website DealPop offers deals on local businesses around the US, at up to 70 percent off retail prices.
For more information, please visit www.whitepages.com, www.dealpop.com or check out the WhitePages blog at http://blog.whitepages.com.
About Harris Interactive
Harris Interactive is one of the world's leading custom market research firms, leveraging research, technology, and business acumen to transform relevant insight into actionable foresight. Known widely for the Harris Poll and for pioneering innovative research methodologies, Harris offers expertise in a wide range of industries including healthcare, technology, public affairs, energy, telecommunications, financial services, insurance, media, retail, restaurant, and consumer package goods. Serving clients in over 215 countries and territories through our North American, European, and Asian offices and a network of independent market research firms, Harris specializes in delivering research solutions that help us -- and our clients -- stay ahead of what's next. For more information, please visit www.harrisinteractive.com.
WhitePages.com and their respective logos are trademarks, registered trademarks, or service marks of White Pages. Other products and company names mentioned are the trademarks of their respective owners.
Embedded Video Available: http://www2.marketwire.com/mw/frame_mw?attachid=1486187
Image Available: http://www2.marketwire.com/mw/frame_mw?attachid=1486200
Image Available: http://www2.marketwire.com/mw/frame_mw?attachid=1486197

Add to Digg Bookmark with del.icio.us Add to Newsvine
Media Contacts:
Michele Mehl
Buzz Builders for WhitePages.com
425-205-9444
[email protected]

Deanna Leung Madden
Buzz Builders for WhitePages.com
206-915-0512
[email protected]


Copyright @ Marketwire
Page: 1
Related Keywords:
white pages, WhitePages, people search, Verizon, AT&T, phone book, research grant, environment, Adults, Communications, Digital Audio, Web, PDA, iPods, iphone, Search, Applications, Research, Video, Google, Blogs/videoblogs, EMail, Applications, Insurance, Internet, Business Issues, Search, Internet Server Applications, Search Engines, E-mail, Search Servers, USA, Marketwire, Apple Computer, healthcare, Financial, Environmental Technology, Green Technology, Business, Email, Adults, Other,
---