New Study: Most Organizations Say Traditional Analytic Software is Costly and Cumbersome
Market seeks decentralized, pay-as-you-go options for faster, highly targeted business intelligence;BizTech 2012 survey cites desire for smaller end user solutions expanded beyond Financials group
(June 28, 2012)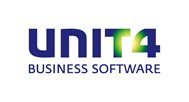 SLIEDRECHT, THE NETHERLANDS and BOSTON, MASSACHUSETTS -- (Marketwire) -- 06/28/12 -- UNIT4 (EURONEXT AMSTERDAM:UNIT4), the global business software group, today released findings of a new global study aimed at assessing changing requirements for business intelligence (BI) and analytics software in light of evolving market needs. The survey of 120 business decision makers from companies throughout the United States, Europe and Canada finds that the current array of BI software solutions is falling short, and that the traditional BI and analytic software in use today is too large, costly and cumbersome to meet current needs. The study was conducted by BizTechReports, an independent research and reporting agency with offices in Washington DC and Toronto, and included a fairly even mix of technology, as well as line-of-business executives. It was released before 27 global industry analysts at the annual Grape Escape Analyst Event in Boston today.
Most of the aging, 20+ year old solutions in the market today are primarily offered by the world's largest, multi-billion-dollar enterprise resource planning (ERP) providers, and were largely acquired during a spate of software market consolidations a decade ago. The solutions were subsequently bolted on to the acquiring company's ERP software backbones, are generally priced at hundreds of thousands to millions of dollars, and often require several months/years to install.
"The emergence and convergence of the 'big data' phenomenon has led to enormous data aggregation requirements for multiple business purposes," said Albert Pang, President of market research firm Apps Run the World in Dublin, CA. "The issue is that the past generation of analytic solutions, like Hyperion, Cognos and others, are very good at addressing the big data needs, particularly for complex financial consolidation and reporting needs. But today business is operating at a faster pace than ever before, and analysis and decision making requirements have been pushed into every department at every level of user - managerial or not. The large footprints and complexities of these unwieldy analytics software solutions aren't well suited for these types of smaller, faster needs."
Respondents believe new IT solutions are required to reduce cost, grow revenue
Seventy-eight percent of the respondents believe that operating margins require organizations to seek new IT solutions to reduce costs, while growing revenue. Additionally, 80% said that better use of business intelligence and analytic solutions by business users would improve their competitiveness over current capabilities. An overwhelming majority (72%) say that their current analytic software resources are highly centralized within the finance organization and 63% say these solutions are more oriented to support long-term planning, versus daily operational decision-making.
Across the board, North American respondents had statistically stronger opinions about the need for more direct access by business users to analytic tools; for example, 78% of those business professionals from North America thought that if direct access of these tools were tailored to their specific needs, their organization could be more competitive. Most Europeans agreed, but at a more conservative 59% rate.
There was unilateral agreement by more than 60% in all regions by IT executives that the current traditional, large analytic solutions are just too costly, cumbersome and time consuming to be used pervasively by all employees throughout their regions. A large majority of all respondents (nearly 70%) believe that modular pay-as-you-use economic models contribute to broader adoption of business analytic solutions across different business units within an enterprise. There was almost an identical view by all respondents that smaller, better-targeted app store stylized solutions could help their functional area improve performance.
Software market buyers increasingly want easier change capabilities
Three quarters of the survey respondents believe that the ability of users to make changes (without coding) to enterprise software applications would improve the ability to make better day-to-day decisions. Across all regions, more than 90% of IT professionals agreed with this statement.
"The new role for IT and business leaders is to become more strategic by analyzing the big picture - more akin to a traffic controller than a pilot," Mr. Pang explains. "There are multiple technology requirements across the organization -- data is now residing in cloud environments, potentially throughout the world, requiring new firewall and security issues. Mobile devices of various types and flavors are enabling new ways to access and synthesize useful information. Adding to the mix is that business, market and technology decisions are being made at light speed. All these factors are reshaping how business users view the type of software tools that they will need to make those critical decisions every day."
The survey, sponsored by enterprise software provider UNIT4, is available to download here.
About BizTechReports
BizTechReports is an independent research and reporting agency with offices in Washington, DC and Toronto, Canada. We analyze user trends in business technology. Our reports explore the role that technology products and services play in the overall economy and/or in specific vertical industries. It is the mission of BizTechReports to put enterprise technologies into a context that business decision-makers can understand and appreciate.
About UNIT4
UNIT4 is a global cloud-focused business software and services company aimed at helping dynamic public sector and commercial services organizations to embrace change simply, quickly and cost effectively in a market sector it calls 'Businesses Living IN Change' (BLINC)(TM). The Group incorporates a number of the world's leading change embracing software brands including Agresso Business World, our flagship ERP suite for mid-sized services intensive organizations; Coda, our best-of-class financial management software; and FinancialForce.com, the cloud applications company formed with investment from www.salesforce.com.
With operations in 17 European countries, as well as 7 countries across North America, Asia Pacific and Africa and sales activities in several other countries, revenue of EUR454.7 million was realized in 2011. UNIT4 is headquartered in Sliedrecht, the Netherlands and has over 4,000 employees. It is listed on Euronext Amsterdam by NYSE Euronext and is included in the Amsterdam Midcap Index (AMX). For more information on UNIT4 or any of its operating companies, please follow us on Twitter @UNIT4_Group, visit our Facebook page http://www.facebook.com/UNIT4BusinessSoftwareNV, visit the website at www.unit4.com.
Contacts:
UNIT4
Emma Keates
Group PR Manager
+44 (0)1423 537977
emma.keates@unit4.com
www.unit4.com


Copyright @ Marketwire
Page: 1
Related Keywords:
UNIT4 , Canada, Africa, USA, Toronto, Marketwire, IT (Information Technology), Security, Financial, Business, Business Professionals, Other,
---