New Study From Taleo Research Shows How Seemingly Unrelated Trends Will Converge to Transform Talent Management
Tectonic Changes in Economies, Demographics and Technology Will Shape How Companies Locate, Acquire and Manage People in the Next Decade
(November 08, 2011)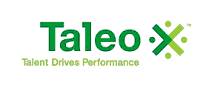 DUBLIN, CA -- (Marketwire) -- 11/08/11 -- To any company based in a single western country, with no overseas offices, it's easy to assume that acquiring and managing talent during the next five to 10 years will be a largely domestic exercise, with global trends -- such as the aging workforce in developed countries, new health care laws, Twitter, and even the recent Arab Spring uprisings -- having little influence in talent strategies.
But that would be a mistake, according to a new Taleo Research thought leadership study published today by Taleo Corporation (NASDAQ: TLEO), the global leader of SaaS-based Talent Management solutions. In fact, the study shows that changes around the world are likely to have a profound impact on the way companies of all sizes compete in an increasingly knowledge-based global economy.
"The Future of Talent Management: Underlying Drivers of Change" describes a swirl of economic, demographic and technological influences that will define how companies acquire and manage talent during the next five to 10 years. The first in a two-part series aimed at identifying the direction of talent management, the study combines independent analysis of data culled from the U.S. Department of Labor and United Nations Population Surveys with interpretation of documented trends. The resulting conclusions reveal where companies will find tomorrow's top talent -- and what it likely will take to acquire it.
Among the colliding trends identified in the study:
The economies of countries around the world have become increasingly integrated. Globalization has allowed businesses to expand their operations into new countries and new markets, increasing the diversity of their customer base and their workforce. According to a recent report by the Economist, The Global Talent Index Report, policy decisions can have a significant impact on a country's relative ranking of their "talent environment." Europe in particular places well in the report, capturing 12 of the top 20 placements. Germany and France rank well due to a reduction in the restrictiveness of labor laws and wage regulation, which will foster more openness and less friction in their labor markets.
Baby Boomer retirement is top of mind in the United States, but the real demographic challenges are found in other developed countries, where population growth rates and aging populations are poised to stifle local economies. That means companies must move talent from areas of abundance to scarcity. And here, some new shifts are occurring. As once-new markets like China and India mature and labor there achieves parity with other developed economies, companies will look to other regions for cost-effective pools of talent, including Russia and Eastern Europe, Mexico, South America and "the rest of Asia."
The line is blurring between "inside" and outside talent, which will force tomorrow's managers to broaden their current idea of what it means to manage talent. Eventually, some analysts believe half of the workforce in mature western markets like the U.S. will be made up of "contingent workers," such as part-time employees, consultants or independent contractors. The Taleo Research paper points to various drivers of this trend, including health care reform in the United States, which is expected to prompt many smaller employers to abandon health insurance plans -- often the only reason some people seek a full-time job, and thus sending more talent to the ranks of contingency workers.
The Arab Spring uprisings are likely to unlock previously unattainable talent. A largely young and educated population of people who want to work may soon become suddenly available thanks to revolutions in the Middle East. This may put even more knowledge workers into the global talent pool and give companies more options for sourcing talent in emerging and increasingly Westernized markets where they will seek a local presence.
To attract the best knowledge workers and keep them engaged, companies must constantly and aggressively evolve how they engage them with mobile, social networks and other digital tools. In this atmosphere of individual empowerment, companies that embody "old school," top-down corporate structures and communication methods will grow increasingly irrelevant to the knowledge workers they value most.
"Companies whose business relies on knowledge workers are competing on a global scale, whether they realize it or not, and the way they manage talent in the next decade will be increasingly defined by global changes in demography, economic paradigms and technology," said David Wilkins, vice president of Taleo Research. "Organizations that regard talent as a key differentiator have no choice but to consider the impacts of these trends on their talent processes and strategies."
A complete copy of "The Future of Talent Management: Underlying Drivers of Change" is available at http://www.taleo.com/resources/thought-leadership-studies.
Taleo Research expects to publish the second study in this series later this year. Part 2 will describe how companies can capitalize on the trends identified in Part 1 to establish talent processes and technologies to drive sustained competitive advantage and business value.
About Taleo
Taleo (NASDAQ: TLEO) helps organizations improve the performance of their business by unlocking the power of their people. Taleo is the only company to provide industry leading solutions in every category of Talent Management. Through its cloud-based platform, Taleo optimizes recruiting, performance management, learning and compensation -- and integrates them all so managers have the insights they need to achieve talent intelligence. Customers also plug into Taleo's unique Talent Grid community to harness the power of proven best practices, millions of users, and Taleo-ready partner solutions. From small and medium sized businesses to large enterprises, more than 5,000 organizations rely on Taleo every day to pursue growth, innovation and customer success.
Forward-looking Statements
This release contains forward-looking statements, including statements regarding general global and economic trends. Any forward-looking statements contained in this press release are based upon Taleo's estimates and expectations and are not a representation that such estimates or expectations will be achieved. These forward-looking statements represent Taleo's expectations as of the date of this press release. Subsequent events may cause these expectations to change, and Taleo disclaims any obligation to update the forward-looking statements in the future. These forward-looking statements are subject to known and unknown risks and uncertainties that may cause actual results to differ materially. Further information on potential factors that could affect actual results is included in Part II, Item 1A of Taleo's Quarterly Report on Form 10-Q, as filed with the SEC on August 8, 2011, and in other reports filed by Taleo with the SEC.
Media Contact
Ally Zwahlen
Senior Director | Corporate Communications
Taleo Corporation
T. 925.452.3394
[email protected]


Copyright @ Marketwire
Page: 1
Related Keywords:
talent management, talent intelligence, recruiting, performance management, Russia, France, Germany, USA, India, China, Marketwire, , Insurance, Surgery, Insurance Companies, Medical, Business, middle east, russia, china, india, mexico, Other,
---