New SnappyTV Feature Instantly Links Tweets to Related Video Clips
Using 'VTweets' and Live Video Highlights, TechCrunch Increases Social Engagement at Disrupt Conference in New York
(June 12, 2012)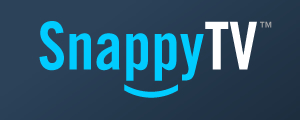 SAN FRANCISCO, CA -- (Marketwire) -- 06/12/12 -- SnappyTV, the leading live cloud and social video publishing and distribution platform, today announced a new feature that allows media organizations to instantly map tweets to their corresponding video content. Dubbed 'VTweets,' the new feature allows companies to further leverage their video content through Twitter playlists that highlight what specific users or groups of users are saying about specific moments during a streaming event or broadcast program.
In addition, SnappyTV announced today that TechCrunch Disrupt NY has become the first event to implement the 'VTweets' feature, using it in conjunction with SnappyTV's live video highlights, as part of its streaming coverage of the recent conference.
"SnappyTV wants to make it as easy as possible for organizations or events -- such as TechCrunch Disrupt -- to maximize the full value of their programs," said Mike Folgner, CEO of SnappyTV. "Our new Twitter functionality allows companies to harness and leverage conversations that are occurring about their video content and reach a broader audience through social media. Combined with our live video publishing technology, it delivers a powerful tool for increasing engagement."
Jon Orlin, Executive Producer and Production Director for TechCrunch TV at TechCrunch, said: "TechCrunch Disrupt NY, one of our major conferences of the year, features the launch of hot startups and interviews with the top players in the tech world. In the past, it took many hours and a complex system to make and distribute video highlights from our Ustream live stream. With SnappyTV, we made more than 350 clips ready for publishing instantly on TechCrunch and our social networking channels. The SnappyTV videos were often ready even faster than our photographs, which is pretty amazing."
With the SnappyTV technology, TechCrunch reporters were able to include actual video in their conference coverage and also deliver instant availability to other media outlets tracking the conference. For the Hackathon event, the TechCrunch TV editorial team created more than 100 video clips during a three-hour show, publishing them before or just seconds after the winners were announced. The new SnappyTV VTweets feature also enabled TechCrunch to instantly tweet interesting quotes linked with an actual video clip. In addition to selecting and playing the highlights they wanted to see, viewers could also embed their favorite clips in blogs or websites and share clips online with friends and followers via Facebook and Twitter, deepening engagement for the event.
SnappyTV VTweets - How It Works
With SnappyTV VTweets, media organizations can quickly and easily link tweets to the video content being referenced, enabling viewers to immediately see what's being tweeted about a specific moment of a program or event. Implemented within SnappyTV's LiveCut Editor, the VTweets feature allows content providers to:
Select and view VIP Twitter accounts as they're tweeting about their live TV program or streaming event;
Instantly select tweets to be highlighted or 'VTweeted' for inclusion in a SnappyTV Playlist; and
Embed and display playlists on any website, mobile application or second screen app desired to accompany highlighted video clips.
Viewers and fans see the published tweet right alongside the video clips, creating a richer viewing experience. SnappyTV VTweets fully complements the SnappyTV LiveCut Editor, which allows users to clip and post video content easily and in real time for the instant collaboration, creation and distribution of content.
About TechCrunch
TechCrunch is a leading technology media property, dedicated to obsessively profiling startups, reviewing new Internet products, and breaking tech news.
About SnappyTV
SnappyTV is a live cloud and video content publishing and distribution platform that works directly with content owners to enable viewers to distribute video clips from their favorite shows in real time, increasing tune-in and audience engagement. With SnappyTV, users can easily create their own 20-second video clip from what they see on TV or online streaming events and share it instantly with their friends via social networks, including Facebook and Twitter.
Major television networks, cable channels and sports leagues, including ABC News, Fox Sports, MTV, the NBA, NCAA, PBS News Hour, and Turner Sports, are using SnappyTV's real time publishing platform to change the way audiences engage with and talk about their favorite shows and live TV events by integrating video clips with social conversations. For more information, go to http://www.snappytv.com or email contact@snappytv.com.
Add to Digg Bookmark with del.icio.us Add to Newsvine
Media Contact:
Kim Barsi
Storyboard PR
415.516.5863
kim@storyboardpr.com


Copyright @ Marketwire
Page: 1
Related Keywords:
SnappyTV, Networking, Internet, Social Media, Broadcast, Streaming, Internet/Web, Display, Internet, Email, Social Media, Broadcast Technology, Internet Media, Broadcast, email, Social Media, Marketwire, Sports, Television, Internet Technology, Internet, Sports, College Sports, Basketball, Social Networking, Email, Other,
---