New Sensing Solutions to Be Introduced at Sensors Expo & Conference
(May 24, 2012)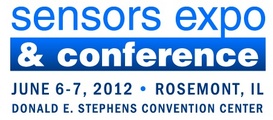 NEWTON, MA -- (Marketwire) -- 05/24/12 -- More than 150 exhibitors will showcase the newest technologies for sensors and sensors-related industries at the 2012 Sensors Expo & Conference, June 6-7 at the Donald E. Stephens Convention Center in Rosemont, IL. Following is a sampling of the state-of-the-art measurement and monitoring devices for MEMS, Energy Harvesting, Mobile Sensing, Wireless Sensor Networking and more that will be on display Wednesday, June 6 from 10 a.m. - 5 p.m. and Thursday, June 7 from 10 a.m. - 3 p.m.
austriamicrosystems AG (Booth 615) has two new sensors to present. The first AS3935 Franklin Lightning Sensor IC is the world's first lightning sensor IC targeting low-power, portable applications. The new AS5132 contact-less angular position sensor is a magnetic position sensor IC offering accurate angular measurement over a full 360-degree turn.


Freescale Semiconductor (Booth 911) will present three state-of-the art demos with feature videos of their new products. The Xtrinsic Capacitive and Resistive Touch-Sensing (CRTouch) Platform enables resistive touch screens to handle basic gesture recognition; Windows 8 Freescale 12-Axis Xtrinsic Sensor Platform, which extends the Microsoft Windows 8 Mandate for sensor fusion in tablets, slates, convertible laptops and other mobile devices; and the Kinetis KW20 Wireless MCU and MC13242 RF Transceiver, the industry's most scalable wireless platform enabling a range of applications including smart energy, smart metering and building control applications.


Hoffmann + Krippner (Booth 608) will display the Sensonik®. This product offers a considerably simplified production process using new generation of polymer thick film technology to provide excellent linearity, extreme durability and high temperature stability.


INTEGRATED Engineering Software (Booth 303) to introduce their Application Programming Interface (API), which enables customers to integrate CAE software programs to the applications they need for their design analysis.


Linear Technology (Booth 1020) is showing their extensive energy harvesting power management ICs and Wireless Sensor Network products from their Dust Networks Product Group.


MaxBotix Inc. (Booth 426) will showcase the new HRLV-MaxSonar-EZ Ultrasonic High Resolution 1mm Accuracy Sensor. Offering simultaneous multi-sensor operation, automatic speed of sound changes due to temperature, low operating voltage and current.


Plessey Semiconductors (Booth 627) is demonstrating two types of Heart Monitoring technologies this year. The Heart Monitor Wrist Watch can be used for exercise with a simple touch and no chest strap. This tool shows that effective personal ECG monitoring can be easy. The second design is to provide continuous heart monitoring and straps to the upper arm. Plessey Semiconductors will also introduce an automotive sensor product, the PS25203. This sensor offers driver monitoring for improved safety within the vehicle.


Schneider Electric and Gas Sensing Solutions (Booth 302) to showcase a unique temperature, humidity and CO2wireless sensor. This is the world's first solution that can run for 10 years with a single AA battery.


Synkera Technologies Inc. (Booth 423) will be exhibiting the new UltraKera MOS sensor prototypes. UltraKera offers even lower power consumption than previous sensors and was designed with portable, wireless and embedded sensor applications in mind.


Vibration Research Corporation (Booth 508) will be exhibiting its 5th generation vibration control system hardware (VR9500 Revolution) with Version 10 software for electro-dynamic & servo-hydraulic shakers.


YEI Technology (Booth 85) will be featuring the 3-Space family of AHRS/IMU, a line of miniature, high-precision, high-reliability IMU and AHRS, new the sensors market. YEI 3-Space is affordable and accurate while boasting the smallest size available on the market today


Sensors Expo & Conference, the leading sensors event in North America, will bring together thousands of engineers, scientists and industry professionals from around the world to see the latest innovations in sensor technology, learn about the most important sensing trends and network with industry leaders. The conference program is dedicated to exploring the most up-to-date innovations in sensor technology, including Applied Sensing, Big Data & Analytics, Cloud, Energy Harvesting, Measurement & Detection, MEMS, Mobile Sensing, RFID/M2M, Sensor & System Design, Wireless Sensing, and more. Sensors Expo & Conference identifies cutting-edge trends, explores them in an information-packed conference program and reflects those trends throughout the exhibit floor with new product announcements, key technology focused areas, such as the Energy Harvesting Pavilion, MEMS Pavilion, Big Data & Cloud Pavilion, and Wireless Pavilion, as well as a showcase of hundreds of products and services and the Best of Sensors Expo 2012 Awards presented by Sensors Magazine.
About Sensors Expo & Conference
Sensors Expo & Conference is the only industry event in North America exclusively focused on sensors and sensor integrated systems, providing over 25 years of technical innovation and thought leadership! The Expo & Conference is produced by Questex Media Group and sponsored by Sensors Magazine. Visit www.sensorsexpo.com for the latest information on the 2012 event.
Add to Digg Bookmark with del.icio.us Add to Newsvine
For further information, contact:
Amy Riemer
Media Relations
978-475-4441 (office)
978-502-4895 (cell)
Email Contact


Copyright @ Marketwire
Page: 1
Related Keywords:
Sensors Expo & Conference, Applications, Networking, Hardware, Management, Marketwire, Inc., , Film, Family, Other,
---