New School Safety Training System Makes Every Second Count
(February 28, 2012)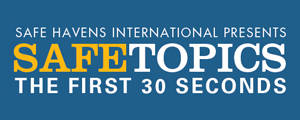 ATLANTA, GA -- (Marketwire) -- 02/28/12 -- Safe Havens International, a leading provider of school safety training around the world, launched today "Safe Topics: The First 30 Seconds," an advanced rapid response training and evaluation system to prepare all school employees to make life-and-death decisions in the first moments of any school crisis.
The multimedia learning system, complete with trainer guides, evaluation tools, video scenarios, and workbooks for over 30 crisis scenarios, is available to schools for $1,500, and can be ordered online at SafeHavensInternational.org for immediate delivery.
Developed by world-renowned school safety expert Michael Dorn, "Safe Topics: The First 30 Seconds" is built on effective concepts that have been used in training law enforcement, fire service, emergency medical personnel, pilots and military personnel for many years. For the first time, these training concepts have been adapted for handling school crises, during which a delay of even five or ten seconds can result in mass casualties.
Simulations conducted by Safe Havens at schools around the nation have revealed that most school employees unfamiliar with this specialized training miss at least one critical action step per scenario, such as initiating an evacuation, calling the main office, or dialing 911.
For example, more than 70% of school employees participating in simulations fail to implement a lockdown for an aggressor with a weapon such as a knife, crow bar or hammer. According to Dorn, attacks with weapons other than firearms are far more common and can be just as deadly, and schools cannot afford to overlook any gap in preparedness.
The Safe Havens video scenarios allow school employees to practice making life-and-death decisions in ways not possible with other types of drills and exercises. Using Dorn's program, schools can practice for a wider array of situations in a shorter period of time, and quickly build what he calls a "decision-making knowledge base."
About Safe Havens International
Safe Havens International is a global non-profit school safety center and a leading authority on prevention, mitigation, preparedness, response and recovery strategies for K-12 and Higher Ed. Executive Director Michael Dorn is a popular writer, speaker, and media commentator on these topics, and is best known for his widely-referenced books, "Weakfish: Bullying Through the Eyes of a Child," and "Jane's Safe School Planning Guide for All Hazards." Safe Havens analysts have extensive experience worldwide in providing practical and effective services to help make schools safer, better prepared for emergencies, and more efficient at the very process of education. The organization has proudly served state and federal government agencies, lawmakers, school districts, and their communities throughout the United States, and in Central America, Canada, Europe, South Africa, Asia and the Middle East.
Add to Digg Bookmark with del.icio.us Add to Newsvine
Contact:
Michael Dorn
Executive Director
Safe Havens International
SafeHavensInternational.org
404-557-2068
Email Contact


Copyright @ Marketwire
Page: 1
Related Keywords:
Safe Havens International, Canada,Africa,USA,Marketwire, ,middle east,Other,
---