New Resource for Depression, Anxiety Sufferers
(June 11, 2012)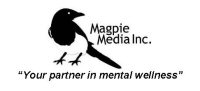 FORT ERIE, ONTARIO -- (Marketwire) -- 06/11/12 -- Magpie Media Inc. - A new resource for those living with depression and anxiety has hit the Web. Anchor: Overcoming Depression and Anxiety Magazine was recently launched by Magpie Media Inc. It's a digital publication providing information, recovery tips, and hope to those living with anxiety and depression. The complete first issue of Anchor is available for free at www.mentalwellnesstoday.com.
"According to the World Health Organization, depression affects more than 121 million people worldwide, yet there aren't many resources available to help these people" said Bill MacPhee, CEO and founder of Magpie Media Inc. "Our goal is to provide valuable tools for those affected by mental illness and raise awareness about mental health. We want people to understand they're not alone-there is help available."
The first issue of Anchor focuses on what to do when negative thoughts take hold and how to reach out for help. It also offers tips on communicating with anxiety and homeopathic treatments.
For 18 years, Magpie Media has published SZ Magazine, the only schizophrenia magazine in North America. MacPhee was diagnosed with schizophrenia when he was 24 and wanted to create a magazine to help others affected by the illness.
Visit www.mentalwellnesstoday.com to see your first free issue of Anchor Magazine.
Anchor Magazine was made possible with the support of the Ontario Media Development Corporation.
Contacts:
Magpie Media Inc.
Antonietta Petrella
Project Coordinator
905-994-0302
[email protected]


Copyright @ Marketwire
Page: 1
Related Keywords:
Magpie Media Inc. , Marketwire, Inc.,Internet Technology,Medical,
---