New Mobile Spanish Language-Learning App Brands Itself as the Opposite of Rosetta Stone
(May 26, 2011)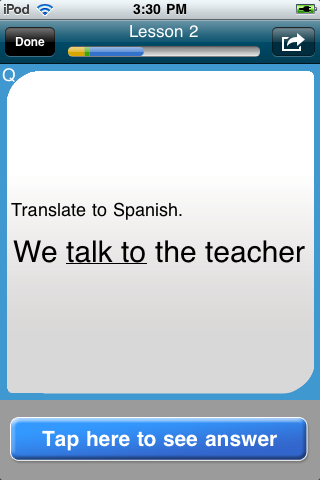 New York, NY (PRWEB) May 26, 2011
Mobile language learning has reached a new level today with the release of Brainscape Spanish. As the most expensive language-learning app on iTunes to date, this $40 iPhone app is the first to employ a ground-breaking new language acquisition method known as Intelligent Cumulative Exposure (ICE).
The majority of other language apps on the App Store are either dictionaries, translation tools, vocab flashcards, or games, says Andrew Cohen, Brainscapes founder & CEO, from his cube in a Soho-based startup incubator. Brainscape Spanish is the first complete, well-organized curriculum that introduces and repeats concepts in a pattern customized to your brain. Its like having a personal tutor guiding you through the language from the word hello to more complex ideas in a much more nimble and mobile-friendly way than a mammoth computer-based program like Rosetta Stone
The curriculum centered around the ICE method is structured as a series of smart audio flashcards with sample sentences and grammatical annotations. Brainscapes team of language science researchers from Columbia, Yale, and MIT have spent nearly two years analyzing word-frequency studies, ordering the curriculum in progressing levels of difficulty, and annotating each smart flashcard with clear grammatical explanations in the footnotes.
Brainscape already has over 150,000 enthusiastic users of its more basic language and test prep apps, Cohen reminds us, and this new complete mobile Spanish language-learning solution is a great example of what can really be done with our platform. I think that learners will ultimately see the $40 price tag as a huge bargain. Whats really expensive is not being able to learn a language as efficiently as you should be.
Interested learners can find Brainscape Spanish on the iTunes App Store as of Wednesday, May 26th. It is also available to study along with dozens of other subjects on Brainscape's website, brain-scape.com. Brainscapes vision is to become the standard web and mobile study platform for the entire human domain of knowledge.
JOURNALISTS: For more information, or to obtain a free promo code, contact
Andrew Cohen
Founder & CEO
acohen(at)brain-scape(dot)com
###
Read the full story at http://www.prweb.com/releases/Brainscape/SpanishApp/prweb8486125.htm.
Page: 1
Related Keywords:
consumer goods,consumer issue,consumer confidence,consumer issue,education,adult education,further education,religious education,internet,computing and information technology,satellite technology,wireless technology,science and technology,technology (general),identification technology,agricultural research and technology,internet,consumer goods,consumer issue,consumer confidence,consumer issue,computer crime,education,adult education,further education,university,religious education
---