New Mobile Phone Game Doubles As Powerful Stock Valuing Tool
(June 14, 2011)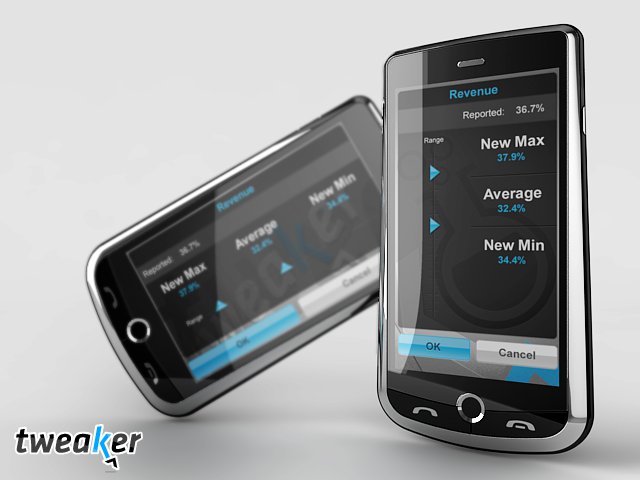 Portland, OR (PRWEB) June 14, 2011
Tweaker Labs announced today the public invitation to the beta phase of the Tweaker stock market app for Android phones. Available as a free download to invited users, Tweaker plays as a competitive stock market game with an online leaderboard and cash prizes; in addition, Tweaker also acts as a powerful market valuing tool for finance professionals. Users can sign up for invitations at Tweaker Labs.
"Our goal with Tweaker was to create an easy-to-use app that was equally fun and powerful," said Courtney Couch, CEO and co-founder of Tweaker Labs. "The competitive side of Tweaker, along with the leaderboard and cash prizes, creates a fun way to learn stock valuations. However, the powerful tools and objective feedback can help stock market professionals validate their modeling scheme. It's really something for everyone."
Tweaker works by getting user predictions on cash and growth trajectory. This data goes into a proprietary algorithm based on the process of fundamental cash-flow modeling, and the outcome evaluates the user's accuracy. For stock market amateurs, this introduces a simple, addictive game while teaching the basics of stock market ups and downs. For professionals, this creates a transparent and objective record of their modeling -- and with Tweaker's public leaderboard, it's a free and effective marketing message that demonstrates how effective a firm can be.
"We like to say that Tweaker gives your phone a PhD in finance. It does all the difficult number crunching so that the real focus is on the user's skill and knowledge," says Trent Nevills, Tweaker Labs other co-founder. "It's perfect for anyone who's ever been interested in the stock market. And it's a significant marketing tool for professionals out there."
Tweaker brings finance into the era of social media by bringing users together into an immense online community. Through the online leaderboard, Tweaker users can see how they compare against the best of the best, whether they're amateurs or professionals. Each month, Tweaker's best users will receive cash prizes, in addition to connecting with social media outlets to help users compare their Tweaker score with friends and family.
"Social media has become so important in just about every area of life. Finance is the final frontier," says Couch. "With Tweaker, we've connected the financial world, so users can come together, compete, have fun, and even learn from each other regardless of their experience. It's a level playing field, and best of all, it's free."
Tweakers future includes its public launch and eventual distribution to iPhone users. For more information, visit Tweaker Labs.
About Tweaker
Tweaker is a revolution in finance -- the mobile app that connects stock market amateurs with experienced professionals in a fun, easy-to-use game. Simple enough for novices to learn the market and powerful enough for professionals to verify their models, Tweaker brings the financial world into the era of social media and mobile technology.
About Tweaker Labs
Founded by technology veteran Courtney Couch and financial veteran Trent Nevills, Tweaker Labs' goal is to meld the world of finance and technology. With the launch of the Tweaker app, Tweaker Labs has taken the first step into bringing finance into the 21st century and beyond.
###
Read the full story at http://www.prweb.com/releases/tweakerlabs_finance/analysis_game_android/prweb8405999.htm.
Page: 1
Related Keywords:
economy, business and finance, financial and business service, investment service, business enterprises, business (general), economy, business and finance, financial and business service, , business enterprises, business (general), finance (general), campaign finance, public finance, computing and information technology, satellite technology, software, wireless technology, science and technology, technology (general), identification technology, agricultural research and technology, internet, computing and information technology, satellite technology, wireless technology, science and technology, technology (general), identification technology,
---