New Infographic Highlights the Impact of Tablet eCommerce
Data Shows Tablet-Based Web Use Has Increased 300% Since 2011
(July 11, 2012)

SAN DIEGO, CA -- (Marketwire) -- 07/11/12 -- Miva Merchant, a leading supplier of ecommerce software and services, is pleased to introduce an informative new infographic that demonstrates the impact of tablet computing on consumers' online shopping preferences. The infographic shows merchants how to take advantage of the growing trend toward tablet-based computing.
"More than 55 million Americans now own a tablet computing device and that number is expected to rise through 2014," says Jesse Ness at Miva Merchant. "Consumers are more willing to shop online using a tablet device, spend more time online with a tablet device than with a computer, and complete more sales using their mobile devices than they do when they use either a desktop computer or a mobile phone."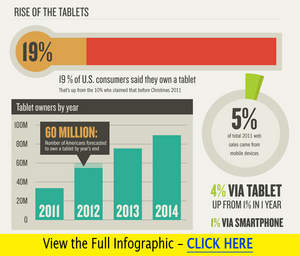 The trend toward tablet computing is expected to continue. Tablet-based web use has increased 300% since 2011 and tablet adoption is growing 10 times faster than the smartphone adoption rate. "Consumers show a strong preference for tablet-based computing," says Jesse. "Tablets are more mobile than laptops and are easier to use, store and transport. They also offer a wide range of mobile services that laptops and traditional computing devices don't."
"Many merchants think they need to make an application to facilitate the consumer's online shopping experience," says Jesse. "In truth, a small business ecommerce solution that optimizes the merchant's website is more cost-effective and will produce a better overall shopping experience for the consumer." Optimizing a website for mobile devices may include using larger fonts and streamlined graphics that load faster, eliminating Flash animations, simplifying the checkout process, incorporating the tap-zoom function and emphasizing scrolling rather than pagination.
"Many of the techniques used to optimize a website for the desktop user won't produce a high quality mobile experience," says Jesse. "Internet merchants need to think about how to present their website to the mobile user." The payoff for developing and implementing a mobile strategy can be huge. Mobile device users have a lower shopping-cart abandonment rate than desktop users do. Ultimately, getting the consumer to complete the sale is critical, and providing a smooth Web experience is a key to that.
"The landscape for online retail is changing in large part due to the rise of tablet-based computing devices," says Jesse. To get more information about mobile devices and ecommerce or to download or share the infographic please visit: http://www.mivamerchant.com/blog/ecommerce-and-tablet-users-on-the-rise
About Miva Merchant
Miva Merchant, located in San Diego, CA is a leading supplier of complete, reliable, expandable and easy-to-use ecommerce software and services to small and medium-sized businesses. Miva Merchant shopping cart software is used by tens of thousands of online merchants and developers on an extensive network of hosting partners and business portals. For more information about Miva Merchant, please visit http://www.mivamerchant.com.
Image Available: http://www2.marketwire.com/mw/frame_mw?attachid=2036726

Contact:
Jesse Ness
Email: Email Contact
Website: http://www.mivamerchant.com


Copyright @ Marketwire
Page: 1
Related Keywords:
ecommerce software, tablet shoppers, infographic, mobile ecommerce, tablets, smartphones, Computers/Peripherals, Internet, Computer, Notebook/Laptop, Tablets, Digital Media Software, Computers/Home Office, Communications, Web, Graphics/Image Editing, Tablets, Notebooks, Desktops, Networks, Handheld, Graphics, Smart Phone, Sales, Sales & Marketing, Internet, Sales, Sales, Prosumer/Consumer, Business, Flash, Phone, Handheld PC/PDA, PDA/Smartphone, Graphics/Design, Graphics, Marketwire, Communications Technology, Internet Technology, Business,
---