New Gadget can Detect Used Car Lemons, while iPhone / Android App Keeps Your Ride Running Sweet
(May 26, 2011)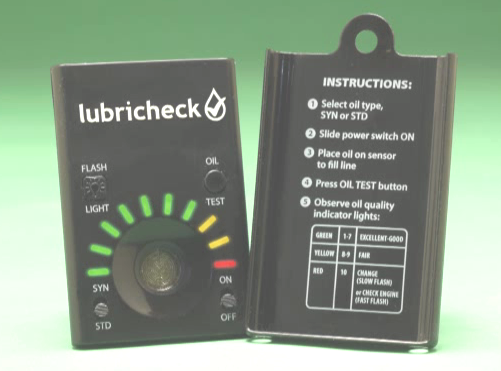 Osceola, WI (PRWEB) May 26, 2011
Used car shopping is a mixed bag. The thrill of finding that dream vehicle, combined with the potential agony of buying a lemon. But with used car prices rising sharply due to short supply and high demand, the cost of buying a vehicle with pre-existing conditions has never been higher. Historically, we kick the tires, look knowingly under the hood, and check out the A/C and radio. Sadly, none of these tests will detect serious engine problems. But soon, for $30, you can have a powerful engine diagnostic tool in your pocket. With a few drops of oil from the dip stick, (see demo video) the Lubricheck will not only intimidate the seller, but may save you from an expensive mistake. A rating of 8-10 indicates worn out oil, (bad oil = poor maintenance). A flashing red LED suggests contamination from metal particles, excessive carbon, water or antifreeze leaks. (Big problems, back away from this car!)
After the car title is signed, and that sweet ride is yours, the Lubritrack app for iPhone or Android, will provide a convenient way to track the health and maintenance of all your cars, trucks, motorcycles, ATVs, mowers, etc. Your data can be uploaded or manually entered to an account on Lubritrack Online. Here, emails or tweets can remind you to check your oil, change your filters, rotate your tires, etc. Subscribers to this service can also compare their vehicle and oil performance to other users. (Now here is the truly cool part). Based on your data, (if your motor oil degrades at an unusual rate), the algorithms in Lubritrack will trigger a warning and suggest you have the engine checked out before serious damage occurs. Worn bushings or failed head gaskets may be lurking within.
Additionally, the Lubricheck will most likely help you stop wasting oil. If you are like most Americans, you have been programmed to change your oil every 3-5,000 miles. With modern engines and oil technologies, this proves to be much more frequent than needed, resulting in wasted time, money and natural resources.
WaveOn Technologies will be introducing the Lubricheck and Lubritrack later this summer. Those wishing to be the first on their block to own one may reserve it at Lubrichecks page on Kickstarter.com before June 6th.
# # #
Read the full story at http://www.prweb.com/releases/2011/5/prweb8481803.htm.
Page: 1
Related Keywords:
computing and information technology,satellite technology,wireless technology,science and technology,technology (general),identification technology,agricultural research and technology,computing and information technology,satellite technology,wireless technology,science and technology,technology (general),electronics,identification technology,agricultural research and technology,market research,research and development,medical research,science and technology,applied science,material science,human science,natural science,philosophical science,research,science (general),animal science,micro science,
---