New GPS LNAs From NXP Dynamically Suppress Strong Transmit Signals
BGU700x / BGU8007 LNAs Enable Best, Long-Lasting GNSS Signal Reception in Smallest Footprint
(December 15, 2011)

EINDHOVEN, NETHERLANDS -- (Marketwire) -- 12/15/11 -- NXP Semiconductors N.V. (NASDAQ: NXPI) today announced SiGe:C low noise amplifiers (LNAs) designed to improve the linearity, noise figure and reception of GPS signals, including GloNass and Galileo, while offering the smallest footprint in the market. As the industry's first GPS LNAs to dynamically suppress strong cellular, Bluetooth and WLAN transmit signals, the NXP BGU700x family offers the best reception for weak GPS signals, delivering an improvement of 10 dB or better IP3 under -40 to -20 dBm jamming conditions, while the noise figure remains below 1 dB. Requiring only two external components, the BGU700x LNAs save up to 50 percent in PCB size and 10 percent in component cost.
"Consumers increasingly require the best GPS reception, meaning short time to first fix and high positioning accuracy," said Duco Das, product marketing manager, NXP Semiconductors. "With our latest LNAs, we offer a complete and robust IC solution with all the ingredients necessary to enhance GPS performance while protecting against jamming signals coming into a device. The LNA can dynamically adjust device reception according to the way signals come in, transmitting more on the relevant frequency as needed, and offering the best possible chance to stay connected to the GPS signal. As such, this makes our new LNA family an ideal solution for designers looking to improve GPS reception through a discrete solution."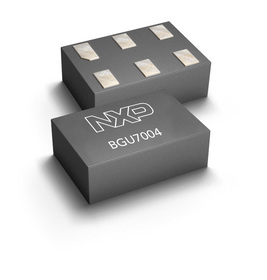 GPS has become a standard feature in a wide range of consumer products, from personal navigation devices to digital video cameras, watches, electric cars, and more. GPS signal power levels are weak and below the noise floor at -155 dBm. In many of these products, especially smart phones, strong transmitters such as Bluetooth, WLAN and cellular can drive the GPS LNA into compression. When the GPS LNA is in compression, it has lower gain which causes poor GPS reception; it also generates intermodulation products and harmonics from the transmitter signals, capable of overpowering weak signals and leading to loss of GPS reception.
The NXP BGU700x/BGU8007 series use adaptive biasing to immediately detect any output power from jammers, and compensate by temporarily increasing the current. As a result, optimal GPS signal reception is maintained for as long as possible. Each device in the BGU700x/BGU8007 series requires only one input matching inductor and one supply decoupling capacitor to complete the design. This creates a very compact design and lowers the bill of materials. For example, the BGU7005 is in a 1.45-mm x 1-mm package with an application area of only 4.53 mm2. This is 50-percent smaller than a comparable solution with a 9.06-mm2 application area. Available in extremely small 6-pin packages, the new LNAs reduce footprint, lower cost, and enhance reception in systems that use an active or patch antenna.
Key Features
Low noise figure: 0.75 dB
System-optimized gain of 16.5 or 19 dB
AEC-Q100 qualified (BGU7004, BGU7008) for highest reliability in harsh conditions
Small 6-pin leadless package: 1.45 x 1.0 x 0.5 mm
Pricing and Availability
The new BGU700x/BGU8007 LNAs are available now. Suggested pricing starts at $0.35 for 5,000 units.
Links
http://www.nxp.com/documents/leaflet/75017194.pdf
About NXP Semiconductors
NXP Semiconductors N.V. (NASDAQ: NXPI) provides High Performance Mixed Signal and Standard Product solutions that leverage its leading RF, Analog, Power Management, Interface, Security and Digital Processing expertise. These innovations are used in a wide range of automotive, identification, wireless infrastructure, lighting, industrial, mobile, consumer and computing applications. A global semiconductor company with operations in more than 25 countries, NXP posted revenue of $4.4 billion in 2010. Additional information can be found by visiting www.nxp.com.
Forward-looking Statements
This document includes forward-looking statements which include statements regarding NXP's business strategy, financial condition, results of operations, and market data, as well as any other statements which are not historical facts. By their nature, forward-looking statements are subject to numerous factors, risks and uncertainties that could cause actual outcomes and results to be materially different from those projected. These factors, risks and uncertainties include the following: market demand and semiconductor industry conditions; the ability to successfully introduce new technologies and products; the end-market demand for the goods into which NXP's products are incorporated; the ability to generate sufficient cash, raise sufficient capital or refinance corporate debt at or before maturity; the ability to meet the combination of corporate debt service, research and development and capital investment requirements; the ability to accurately estimate demand and match manufacturing production capacity accordingly or obtain supplies from third-party producers; the access to production capacity from third-party outsourcing partners; any events that might affect third-party business partners or NXP's relationship with them; the ability to secure adequate and timely supply of equipment and materials from suppliers; the ability to avoid operational problems and product defects and, if such issues were to arise, to correct them quickly; the ability to form strategic partnerships and joint ventures and to successfully cooperate with alliance partners; the ability to win competitive bid selection processes to develop products for use in customers' equipment and products; the ability to successfully establish a brand identity; the ability to successfully hire and retain key management and senior product architects; and, the ability to maintain good relationships with our suppliers. In addition, this document contains information concerning the semiconductor industry and NXP's business segments generally, which is forward-looking in nature and is based on a variety of assumptions regarding the ways in which the semiconductor industry, NXP's market segments and product areas may develop. NXP has based these assumptions on information currently available, if any one or more of these assumptions turn out to be incorrect, actual market results may differ from those predicted. While NXP does not know what impact any such differences may have on its business, if there are such differences, its future results of operations and its financial condition could be materially adversely affected. Readers are cautioned not to place undue reliance on these forward-looking statements, which speak to results only as of the date the statements were made. Except for any ongoing obligation to disclose material information as required by the United States federal securities laws, NXP does not have any intention or obligation to publicly update or revise any forward-looking statements after we distribute this document, whether to reflect any future events or circumstances or otherwise. For a discussion of potential risks and uncertainties, please refer to the risk factors listed in our SEC filings. Copies of our SEC filings are available from on our Investor Relations website, www.nxp.com/investor or from the SEC website, www.sec.gov.
Embedded Video Available: http://www2.marketwire.com/mw/frame_mw?attachid=1833154
Image Available: http://www2.marketwire.com/mw/frame_mw?attachid=1833152

Add to Digg Bookmark with del.icio.us Add to Newsvine
Copyright @ Marketwire
Page: 1
Related Keywords:
nxp, lna, gps, amplifier, signal, gnss, glonass, galileo, bgu700x, bgu8007, low noise, rf, pnd, wlan, Prosumer/Consumer, Business, Marketing, USA, Marketwire, , Financial, Communications Technology, Business, Family, Other,
---