New Comfort Food Cookbook Brings American & International Classics to People With Diabetes
"What a beautiful, compelling book! The recipes are at once simple, sensual, and customized for people with diabetes."-- Mollie Katzen, author of Moosewood Cookbook
(September 16, 2011)

ALEXANDRIA, VA -- (Marketwire) -- 09/16/11 -- Eating is one of life's greatest pleasures, and comfort foods are designed to embrace and celebrate this pleasure. Unfortunately, many people assume a diagnosis of diabetes means the days of celebrating the foods they love are officially over. That's why the American Diabetes Association and author Robyn Webb created The American Diabetes Association Diabetes Comfort Food Cookbook. It's filled with favorite recipes customized to meet the dietary needs of people who have diabetes -- while still keeping unbelievable flavor.
Sprinkled with helpful tips and time-saving advice, The American Diabetes Association Diabetes Comfort Food Cookbook redefines classic American and International comfort food. It is a "go-to" collection of recipes for families that need to cook nutritionally sound and diabetes-friendly meals that will satisfy everyone at the table. The days of cooking two meals to please everyone in the household are over.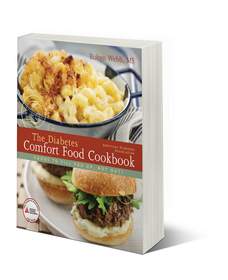 For example, when it comes to fat -- a taste enhancer that provides the flavor to favorite comfort foods -- Robyn recommends not eliminating fat or using a diet substitute. Instead, she suggests using real olive oil and real butter, but in small amounts; just enough so that all the flavors meld together in a dish. She also suggests shopping wisely for the best ingredients and for high-quality oils and European-style butter, which are so rich that only the tiniest amount is needed to make recipes sing.
With The American Diabetes Association Diabetes Comfort Food Cookbook, you'll find an outstanding collection of healthy, diabetes-friendly recipes based on American comfort food classics, lovingly arranged and beautifully photographed. The book is divided into Starters, Soups and Stews, One Pot Meals, Pastas, American Classics, International Flavor, Sides and Salads, and of course, Desserts. Crowd-pleasers, such as Mac 'n' Cheese, Classic Free-Formed Meatloaf, Chicken Pot Pie with Phyllo, Mashed Potatoes, Stroganoff, Double Chocolate Brownies, and even Fudge Pudding Cake, will make it difficult to believe you're eating for your health.
Here's an American classic redefined for a delicious family dinner:
Oven Pork Stew with Sweet Potatoes and Shallots
This dish is a beauty. The light purple color of the shallots contrasts nicely with the bright orange color of the sweet potatoes. This is one of those classic stovetop-to-oven dishes that fill the kitchen with a heavenly aroma.
SERVES 6 - SERVING SIZE: 1 cup PREPARATION TIME: 20 minutes COOK TIME: 45 minutes
Ingredients:
1 tablespoon olive oil
1 pound boneless pork loin, cut into 1 ½-inch pieces
1 medium onion, chopped
2 medium (5 ounces each) sweet potatoes, peeled and cut into 8 wedges
8 large shallots, peeled and left whole
4 garlic cloves, minced
3 tablespoons flour
1 2/3 cups fat-free, lower- sodium chicken broth
½ cup dry white wine (Pinot Grigio or Sauvignon Blanc)
1 tablespoon minced fresh thyme
Kosher or sea salt, to taste
Freshly ground black pepper, to taste
½ pound cremini or white button mushrooms, cleaned, stems removed, and cut in half
½ cup chopped fresh parsley
1. Preheat the oven to 350 degrees F. Heat the olive oil in a large ovenproof Dutch oven or similar pan. Add the pork, in two batches, until the pork is well browned on all sides, about 6 minutes per batch. Remove the pork from the pan and set aside. Add in the onion, sweet potatoes, shallots, and garlic and sauté for 2-3 minutes.
2. Add the pork with any accumulated juices back into the pan and sprinkle with the flour. Cook and for 1 minute, stirring continuously, until the flour is absorbed into the pork and vegetables. Add in the chicken broth, wine, thyme, salt, and pepper. Bring to a boil. Lower the heat and add in the mushrooms.
3. Transfer the pan to the oven and bake uncovered for 40-45 minutes or until the vegetables are tender. Sprinkle with parsley.
EXCHANGES/ CHOICES 1 Starch 1 Vegetable 2 Lean Meat 1 Fat
Calories 230 Calories from Fat 65 Total Fat 7.0 g Saturated Fat 2.1 g Trans Fat 0.0 g Cholesterol 40 mg Sodium 195 mg Total Carbohydrate 22 g Dietary Fiber 3 g Sugars 6 g Protein 18 g
Robyn Webb, MS, LN, is an award-winning cookbook author, nutritionist, and the Food Editor of Diabetes Forecast® Magazine. She has written 14 cookbooks, including the American Diabetes Association bestseller Diabetic Meals in 30 Minutes--Or Less! She has numerous media credits, including Food Network, Martha Stewart Radio, Lifetime Television, Discovery Channel, CNN, CBS, ABC, ESPN, and many more. Her work has been highlighted in the Washington Post, Woman's Day, USA Today, Fine Cooking, and many online health, fitness, and food websites and magazines.
The American Diabetes Association is leading the fight to Stop Diabetes® and its deadly consequences for those affected by diabetes. The Association funds research to prevent cure and manage diabetes; delivers services to hundreds of communities; provides objective and credible information; and gives voice to those denied their rights because of diabetes. Founded in 1940, its mission is to prevent and cure diabetes and to improve the lives of all people affected by diabetes. For more information please call the American Diabetes Association at 1-800-DIABETES (1-800-342-2383) or visit www.diabetes.org. Information from both these sources is available in English and Spanish.
The Diabetes Comfort Food Cookbook is available at www.ShopDiabetes.org, at bookstores nationwide, or by calling 1-800-232-6733.
The American Diabetes Association Diabetes
Comfort Food Cookbook
Robyn Webb, MS, LN
Publisher: American Diabetes Association®
Publication Date: September, 2011
Price: $19.95 / trade paper
ISBN: 978-1-58040-443-3
Image Available: http://www2.marketwire.com/mw/frame_mw?attachid=1735062

Add to Digg Bookmark with del.icio.us Add to Newsvine
Heschel Falek
Associate Director
American Diabetes Association
703-299-2088
[email protected]


Copyright @ Marketwire
Page: 1
Related Keywords:
diabetes, diabetic recipes, cookbook, comfort food, Robyn Webb, healthy food, healthy dessert, Mac,OS9,OSX,USA,Marketwire,Television,Family,
---