New Cloud-Based Speech Recognition and Transcription Increases Accuracy, Lowers Costs
Koemei Web Service Platform and API Provides Enterprises, Education and Professionals With a Premier High-Quality Alternative to Cost-Prohibitive Manual Transcription; Delivers a Direct Interface to Video Services Such as YouTube, Brightcove, Kaltura, Mat
(April 18, 2012)
SANTA CLARA, CA -- (Marketwire) -- 04/18/12 -- Today at DEMO Spring 2012, Koemei, the leader in large scale video and audio transcription, announced the launch of Koemei Web Service, a cloud-based platform and API for the next generation of video transcription and captioning.
Today's announcement means that transcription and captioning of video and audio content can now be performed automatically and more accurately -- replacing costly and cumbersome manual transcription methods.
The Koemei Web Service platform enables transcription of video and audio content for captioning, indexing, search and discovery and SEO. At the core of Koemei Web Service is its speech decoding engine which converts the audio of every speaker into text.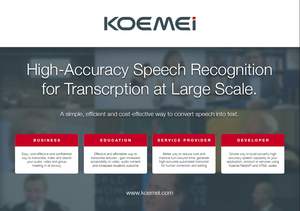 Nearly $16 billion is spent annually on traditional transcription with approximately 120,000 transcriptionists in the United States and is expected to grow 21 percent annually in the corporate and education markets. Koemei Web Services will be used in enterprises and by transcription service providers to increase accuracy and efficiency.
What separates Koemei from other services -- and outdated manual transcription models -- is Koemei's unique cloud-based multi-speaker speech recognition platform and API for transcription of video and audio content at large scale.
"Koemei Web Services meets the need in business, media, governments, education and developers which produce an ever increasing amount of video but are limited to current manual, and costly, transcription methods," said Mr. Temitope Ola, co-founder and CEO, Koemei. "We now offer a cloud-based, fully-automated machine transcription solution for enterprises to caption, index and monetize their content."
"Current solutions are manual and costly ranging from $2.00 to $5.00 a minute and are not suitable or sustainable for large scale transcription needs of the media, government, or education. In the US alone, video and audio producers lose close to $5 billion annually through the inability of outdated manual methods to transcribe large amounts of content," explained Mr. Ola.
How Koemei Web Services works:
Koemei delivers transcriptions of video and audio on a large scale at a significantly lower cost and with greater accuracy than current methods.
combines a new multi-speaker speech recognition platform and API


provides a cloud-based self-service platform and API so there's no need for technical skills in speech; you can add capabilities with simple HTTP requests using a RESTful API


offers a wiki-type edit platform for editing by a closed or open community for accessibility compliance


combines various sources (language model, pronunciation dictionary, acoustic models) into a single, optimized input to the decoder for an even greater accuracy

Pricing and availability for Koemei Web Services is available at www.koemei.com.
About Koemei
With offices in Martigny, Switzerland and San Francisco, USA, Koemei aims to become the world's leading destination for large scale high accuracy machine transcription. Koemei's solutions address the needs of organizations who manage millions of videos with billions of monthly views for clients and who require transcription solution for text, caption, indexing, SEO and monetization. Learn more at www.koemei.com
SEE KOEMEI at DEMO SPRING 2012
Image Available: http://www2.marketwire.com/mw/frame_mw?attachid=1953014

Add to Digg Bookmark with del.icio.us Add to Newsvine
MEDIA CONTACT:
Peter Brooks
415 425-4225
for Koemei
Email Contact


Copyright @ Marketwire
Page: 1
Related Keywords:
Koemei, Switzerland, USA, Marketwire, , Internet Technology, Business, Other,
---