New Book for BlackBerry Users (and Abusers) Now Available at Amazon.com
180-Page Joint Collaboration From BlackBerry Made Simple and CrackBerry.com Covers the Phenomenon of "BlackBerry Addiction"
(December 02, 2008)
ORMOND BEACH, FL and WINNIPEG, MB -- (Marketwire) -- 12/02/08 -- BlackBerry Made Simple and CrackBerry.com, the number one Site for BlackBerry users (& abusers!), today announced the availability of their book, a joint collaboration titled, "CrackBerry: True Tales of BlackBerry Use and Abuse." This unique book covers the phenomenon of "BlackBerry addiction," offering true-life accounts of BlackBerry mishaps and unbelievable stories. The book also offers a comprehensive 12 Step "Recovery" Plan for BlackBerry users and abusers. It can be purchased directly, as an electronic book, from BlackBerry Made Simple (www.blackberrymadesimple.com/crackberrybook) or as a soft-cover book from Amazon.com for $15.99 USD. For more information, go to www.crackberrybook.com.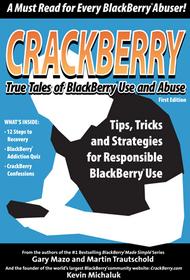 Martin Trautschold teamed up with co-author Gary Mazo from the BlackBerry Made Simple Guides and with Kevin Michaluk, the founder and community editor of the largest BlackBerry user site -- CrackBerry.com. Some of the book's highlights include:
-- Dozens of user stories that are just too funny or too sad to believe -- A unique 12 Step approach to curb your BlackBerry use -- Effective strategies for balancing life and work -- Tips on some BlackBerry features that can help you maintain a "Life Balance" -- "BlackBerry Confessions" from the authors and user from CrackBerry.com -- The "BlackBerry Quiz" to test your level of addiction
The book is a must-read for all those who use their BlackBerry smartphones just a little too much. According to Michaluk, "The book is part humor, part Freud and part 12-step recovery plan. We wanted to keep the read entertaining and light while at the same time addressing the ever-growing problem of BlackBerry overuse!" While the book is geared towards BlackBerry smartphones, Trautschold noted, "Anybody addicted to their smartphone -- BlackBerry, iPhone, Treo or any other device -- can benefit from this book." Mazo added, "This the perfect holiday gift for your BlackBerry-using loved one."
About BlackBerry Made Simple
BlackBerry Made Simple is a BlackBerry Training Firm with a passion for making BlackBerry learning that meets the needs of busy BlackBerry users. We realize that most BlackBerry users are short on time, highly mobile and learn at their own pace. This is why we created our training video library to be short (each 3 minutes long), fully keyword searchable, and above all, engaging so our customers keep coming back for more. Our Development Team has over 12,000 hours of experience working with BlackBerry Handhelds and Solutions. Our clients range across industries and across the globe from Fortune 500 companies, Federal, State and Local Government organizations, Public and Private School Districts, Law Firms, Small and Large Non-Profits, and Small to Mid-Size Businesses of all types.
NOTE: BlackBerry Made Simple is an independent source of training for the BlackBerry® handheld and is not affiliated with, nor endorsed by, Research In Motion, Ltd. who owns the BlackBerry® trademark, logo and intellectual property.
About CrackBerry.com
Launched in February 2007, CrackBerry.com has quickly become the Internet's most-trafficked BlackBerry community website, appealing to both new and experienced users of Research in Motion's BlackBerry smartphones. CrackBerry.com is updated daily with BlackBerry news, reviews, rumors, humor, help and how-to articles, and the site features an active forum community where members can receive help and offer their expertise for BlackBerry-related issues. Free ringtone and wallpaper downloads are available via CrackBerry.com's user-contributed galleries and the site's ShopCrackBerry.com store is the preferred one-stop shop retailer for BlackBerry accessories and software worldwide. CrackBerry.com is part of the Smartphone Experts network of sites, also including TreoCentral.com, WMExperts.com, TheiPhoneBlog.com and AndroidCentral.com.
Image Available: http://www2.marketwire.com/mw/frame_mw?attachid=884717

For more information contact:

Gary Mazo
VP BlackBerry Made Simple
508-827-3970
Email Contact

Kevin Michaluk
Email Contact

Annie Gladue
Jedemi Communications for CrackBerry.com
415-302-8990
Email Contact


Copyright @ Marketwire
Page: 1
Related Keywords:
CrackBerry.com, Digital Media Software, Communications, Digital Audio, Smart Phone, PDA, Accessories, iPods, iphone, Business Issues, Law & Regulations, Marketwire, Apple Computer, Other,
---