Nevada Breakfast Restaurant Meets Growing Demand by Opening Third Location
(March 31, 2011)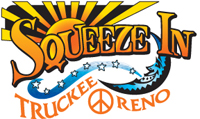 Reno, NV (PRWEB) March 31, 2011
As the economy continues to stagnate the restaurant industry is not yet recovered with closures throughout the country from longtime establishments and start-ups that just didnt start. Going against the grain, the Squeeze In, a Truckee, Calif. and Reno, Nev.-based breakfast restaurant, opens a third location to meet growing customer demand in the region.
"Weve found that while people are still watching their expenses closely theyre also looking to relax, enjoy a great meal with family and friends, and support a local business they can identify with, Misty Young, owner of Squeeze In, said. As a family owned and operated business, Squeeze In fits the bill. Customers return time and again because they know theyll get an amazing breakfast, but more so, an experience that makes them feel at home. And they can be sure that a meal with us wont break the bank."
Best Omelettes on the PlanetReally
Squeeze Ins third location, which seats more than 150 diners both indoors and on the patio, opens with honors already endowed after the businesss north Reno location picked up the Best Breakfast title in an annual online survey. The north Reno location, which opened February 2008 in the middle of the recession, has served nearly a quarter million customers to date. What do they keep coming back for? With 107 quadrillion omelette possibilities, a healthy options menu, dozens of sandwiches, salads, burgers and burritos, as well as "killer" Bloody Marys and strong mimosas, the Squeeze In menu has something for everyone.
Boosting the Local Economy
The economic boost of Squeeze Ins third location began eight months ago, providing work for carpenters, painters, plumbers and other construction professionals during the build-out of the 3,700-square-foot restaurant. Once open the location will employ 25 30 staff, many earning above the minimum wage.
All in the Family
The Squeeze In is a family enterprise led by Misty and Gary Young and daughter and son-in-law, Shila and Chad Morris. The Youngs other daughter Kay also works at the restaurants starting when she was just 11.
Family Includes the Dog
A love of animals and recognition that people love to bring their dogs with them led Squeeze In to open its patio for families with pets. Well-behaved, leashed pets are treated to water and gourmet dog food while their people enjoy a meal. That love of animals extends even further as Squeeze In pledges to donate 20 percent of its gross receipts at the new Reno location for Saturday, April 2 to For Pets Sake, a Reno-based animal rescue nonprofit.
On Your Smartphone
The Squeeze In launched a smartphone app in 2010 allowing customers to connect with the restaurants more easily and providing tools and specials to enhance the dining experience. The app includes a multiple-use coupon special, complete menu, maps and directions to each location, social networking links, tip calculator, videos, photos and more. The app is available for iPhone, BlackBerry and Android devices.
As Seen on TV
Misty Young was prepared to showcase her omelettes for a Food Network special, but the surprise was on her when the real program was Throwdown with Bobby Flay. Premiered in March 2010, the episode was the first omelette challenge and pitted the Squeeze Ins #37 Racy Tracy against Flays smoked gouda and red pepper creation. The judging was close, but in the end Flay took top honors. In recognition of the throw-down Squeeze In added a #64, The Spanish Flay, to its permanent omelette menu.
Squeeze In at Three Locations
Squeeze In is open daily from 7 a.m. 2 p.m. Its three locations include Reno, Nev., at 5020 Las Brisas Blvd. and 25 Foothill Rd. and Truckee, Calif. at 10060 Donner Pass Road in Historic Downtown Truckee.
###
Read the full story at http://www.prweb.com/releases/2011/SqueezeIn3/prweb5213224.htm.
Page: 1
Related Keywords:
food, beverage, food, food safety, lifestyle and leisure, lifestyle (house and home), tourism and leisure, lifestyle and leisure, tourism, travel and commuting, lifestyle (house and home), economy, business and finance, economy (general), economy, business and finance, financial and business service, business enterprises, business (general), economy, business and finance, financial and business service, business enterprises, business (general), , fishing industry, food, cinema industry, radio industry, television industry, music industry,
---