NagraID Security Presents the Second Generation MasterCard Information Display Card at Cartes & Identification 2011 in Paris
(November 14, 2011)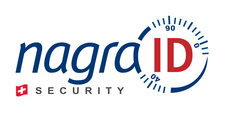 LA CHAUX-DE-FONDS, SWITZERLAND -- (Marketwire) -- 11/15/11 -- NagraID Security, a Kudelski Group (SWISS: KUD) company
Dual interface information payment display card
Dual OTP, total expenses, account balance and transaction history functionalities
Leverages existing EMV infrastructure.
NagraID Security, a Kudelski Group (SWISS: KUD) company, today introduced the second generation MasterCard Information Display Card, the most advanced payment display card yet, at Cartes & Identification 2011 in Paris. The card features a dual interface that enables contact and contactless communication, dual one-time password (OTP) capability, on card access to total expenses, account balance and previous transactions history by using existing standard EMV infrastructure.
The new MasterCard Information Display Card manufactured by NagraID Security is the world's most advanced payment display card, with groundbreaking features including dual interface, dual OTP, total expenses, account balance and transactions history. The dual interface enables both contact and contactless communication with the display circuit. Dual OTP enables generation of two different passcodes on a single device to protect two different services such as E-Banking and E-Commerce. On card access to vital account related information such as balance, total expenses and transactions history allows cardholders to maintain control. From its familiar credit card form factor, its standard payment functionalities including PayPass, to the use of standard EMV infrastructure, this card has been designed for rapid user adoption, maximum usability and seamless deployment.
"The information display card combines advanced technology with ease of use in a familiar payment card," said Philippe Guillaud, EVP and CTO of NagraID Security. "Our Innovation Team strives to develop technology that brings security to the next level, without compromising usability and convenience."
By obtaining MasterCard's stringent CSI (Card Structure & Integrity) certification for its display cards, NagraID Security proves once more its dedication to deliver the most innovative products of the highest quality. The new information display is immediately available for commercial rollouts.
About NagraID Security
Nagra ID Security SA, a subsidiary of the Kudelski Group, produces multi-component and other complex cards for the security and identification industry. NagraID Security's Research and Development Team combine international experts having broad experience in security, cryptography, electronics, material sciences and manufacturing. NagraID Security provides advanced design, development, and industrialization capabilities for innovative authentication solutions. NagraID Security holds international patents for a non-violent lamination process used for embedding sensitive, electronic components into card and other form-factors. NagraID Security operates under the strict security guidelines of NagraID SA, an EMV-certified card manufacturing and personalization facility. Please visit www.nidsecurity.com for more information.
About The Kudelski Group
The Kudelski Group (SWISS: KUD) is a world leader in digital security and convergent media solutions for the delivery of digital and interactive content. Its technologies are used in a wide range of services and applications requiring access control and rights management to secure the revenue of content owners and service providers for digital television and interactive applications across broadcast, broadband and mobile delivery networks. The Kudelski Group is also a world technology leader in the area of access control and management of people or vehicles to sites and events. It additionally offers professional recorders and high-end Hi-Fi products. The Kudelski Group is headquartered in Cheseaux-sur-Lausanne, Switzerland. Please visit www.nagra.com for more information.
Add to Digg Bookmark with del.icio.us Add to Newsvine
Contacts
Laval Law
NagraID Security
Marketing Manager
Tel : +1 310 841 2939
Email Contact

Daniel Herrera
Kudelski Group
Head of Corporate Communications
Tel:+41 21 732 01 81
Email Contact


Copyright @ Marketwire
Page: 1
Related Keywords:
NagraID Security, Switzerland, Marketwire, , Television, Other,
---