NXP Cortex-M0 Microcontrollers in High-Volume TSSOP and SO Packages Target 8/16-Bit Applications
World's First Low-Pin-Count 32-Bit ARM MCUs Deliver Unprecedented Performance and Value at $0.01 per MIPS
(October 25, 2011)

EINDHOVEN, NETHERLANDS and SAN JOSE, CA -- (Marketwire) -- 10/25/11 -- NXP Semiconductors N.V. (NASDAQ: NXPI) today announced the availability of new low-pin-count package options -- SO20, TSSOP20, TSSOP28 and DIP28 -- for its market-leading ARM® Cortex™-M0 LPC1100 family of microcontrollers. The new LPC111x devices are the world's first 32-bit ARM microcontrollers in low-pin-count packages, and open the door for a broader range of applications previously closed to typical 32-bit MCUs due to package footprint or manufacturing constraints. Target applications include human interface devices (HID), consumer electronics, alarm systems, small appliances and simple motor control, among many others. Starting at $0.49, NXP's low-pin-count devices deliver 50 MIPS of performance compared to the 1 to 5 MIPS performance typical of 8/16-bit MCUs, at a highly competitive price point enabled by NXP's exceptional capacity in manufacturing high-volume commodity packages.
"Our Cortex-M0 family has grown to become the most complete offering for entry-level 32-bit MCUs, and today we extend it to an unprecedented $0.01-per-MIPS value for traditional 8/16-bit applications," said Pierre-Yves Lesaicherre, senior vice president and general manager, microcontrollers and logic, NXP Semiconductors. "Shipping over three billion TSSOP and SO packages per year gives us the flexibility and scale to continuously drive towards lower price points and to introduce sub-40 cent 32-bit MCU solutions in 2012."
With the world's smallest 32-bit MCU, the LPC1102, available in a 2-mm x 2-mm Chip-Scale Package (CSP), NXP is at the forefront of innovation in microcontroller packaging and has the widest selection of package options for Cortex-M0 MCUs. The introduction of the new low-pin-count package options provide reduced footprint and system-cost benefit to customers throughout the product development cycle. SO and DIP packages provide ease of customer prototyping with the ability to hand-solder, simplifying hardware requirements for programming and debugging. TSSOP packages eliminate potential reflow process in high-volume production. These easy-to-use and highly reliable packages are popular among 8/16-bit customers and help minimize the number of manufacturing processes while improving yield to further reduce overall system costs. Existing LPC1100 customers can easily convert their designs to the LPC111x low-pin-count devices and reuse their software due to the identical Cortex-M0 instruction set. In addition, these low-pin-count packages are designed for easy PCB layout and scalability by sharing the same pin-out for VDD, VSS, GND, and XTAL.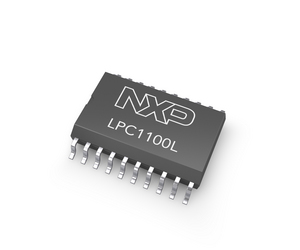 The LPC1100 series can execute sophisticated algorithms at low power, meeting the ever-increasing demands of cost-sensitive applications that 8-bit microcontrollers struggle to achieve, such as interfacing with sensors and performing complex control tasks. For example, a 16-bit multiply operation performed by an 8-bit microcontroller requires 48 clock cycles at over 770 uA/MHz, while an LPC1100 device can complete the same task in 1 cycle at 130 uA/MHz.
Along with this high performance capability, NXP's Cortex-M0 LPC1100 family also has numerous innovations in its design:
Timers with PWM generation - For each timer, up to four match registers can be configured as PWM, allowing each timer to support up to three match outputs as single edge controlled PWM outputs.
Dynamic system clock switching - Change frequency on the fly depending on processing demand. The LPC1100 current consumption at 50 MHz is specified at 7 mA. This can be reduced to a little over 130 uA when running at 1 MHz on the low-power internal oscillator.
Clock output - The clock output with divider can reflect the system oscillator clock, IRC clock, CPU clock, and the Watchdog clock. The output can source downstream devices such as other microcontrollers, CPLD or FPGA.
Interrupt via any GPIO - Any GPIO pins can be used as Edge- and Level-Sensitive interrupt sources.
Programmable pull up/down/open drain - Internal pull-up/pull-down resistor, pseudo open drain or bus keeper function.
Enhanced GPIO pin manipulation - Capable of simultaneously reading Bit/Byte/Word or toggling up to 22 I/Os per instruction.
These unique features not only bring design and system benefits, but also help to accelerate the replacement of 8/16-bit MCUs in many applications. Other key specifications for the LPC111x devices include:
Cortex-M0 CPU at 130 uA/MHz, up to 50-MHz CPU clock
Up to 4 KB SRAM and 32 KB Flash
SPI, UART and I2C (Fast-mode Plus)
5-channel 10-bit ADC
Two 32-bit Timers and two 16-bit Timers
1% accuracy, 12-MHz IRC
Power Profile options via API calls
Tools
All NXP Cortex-M microcontrollers are software compatible and offer all the advantages of a single development toolchain. Users can easily migrate their designs between Cortex-M0 and Cortex-M3 with minimal effort. The easy-to-use LPCXpresso IDE for the LPC1100 series is priced under US $30. For further information on LPCXpresso and other third-party development tools, see www.nxp.com/lpcxpresso, or attend one of the NXP sponsored sessions at ARM TechCon 2011 this week for a free development tool.
Pricing and Availability
Recommended distribution unit pricing for 10,000 piece quantities is US $0.49 for the LPC1110FD20. Samples are available in November 2011. Additional information is available at http://www.nxp.com/products/microcontrollers/cortex_m0/lpc1100l/
Links
About NXP Semiconductors
NXP Semiconductors N.V. (NASDAQ: NXPI) provides High Performance Mixed Signal and Standard Product solutions that leverage its leading RF, Analog, Power Management, Interface, Security and Digital Processing expertise. These innovations are used in a wide range of automotive, identification, wireless infrastructure, lighting, industrial, mobile, consumer and computing applications. A global semiconductor company with operations in more than 25 countries, NXP posted revenue of $4.4 billion in 2010. Additional information can be found by visiting www.nxp.com.
Forward-looking Statements
This document includes forward-looking statements which include statements regarding NXP's business strategy, financial condition, results of operations, and market data, as well as any other statements which are not historical facts. By their nature, forward-looking statements are subject to numerous factors, risks and uncertainties that could cause actual outcomes and results to be materially different from those projected. These factors, risks and uncertainties include the following: market demand and semiconductor industry conditions; the ability to successfully introduce new technologies and products; the end-market demand for the goods into which NXP's products are incorporated; the ability to generate sufficient cash, raise sufficient capital or refinance corporate debt at or before maturity; the ability to meet the combination of corporate debt service, research and development and capital investment requirements; the ability to accurately estimate demand and match manufacturing production capacity accordingly or obtain supplies from third-party producers; the access to production capacity from third-party outsourcing partners; any events that might affect third-party business partners or NXP's relationship with them; the ability to secure adequate and timely supply of equipment and materials from suppliers; the ability to avoid operational problems and product defects and, if such issues were to arise, to correct them quickly; the ability to form strategic partnerships and joint ventures and to successfully cooperate with alliance partners; the ability to win competitive bid selection processes to develop products for use in customers' equipment and products; the ability to successfully establish a brand identity; the ability to successfully hire and retain key management and senior product architects; and, the ability to maintain good relationships with our suppliers. In addition, this document contains information concerning the semiconductor industry and NXP's business segments generally, which is forward-looking in nature and is based on a variety of assumptions regarding the ways in which the semiconductor industry, NXP's market segments and product areas may develop. NXP has based these assumptions on information currently available, if any one or more of these assumptions turn out to be incorrect, actual market results may differ from those predicted. While NXP does not know what impact any such differences may have on its business, if there are such differences, its future results of operations and its financial condition could be materially adversely affected. Readers are cautioned not to place undue reliance on these forward-looking statements, which speak to results only as of the date the statements were made. Except for any ongoing obligation to disclose material information as required by the United States federal securities laws, NXP does not have any intention or obligation to publicly update or revise any forward-looking statements after we distribute this document, whether to reflect any future events or circumstances or otherwise. For a discussion of potential risks and uncertainties, please refer to the risk factors listed in our SEC filings. Copies of our SEC filings are available from on our Investor Relations website, www.nxp.com/investor or from the SEC website, www.sec.gov.
Image Available: http://www2.marketwire.com/mw/frame_mw?attachid=1777066

Add to Digg Bookmark with del.icio.us Add to Newsvine
Copyright @ Marketwire
Page: 1
Related Keywords:
nxp, cortex-m0, lpc1100, mcu, microcontroller, low pin count, package, so20, tssop, arm techcon, arm, Family, Family, Digital Media Software, USA, Marketwire, , Financial, Appliances, Consumer Electronics, Computer Science, Business, Family, Other,
---