NXP Achieves Quantum Leap With Infrastructure Reader IC CLRC663
Launches First NFC-Ready, Universal Contactless Reader IC for Multiple ID Applications
(November 15, 2011)

EINDHOVEN, NETHERLANDS and PARIS -- (Marketwire) -- 11/15/11 -- NXP Semiconductors N.V. (NASDAQ: NXPI) today introduced the CLRC663, the first member of a new generation of high-performance proximity contactless reader ICs. The CLRC663 combines robust multi-protocol support with the highest RF output power and patented groundbreaking low-power card detection technology. Driven by the market needs for higher integration, smaller housings and interoperability, the CLRC663 has been designed for use in a wide variety of infrastructure use cases such as banking, eGovernment, transport and mobile payment.
The reader infrastructure is at the heart of many identification applications. It delivers the convenience and efficiency of contactless technology to customers and end consumers alike by ensuring security, performance, low power consumption and ultra-fast transactions times on a 24/7 basis. Supporting all 13.56-MHz contactless standards, NXP's new reader IC is compatible with all established smart card, smart tag and smart label technologies, including NFC Forum Tag Types and MIFARE products. It ensures best-in-class interoperability with the billions of smart cards, electronic documents and NFC-enabled phones based on NXP technology.
The intelligent groundbreaking new low-power card detection feature introduced by NXP greatly improves power efficiency and realizes energy savings for customers, taking into account the growing need to reduce energy consumption. It enables the reader terminal's microcontroller to go into sleep mode while still polling for cards, thus ensuring energy-efficient operation.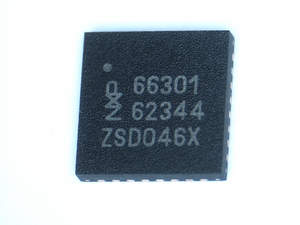 Working intensively with key industry players, NXP designed the CLRC663 to provide a contactless reader IC solution that enables its partners to bring future-proof readers to their markets. "With the new CLRC663 contactless reader IC, NXP is helping us to take our veriCLASS, identiCLASS, pivCLASS and iCLASS SE access control readers to the next level," said Dr. Selva Selvaratnam, chief technology officer at HID Global. "It combines the necessary standard compliance with roboustness, low power consumption and performance needed for various access applications."
Edmund Chang, XAC's founder and CEO, agrees: "For a POS-manufacturer, compliance to standards like EMVCo2.01 is a must. By using the CLRC663 we achieve this easily without using any external booster. In addition, POS readers equipped with the CLRC663 will be able to interoperate perfectly with NFC-enabled smartphones, enabling merchants to offer the infrastructure needed to participate in the expected enormous growth of mobile payments."
"The CLRC663 underlines NXP's commitment and experience in contactless infrastructure products by supporting the main contactless standards paired with readiness to support NFC peer-to-peer based applications," said Henri Ardevol, vice president and general manager, secure transactions, NXP Semiconductors. "With the availability of the CLRC663, NXP continues to lead the enhancement of contactless infrastructures, which form a foundation for connected, convenient and secure access to applications."
The CLRC663 uniquely combines high RF performance with a very small HVQFN33 package, ensuring large and reliable read ranges, as well as energy- and resource-efficient implementations. It is supplied by 5V for POS and AFC implementations, or by 3V for energy-efficient battery-powered operations. Offering a read/write device fully compliant with ISO/IEC 14443 A&B, ISO/IEC 15693, ISO/IEC18000-3 Mode3 and FeliCa™ and supporting NFC initiator mode in peer-to-peer communication, the CLRC663 sets a new standard for high-performance multi-protocol contactless reader ICs.
Key benefits of CLRC663:
Compliance to all 13.56-MHz standards
Supporting higher baud rates up to 848 kbits for high-speed transactions paired with convenient long APDU-handling
NFC-ready due to NFC Forum TagType and peer-to-peer initiator mode support
Maximum performance and stability over large supply voltage range
Supports direct connection to an SAM for security applications
Integrated MIFARE support and ISO/IEC14443 end user licenses
Small footprint with its HVQFN33 package
Designed to easily pass payment and eGovernment certifications
Shorter integration time due to global and qualified design-in support by NXP and its distribution partners
Currently the industry leader in the overall Identification market as well as in infrastructure applications, NXP delivers complete system solutions for customers' contact and contactless readers which cover a very wide range of applications including POS terminals, physical access, set-top-boxes, laptops and accessories, as well as industrial use. NXP's strong position with reader technology ensures best-in-class interoperability with NFC-enabled smartphones, banking cards or eGovernment documents equipped with NXP's smart card ICs and NFC chips.
Visitors to CARTES & IDentification, Paris (Paris, Nov. 15-17, booth 4J 035, Hall 4) will see NXP's reader technology in many demos showcasing the added value that ID solutions can bring to applications at home, at work, in transit and at leisure. The new CLRC663 is part of the NFC-enabled smart meter demonstrator presented by NXP and Landis+Gyr.
Links:
About NXP Semiconductors
NXP Semiconductors N.V. (NASDAQ: NXPI) provides High Performance Mixed Signal and Standard Product solutions that leverage its leading RF, Analog, Power Management, Interface, Security and Digital Processing expertise. These innovations are used in a wide range of automotive, identification, wireless infrastructure, lighting, industrial, mobile, consumer and computing applications. A global semiconductor company with operations in more than 25 countries, NXP posted revenue of $4.4 billion in 2010. Additional information can be found by visiting www.nxp.com.
Forward-looking Statements
This document includes forward-looking statements which include statements regarding NXP's business strategy, financial condition, results of operations, and market data, as well as any other statements which are not historical facts. By their nature, forward-looking statements are subject to numerous factors, risks and uncertainties that could cause actual outcomes and results to be materially different from those projected. These factors, risks and uncertainties include the following: market demand and semiconductor industry conditions; the ability to successfully introduce new technologies and products; the end-market demand for the goods into which NXP's products are incorporated; the ability to generate sufficient cash, raise sufficient capital or refinance corporate debt at or before maturity; the ability to meet the combination of corporate debt service, research and development and capital investment requirements; the ability to accurately estimate demand and match manufacturing production capacity accordingly or obtain supplies from third-party producers; the access to production capacity from third-party outsourcing partners; any events that might affect third-party business partners or NXP's relationship with them; the ability to secure adequate and timely supply of equipment and materials from suppliers; the ability to avoid operational problems and product defects and, if such issues were to arise, to correct them quickly; the ability to form strategic partnerships and joint ventures and to successfully cooperate with alliance partners; the ability to win competitive bid selection processes to develop products for use in customers' equipment and products; the ability to successfully establish a brand identity; the ability to successfully hire and retain key management and senior product architects; and, the ability to maintain good relationships with our suppliers. In addition, this document contains information concerning the semiconductor industry and NXP's business segments generally, which is forward-looking in nature and is based on a variety of assumptions regarding the ways in which the semiconductor industry, NXP's market segments and product areas may develop. NXP has based these assumptions on information currently available, if any one or more of these assumptions turn out to be incorrect, actual market results may differ from those predicted. While NXP does not know what impact any such differences may have on its business, if there are such differences, its future results of operations and its financial condition could be materially adversely affected. Readers are cautioned not to place undue reliance on these forward-looking statements, which speak to results only as of the date the statements were made. Except for any ongoing obligation to disclose material information as required by the United States federal securities laws, NXP does not have any intention or obligation to publicly update or revise any forward-looking statements after we distribute this document, whether to reflect any future events or circumstances or otherwise. For a discussion of potential risks and uncertainties, please refer to the risk factors listed in our SEC filings. Copies of our SEC filings are available from on our Investor Relations website, www.nxp.com/investor or from the SEC website, www.sec.gov.
Image Available: http://www2.marketwire.com/mw/frame_mw?attachid=1802001

Add to Digg Bookmark with del.icio.us Add to Newsvine
Copyright @ Marketwire
Page: 1
Related Keywords:
nxp, clrc663, nfc, infrastructure, reader, contactless, identification, security, mifare, cartes, ic, Computers/Peripherals, Home, Notebook/Laptop, WiFi/Wireless, Security, Communications, Smart Phone, Accessories, USA, Marketwire, , Financial, Business, Other,
---