NO BULL Teen Video Awards Will Celebrate Teens Who Stand Up to Cyberbullying; The Great American NO BULL Challenge Kicks Off Sunday
(January 13, 2012)
SAN FRANCISCO, CA -- (Marketwire) -- 01/13/12 -- Hollywood will shine at the Golden Globes on Sunday; and four hundred miles to the north, planning is in full swing for the first ever star-studded video awards show of its kind. The NO BULL Teen Video Awards in July will shine the spotlight on teens from across the country who are standing up to cyberbullying. The Great American NO BULL Challenge gives teenagers the chance to compete for $25,000 in prizes and the opportunity to have their winning videos introduced to the world at the awards show. The event will be the culmination of The Great American NO BULL Challenge combined with all that glitters on the red carpet. The Challenge officially begins this Sunday, January 15.
The nation's 25 million teens are asked to stand up to fight bullying, by filming their own video with a NO BULL theme. Videos can be uploaded at www.nobullchallenge.org and at www.facebook.com/NOBULLChallenge through March 14, 2012. Voting will then begin and 15 finalists will be the VIP's in attendance at the NO BULL Teen Video Awards show in San Francisco, July 21, 2012. Watch the campaign video now.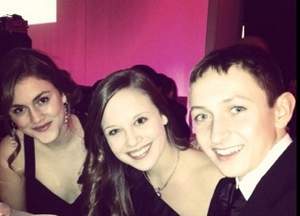 The Great American NO BULL Challenge is a massive collaboration between President and Founder, Shawn Edgington, and strategic partners including Formspring, iSafe, imbee and The National Organizations for Youth Safety.
Ms. Edgington founded the NO BULL Challenge after her own teenage daughter, Nicole, was a victim of cyberbullying. Nicole is a national spokesperson for the campaign, along with: teen author Zoe Oz, the daughter of Dr. Mehmet Oz; teen auto racing sensation Zach Veach, another target of bullying; and 4-H member Paige Logan, who was cyberbullied by classmates and even by adults.
Shawn Edgington and all of the teen spokespeople are available for media interviews to discuss how they're using the power of social media to empower teens to stand up and "Just Say NO BULL!"
Nicole Edgington:
"I hope that together, we'll show America's teens how detrimental cyberbullying can be and how easy it is to join the NO BULL movement to make a difference. I want people to start thinking twice before they post something hurtful! I'm confident that the Great American NO BULL Challenge will inspire the hearts and minds of many, just as it has mine."
Zoe Oz:
"I want to make sure no one is accepting cyberbullying as an everyday occurrence. I want people to see the NO BULL logo and recognize how much we can all do to save our family, our friends, and our world from the pain that cyberbullying can cause. I may only be one person and NO BULL may only be one organization, but with the power of everyone united, we have the ability to change our world for the better."
Zach Veach:
"I was raised to always lend a helping hand to others, and if through my career as a race car driver I can inspire other kids to stay focused and work hard, I'm all for it. Bullying has become such a problem in our schools today, and to have such a forward-thinking program like the NO BULL Challenge out there for kids to have their voices heard; it's a big step in the right direction."
Paige Logan:
"I was the voice for nearly 8 million youth in America at the Bullying Prevention Summit in Washington D.C. Now kids everywhere have the opportunity to come join me and become a part of The Great American NO BULL Challenge. Let your voice be heard and say NO BULL!"
Shawn Edgington:
"All of us involved with the NO BULL Challenge understand that through video and music, we can promote a positive message to teens. We believe in the importance of respectful virtual relationships, and the importance of standing up for someone who might not be able to ask for help on their own. Creating a grassroots movement to increase and reinforce awareness about all types of bullying is what The Great American NO BULL Challenge is all about."
Partners to Support the Largest Campaign against Cyberbullying in America's History Include:
Formspring, iSafe, imbee, National Organizations for Youth Safety, FCCLA, 4-H, SADD, HealthCorps, The Anti-Defamation League, Business Professionals of America, Project Change, American School Counselor Association, The Megan Meier Foundation, teenDailyStrength, National Collaboration for Youth, The Bully Police Squad, Jay Banks Productions, SocialShield, GuestAssist Campus, Communities in Schools, The Cyber Safety Academy, The California Endowment, iKeepSafe.org and The Boys and Girls Clubs of America.
The NO BULL Teen Video Awards is promoted by Live Nation.
The Great American NO BULL Challenge is a 501c3 organization.
Embedded Video Available: http://www2.marketwire.com/mw/frame_mw?attachid=1853938
Image Available: http://www2.marketwire.com/mw/frame_mw?attachid=1854004

Add to Digg Bookmark with del.icio.us Add to Newsvine
Media Contact:
Suzanne Spurgeon
Women Media Pros
Suzanne@WomenMediaPros.com
323-656-1536


Copyright @ Marketwire
Page: 1
Related Keywords:
cyberbullying, cyber bullying, bullying, Shawn Edgington, Zach Veach, Zoe Oz, teens, video contest , Marketwire, , Sports, Music, Business, Auto Racing, Adults, Family, Teens, Business Professionals, Other, Women,
---