NHL's Phoenix Coyotes Enhance Fan Experience With Mobile Video Clips via Thwapr
Mobile Updates Available During NHL Stanley Cup Playoffs
(April 27, 2010)

PHOENIX, AZ and NEW YORK, NY -- (Marketwire) -- 04/27/10 -- Today NHL professional hockey team, the Phoenix Coyotes, and mobile video sharing platform, Thwapr, Inc. (OTCBB: THWI), announced a new endeavor that will deepen the Coyotes' fan experience by delivering exciting team, game and player news and interviews directly to mobile phones.
The mobile video service was successfully launched in a beta test program earlier this year and is now available for Coyotes home games through the playoffs.
To sign up for the service fans simply text "coyotes" to short code 757575 or online by clicking the Thwapr link on the Coyotes Website. Coyotes fans then start receiving mobile updates after each home game and can share the clips directly with other mobile users or post to their Twitter and Facebook pages. The Coyotes are also making Thwapr's mobile video offering immediately accessible to fans at the game by promoting the service via in-stadium announcements and on the Jumbotron display.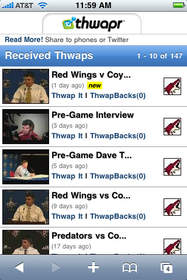 Highlights of the post-game press conference, interviews with players and commentaries from coaches are sent via Thwapr directly to more than 220 different types of mobile phones including Apple iPhone, BlackBerry Curve, Motorola Droid and popular models from LG and Samsung, among others.
"We want to create a 360-degree approach to engage our fans by intensifying their experience and interaction with the team and players," said Michael Sharer, Manager of New Media for the Phoenix Coyotes. "To achieve this, we selected Thwapr's video service as an important component of our new media communication outreach."
"Market-driven, forward-thinking sports teams like the Coyotes, are looking for new ways to connect with their fans and sharing mobile video is fast rising as an important platform in strengthening the relationship," said Bruce Goldstein, CEO, Thwapr. "The league, the team and the fans are benefiting from innovators like the Phoenix Coyotes as they look to incorporate new technologies to expand and enhance the experience and fan loyalty."
In contrast to alternative mobile video approaches such as MMS, where clips may be limited based on video duration, file size, or picture quality, Thwapr delivers the best possible video content to each device, dynamically adapting to video formats, screen size, and other device attributes. While formats such as MMS are frequently limited to delivery of up to 30 seconds of video, comparatively, the Coyotes have delivered five to six minute high resolution streaming video of press conferences via Thwapr to modern smartphones such as the Apple iPhone 3GS or Android devices.
The Coyotes plan to make use of the Thwapr service in post-season, well into the spring and summer for additional events and potential new applications. A sample Coyotes press conference is available for viewing on Thwapr compatible mobile phones, Mac, and PC via http://bit.ly/nhlcoyotes-postgame-thwapr with a short clip of the Jumbotron display to sign-up for the service via http://bit.ly/nhlcoyotes-jumbotron-thwapr.
About Thwapr, Inc.
Thwapr, Inc. (OTCBB: THWI) is a mobile video sharing platform for brands and users. Thwapr's mission is to provide a social mobile video sharing experience regardless of carrier or device worldwide. Developed by founding members of Apple's Quick Time team and technologists from Avid/Digidesign and MTV, Thwapr's patent-pending technology allows photos and videos to be sent and shared to mobile devices easily, reliably, and quickly. For more information and to register for Thwapr, please visit www.thwapr.com on your mobile phone or computer. Follow Thwapr @ www.twitter.com/thwapr or become a fan at www.facebook.com/thwapr.
Notice Regarding Forward-Looking Statements
This news release contains "forward-looking statements" as that term is defined in Section 27A of the United States Securities Act of 1933, as amended and Section 21E of the Securities Exchange Act of 1934, as amended. Statements in this press release which are not purely historical are forward-looking statements and include any statements regarding beliefs, plans, expectations or intentions regarding the future. Such forward-looking statements include, among other things, the development, costs and results of new business opportunities. Actual results could differ from those projected in any forward-looking statements due to numerous factors. Such factors include, among others, the inherent uncertainties associated with new products and development stage companies. These forward-looking statements are made as of the date of this news release, and we assume no obligation to update the forward-looking statements, or to update the reasons why actual results could differ from those projected in the forward-looking statements. Although we believe that any beliefs, plans, expectations and intentions contained in this press release are reasonable, there can be no assurance that any such beliefs, plans, expectations or intentions will prove to be accurate. Investors should consult all of the information set forth herein and should also refer to the risk factors disclosure outlined in Thwapr's annual report on Form 10-K for the most recent fiscal year, Thwapr's quarterly reports on Form 10-Q and other periodic reports filed from time-to-time with the Securities and Exchange Commission.
Image Available: http://www2.marketwire.com/mw/frame_mw?attachid=1235622

Add to Digg Bookmark with del.icio.us Add to Newsvine
Media and Investor Contacts:
Jocelyn Johnson
Gravitas Communications
212-924-9500
[email protected]

Jenny Lee
Gravitas Communications
650-996-8585
[email protected]

Business inquiries should be addressed to [email protected]
Thwapr, Inc.
212.268.0220


Copyright @ Marketwire
Page: 1
Related Keywords:
Video, Mobile, NHL, Coyotes, Android, Blackberry, iPhone, , Home,Displays,Communications,Digital Audio,Smart Phone,PDA,iPods,iphone,Broadcast,Streaming,Display,Business,Broadcast Technology,Streaming/Webcast,Mobile Video,Mac,OS9,OSX,USA,Marketwire, Inc.,Apple Computer,Communications Technology,Business,Sports,Hockey,Technologists,Other,
---