NEXThink Lands $5.5 Million Funding, Opens US Headquarters After Its Customer Base Grows by 50 Percent Last Quarter
(March 14, 2012)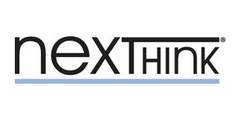 ALPINE, UT -- (Marketwire) -- 03/14/12 -- NEXThink, whose real-time user-centric analytics make it possible for the Global 5000 and cloud service providers to rethink and transform their IT infrastructure, today announced that it has closed $5.5 million in Series C funding, bringing the total capital raised by the company to $13.1 million. This round -- led by the company's current investors, Auriga Partners and Venture Incubator, and new investor Mannai Corporation -- will be used to expand its global presence and to develop new products that accelerate its business around cloud computing and mobility.
"We believe that in a world of dynamic, multi-platform infrastructure and empowered employees, it is extremely important to provide a global real-time view of IT systems from the user's point of view," said Pedro Bados, CEO of NEXThink. "We are building a world class team to create and bring to market the most powerful set of solutions to deal with the next generation of IT infrastructures -- physical, virtual and mobile -- that truly change the game."
IT is constantly adapting the services they provide to their end users to ensure perfect service quality and security. With the rapid adoption of cloud and mobile technology, they are now looking to have visibility into their infrastructure from the end user perspective instead of from the data center alone which is vital in understanding how a service's value chain is perceived. This added visibility also helps IT uncover cost saving opportunities which can be significant since end user computing can represent up to 30 percent of the IT budget.
Analysts estimate end user experience monitoring to be a multi-billion dollar market with double-digit growth. NEXThink has the most intelligent monitoring, discovery and analytics solution on the market that audits IT infrastructure in real-time from the end user perspective including physical and virtual workplaces. NEXThink's solution provides IT with essential information so that they can make the best decisions to proactively solve availability, configuration and performance problems as well as steer on target IT transformation and cost optimization projects.
Demand for NEXThink's solution is strong. NEXThink grew its customer base by 50 percent in Q4 2011 to 300 customers spanning 12 countries, representing more than 1.5 million endpoints. Customers include Bunge, French Government, Manpower, Qatar Telecom, Swisscom, Toyota and one of the world's largest providers of luxury watches.
NEXThink also announced that it has opened its US headquarters in Alpine, Utah and will aggressively expand across the US market. Industry veteran Chris Lundell has been appointed President of Americas. Previously, he served as CEO of Corda Technology and Vice President and General Manager of LANDesk Software and held various sales and marketing leadership roles during his 13-year career at Novell.
"I'm excited about the future of NEXThink, a fast growing, innovative and dynamic company that will expand rapidly in North America. In Europe, NEXThink has been successfully solving the very same problems that are facing US companies by providing a 360 degree view of their corporate end point infrastructure," said Chris Lundell, NEXThink President of Americas. "Global alliances already established with companies like IBM and Unisys will be extended to the US quickly."
Patrick Starck, Former Chairman of CA Technologies EMEA, and Alekh Grewal, Chief Executive Officer of Mannai Corporation, will join NEXThink's board.
"NEXThink has a unique infrastructure monitoring technology and a very innovative team. I'm excited to join this fast growing venture and to work closely with them," said Patrick Starck, Former Chairman CA Technologies EMEA and NEXThink Board Member.
"We were impressed with the NEXThink team and saw that they had created a truly innovative and disruptive product which is why we became their first VAR in the Middle East a couple of years ago," said Alekh Grewal, Mannai Corporation Chief Executive Officer and NEXThink Board Member. "We've had a successful relationship ever since so when the opportunity arose to invest, we did to solidify and strengthen our commitment to NEXThink."
About Auriga Partners
Auriga Partners is an independent venture capital firm. Based in Paris, Auriga Partners invests in information technologies and life sciences, in innovative high potential ventures and in seed or early development stages in Europe, North America and the Middle East. Auriga Partners manages three funds for a total of more than EUR 330m. Along with investing the necessary capital, Auriga Partners brings its savoir-faire in developing and solidifying executive teams, organizing companies, broadening their networks and forming strategic and corporate partnerships. For more information, visit: http://www.aurigapartners.com.
About Venture Incubator
Venture Incubator is a Swiss venture capital firm that supports university spin-offs as well as other promising startup companies with capital, coaching, consulting and networks. Venture Incubator was established in 2001 by six industrial corporations (ABB, Hilti, Sulzer, Schindler, Novartis, Nestlé), four financial institutions (Credit Suisse, Pictet & Cie, Zurich Cantonal Bank and SUVA), McKinsey & Company and the Swiss Federal Institute of Technology in Zürich (ETHZ). Venture Incubator's portfolio comprises 19 companies. Approximately half the money is invested in life sciences and the other half in IT and material sciences. Venture Incubator has been setup as an evergreen fund with a CHF 101m paid in capital. For more information, visit: http://www.ventureincubator.ch/en/home.html.
About Mannai Corporation
Mannai Corporation owes its success and continued market leadership to shared values, core competence in commerce and technology and an unending spirit of innovation in all aspects of corporate life. Mannai delivers superior, long-range economic benefits to customers, shareholders, employees and the communities in which they operate. Mannai offers the broadest range of products and services of all private sector companies. For more information, visit: http://www.mannai.com.
About NEXThink
NEXThink was founded in 2004 with the vision of transforming how the Global 5000 and service providers see, use and operate their IT infrastructure. NEXThink has the most advanced intelligent monitoring, discovery and analytics solution on the market that audits IT infrastructure in real-time from the perspective of end users' workplaces, physical or virtual, and it is integrated into leading management software solutions for true end-to-end IT management. For more information, visit: www.nexthink.com.
Add to Digg Bookmark with del.icio.us Add to Newsvine
Media and Analyst Contact:
Amber Rowland
[email protected]
+1-650-814-4560


Copyright @ Marketwire
Page: 1
Related Keywords:
VC, Funding, Financing, Cloud, Virtualization, Mobile, IT Management, Monitoring, Analytics, Sales, Marketing, Sales & Marketing, Security, Business Issues, Cloud Computing, IT Management, Career, infrastructure, Management, Sales, CEO/CFO, Sales, Marketwire, , Financial, Business, middle east, Other,
---