MoveIdiot.com Transforms Mobile Phones Into Personal Moving Assistants
Users Can Now Access MoveIdiot.com's Suite of Free Online Moving Tools From Their Mobile Devices
(May 04, 2010)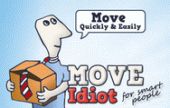 RED BANK, NJ -- (Marketwire) -- 05/04/10 --

News Facts:
MoveIdiot (www.MoveIdiot.com) is a free service that takes the hassle out of moving by providing easy-to-use online moving tools for the average person on the move. MoveIdiot's intuitive user interface enables users to track and organize all aspects of the moving process online.
MoveIdiot's suite of online moving tools make it simple to manage an entire move from start to finish including calculate moving expenses, control a moving budget, estimate packing supplies needed, access moving guides, take advantage of pre-made moving checklists, determine whether or not to hire a mover, receive recommendations for a professional moving company and determine the best sized moving truck, trailer and storage unit for the move based on the estimated weight and volume of your belongings.
Today at Web 2.0 Expo SF, MoveIdiot is announcing an optimized version of the service designed specifically for mobile devices. The new mobile interface will transform users' mobile phones into personal moving assistants and provide a simple way to organize the entire moving process anytime, anywhere. While remaining on-the-go, users can access MoveIdiot's suite of free moving tools directly from their mobile devices -- which prior to today, were only available through the MoveIdiot Website.
MoveIdiot solves the very fragmented nature of moving through its array of free moving tools, which allow users to complete every step of the moving process from one central place online, and now -- wherever, whenever, through their mobile Web browser. Whether users are at home, at the office or running moving errands, they have access to MoveIdiot's free moving tools to complete every step of the moving process.
MoveIdiot's intuitive and easy-to-use interface translates to the mobile version, so it's simple for users to check off to-do list items, get a moving quote and estimate moving supplies needed, while remaining on-the-go. The enhanced mobile features provide users with a cost-efficient solution to handle the entire moving process while decreasing the time and energy spent due to disorganization.
Just like with PCs and Macs, MoveIdiot is an installation-free system and there is no software to download. The mobile version is compatible with all mobile phones with a mobile Web browser.
MoveIdiot is owned and operated by Advanced Technologies Group, LTD ATG (OTCBB: AVGG), a publicly traded software development company.
Executive Quotes:
Abel Raskas, President of ATG says, "Tens of millions of people move each year, and not every one of those people is tech-savvy, which is why we developed an interface that is easy to use and intuitive. The same can be said for our new mobile version, so whether you are a novice or experienced user, you will easily be able to access and leverage MoveIdiot's moving tools for your next move."
"Many consumers feel frustrated with other moving sites, which can be overwhelming and offer few, if any, tools for people to plan and execute their move," continues Mr. Raskas. "We are focused on providing a useful resource for people on the move, which has been displayed through the number of new tools we have added since we launched in January, and now, with the new mobile version of MoveIdiot."
"Whether you are moving your business, or your home, MoveIdiot's value is clear because everyone can benefit from being able to analyze their spending habits or reduce the amount of time spent looking for movers," states Mr. Raskas. "Now, whether you are at home, or in line for moving supplies, you will be able to save time, money and energy by accessing MoveIdiot's free moving tools from your computer or mobile phone."
About MoveIdiot.com:
MoveIdiot.com is a free, Web-based service that takes the hassle out of moving by providing easy-to-use online moving tools for the average person on the move. MoveIdiot.com is owned and operated by Advanced Technologies Group, LTD (OTCBB: AVGG).
Statements in this press release that relate to future results and events (including statements about the expected benefits of the MoveIdiot.com acquisition) are forward-looking statements based on Advanced Technologies Group, Ltd.'s current expectations. Actual results and events in future periods could differ materially from those projected in these forward-looking statements because of a number of risks and uncertainties, including: whether the MoveIdiot.com acquisition ultimately proves successful; the impact of general economic, business and industry conditions; our ability to implement a major marketing campaign; our ability to effectively manage product transitions; and the success of money generated from advertisement agreements.
Except for historical information contained herein, the matters discussed in this press release are forward-looking statements that involve risks and uncertainties. The forward-looking statements are made pursuant to the safe harbor provisions of the Private Securities Litigation Reform Act of 1995. Important factors that could cause actual results to differ materially include, but are not limited to, technical risks associated with new technology development, government regulatory approvals as well as other risks. Additional information concerning factors that could cause actual results to differ materially from those in the forward-looking statements is contained from time to time in the Company's SEC filing. Copies of these filings may be obtained by contacting the Company or the SEC. The Company undertakes no obligation to update any of the forward-looking statements contained in its press release.
Image Available: http://www2.marketwire.com/mw/frame_mw?attachid=1241523
Image Available: http://www2.marketwire.com/mw/frame_mw?attachid=1241524
Image Available: http://www2.marketwire.com/mw/frame_mw?attachid=1241526
Image Available: http://www2.marketwire.com/mw/frame_mw?attachid=1241530

Add to Digg Bookmark with del.icio.us Add to Newsvine
Media:
Margaret Chaffee
Email Contact
415-218-3815

Investor Relations:
Andrew Barwicki
561-662-9461


Copyright @ Marketwire
Page: 1
Related Keywords:
Web 2.0 SF, free moving help, moving assistant, moving quotes, moving help, mobile, mobile web 2.0, Home,Internet,Digital Media Software,Communications,Web,browser,Mac,OS9,OSX,Marketwire,Communications Technology,Internet Technology,Computer Science,Business,Outdoor Sports,Web 2.0,Other,
---