More Tools for Researchers on the Promega iPhone/iPad App
(June 02, 2011)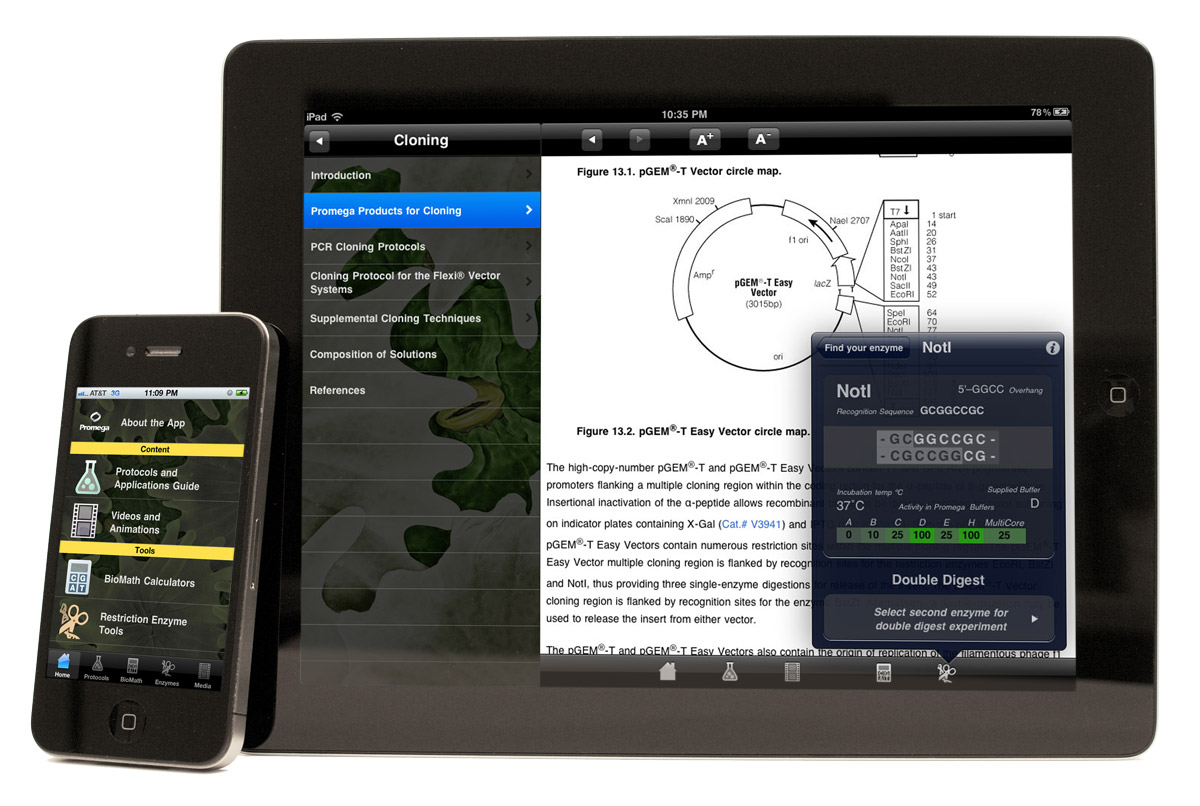 Madison, WI (PRWEB) June 02, 2011
The Promega App is now available in a new format optimized for easy use on both iPhone and iPad, and its supplemented with more tools for scientists and students. New content in version 3.0 includes a Restriction Enzyme Finder, a new Biochemical Buffers chapter, and additional instructional videos on transfection and PCR purification.
The user interface has been redesigned and optimized for both iPad and iPhone. On the iPad, the Restriction Enzyme Finder and popular BioMath Calculators are now easily accessible via popup modular tools. They are part of the Protocols & Applications Guide section which now includes 15 chapters of reference information and protocols for covering basic concepts like Buffers, PCR, Apoptosis, DNA Purification, and more. The iPhone presentation allows easy navigation between tools and text-based content, bringing even more tools and resources directly to scientists at the bench.
With this update, the content of the Promega App continues to keep pace with the evolution of information delivery in todays world. Promega will continue to explore dynamic delivery methods that strive to meet or exceed the expectations of the scientific community and offer rich and specific information whenever and wherever it is needed.
Promega Corporation is a leader in providing innovative solutions and technical support to the life sciences industry. The companys 2,000 products enable scientists worldwide to advance their knowledge in genomics, proteomics, cellular analysis, molecular diagnostics and human identification. Founded in 1978, the company is headquartered in Madison, WI, USA with branches in 15 countries and over 50 global distributors. For more information about Promega, visit http://www.promega.com.
iPad is a trademark of Apple Inc., registered in the U.S. and other countries. iPhone is a trademark of Apple Inc.
###
Read the full story at http://www.prweb.com/releases/2011/6/prweb8517788.htm.
Page: 1
Related Keywords:
biotechnology,computing and information technology,satellite technology,wireless technology,science and technology,technology (general),identification technology,biotechnology,agricultural research and technology,medical procedure/test,medical research,medical staff,medical specialisation,medical service,medical conditions,market research,research and development,medical research,science and technology,applied science,material science,human science,natural science,philosophical science,research,science (general),animal science,micro science,
---