More Companies Bet on Taleo's Model for Real-Time Performance Management
From Fortune 100 Giants to SMBs, Growing Number of Companies Adopt Taleo's Ground-Breaking 'Continuous Dialogue' Approach to Managing Performance
(October 17, 2011)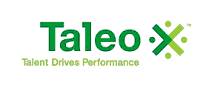 DUBLIN, CA -- (Marketwire) -- 10/17/11 -- Companies of all sizes are no longer relying solely on annual performance reviews to drive better business results, opting instead for a "continuous dialogue" approach pioneered by Taleo Corporation (NASDAQ: TLEO), the global leader of SaaS-based Talent Management solutions.
In the past several months more than a dozen of the world's largest corporations, and many more small- and medium-sized businesses (SMBs), have adopted Taleo's performance management solutions to create a high performance culture by continuously assessing employee performance against the top objectives of the enterprise.
Taleo's performance management solutions are seeing phenomenal market adoption because its leading edge architecture enables the industry's only solution designed with real-time feedback at its core. This architecture allows Taleo to transform performance management from a once-a-year exercise to an ongoing dialogue that leverages social media, email and mobile technologies.
Unlike older performance management solutions that are essentially forms automation engines, Taleo's real-time model doesn't expose an organization to the risk of leaving problems unaddressed until the next annual review. Instead, Taleo engages managers and employees continuously to help companies connect their strategy to the way they manage talent.
"The people companies are hiring today are constantly online, they are always connected, and they are accustomed to receiving feedback immediately, even instantly," said Daniel Pink, author of several bestsellers including his latest, Drive: The Surprising Truth About What Motivates Us. "Motivating these people requires a continuous flow of information and interaction. No longer can companies expect to drive performance simply by filling out forms once a year."
Taleo's performance management solutions are now used by more than 2 million people at over 450 companies of all sizes worldwide. And Taleo is positioned in the Leaders quadrant of the 2011 Gartner Magic Quadrant for Employee Performance Management Software.*
After taking traditional, forms-based platforms as far as they can, many enterprises are switching to Taleo because its continuous dialogue approach makes it easier to provide real-time coaching by tapping into everyday conversations and email. This makes it more likely for individual employees and the enterprise to achieve their objectives, and offers managers a deep well of readily available information from which to assemble reviews.
"In a heath care environment, you simply can't leave performance problems unattended, because there's more at stake than dollars and cents," said Thom Brockbank, director of HRIS at Sutter Health, one of the nation's largest not-for-profit health care systems with more than 47,000 employees. "Taleo's real-time performance management model lets us course correct, reset goals, and motivate people at the moment those actions will have the greatest impact. We will now have a continuous process that managers actually like, and those annual reviews aren't nearly as time-consuming or laborious."
And with features that allow employees to provide feedback and update goal plans directly from within email, Taleo makes performance management a routine part of the daily workflow.
"The source of our competitive advantage is the caliber of CMC Biologics' people, and that makes a continuous performance management environment crucial to our success," said Danielle Woolsey CCP, Human Resources Business Partner at CMC Biologics, a dedicated biopharmaceutical manufacturing and development organization with facilities in Seattle and Copenhagen. "With Taleo, we can link corporate goals to individual goals, visually show managers how our employees are progressing, and track self and manager evaluations. We're also leveraging Taleo's career planning capabilities to ensure we can meet our future talent needs by identifying high performers and flight risks, assessing leadership capabilities, and identifying when an employee is ready for promotion. Taleo enables us to do it all."
No Enterprise Too Large for Taleo's Cloud Infrastructure
Meeting the needs of the largest enterprises requires a robust Cloud infrastructure, and Taleo has built one of the most secure, reliable and scalable Clouds in the world. Taleo's elastic Cloud infrastructure maintained 99.9 percent availability last year while processing 19 billion transactions across all Taleo applications.
For just one Taleo performance management customer, a financial services giant with more than 350,000 employees, Taleo's Cloud processes up to 1 million transactions in any given hour, and as many as 10 million transactions a day. (Performance management transactions include logging feedback, checking or updating goals, or calibrating employee performance with that of peers.)
"We live in a world where business conditions change rapidly and companies must respond now -- not a year from now," said James Harvey, vice president and general manager, performance and compensation at Taleo. "With talent increasingly defined as the primary competitive differentiator for organizations today, large enterprises and SMBs alike are choosing solutions that help them improve business performance every day. It takes the world's largest Talent Management Cloud to deliver a real-time performance management model, and only Taleo has it."
*Gartner, Inc., Magic Quadrant for Employee Performance Management Software, James Holincheck et al, March 28, 2011.
About the Magic Quadrant
The Magic Quadrant is copyrighted 2011 by Gartner, Inc. and is reused with permission. The Magic Quadrant is a graphical representation of a marketplace at and for a specific time period. It depicts Gartner's analysis of how certain vendors measure against criteria for that marketplace, as defined by Gartner. Gartner does not endorse any vendor, product or service depicted in the Magic Quadrant, and does not advise technology users to select only those vendors placed in the "Leaders" quadrant. The Magic Quadrant is intended solely as a research tool, and is not meant to be a specific guide to action. Gartner disclaims all warranties, express or implied, with respect to this research, including any warranties of merchantability or fitness for a particular purpose.
About Taleo
Taleo (NASDAQ: TLEO) helps organizations improve the performance of their business by unlocking the power of their people. Taleo is the only company to provide industry leading solutions in every category of Talent Management. Through its cloud-based platform, Taleo optimizes recruiting, performance management, learning and compensation -- and integrates them all so managers have the insights they need to achieve talent intelligence. Customers also plug into Taleo's unique Talent Grid community to harness the power of proven best practices, millions of users, and Taleo-ready partner solutions. From small and medium sized businesses to large enterprises, more than 5,000 organizations rely on Taleo every day to pursue growth, innovation and customer success.
Forward-looking Statements
This release contains forward-looking statements, including statements regarding the demand for and benefits from the use of Taleo's solutions. Any forward-looking statements contained in this press release are based upon Taleo's historical performance and its current plans, estimates and expectations and are not a representation that such plans, estimates, or expectations will be achieved. These forward-looking statements represent Taleo's expectations as of the date of this press release. Subsequent events may cause these expectations to change, and Taleo disclaims any obligation to update the forward-looking statements in the future. These forward-looking statements are subject to known and unknown risks and uncertainties that may cause actual results to differ materially. Further information on potential factors that could affect actual results is included in Part II, Item 1A of Taleo's Quarterly Report on Form 10-Q, as filed with the SEC on August 8, 2011, and in other reports filed by Taleo with the SEC.
Media Contact
Ally Zwahlen
Senior Director | Corporate Communications
Taleo Corporation
www.taleo.com
T. 925.452.3394
email: [email protected]


Copyright @ Marketwire
Page: 1
Related Keywords:
performance management, Taleo, talent intelligence, success factors, Marketwire, Inc.,Financial,Medical,Business,Email,Other,
---