Monster For President App - Politicians May Behave Like Monsters, But What If They Were Monsters?
(May 12, 2011)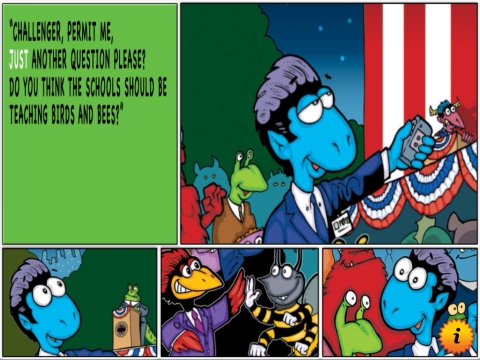 San Rafael, CA (PRWEB) May 12, 2011
RipplFX, Inc., a producer and developer of animated, interactive mobile apps, along with Esquire Publishing, a book and music publishing company, announce the release of the Monster For President storybook. It is available now for iPad for $3.99 and iPhone®/iPod touch for $1.99 on the App Store. The printed book is available directly from Esquire Publishings website. For additional information and to view a preview video, visit the RipplFX website.
'Monster for President' is a story that reveals the ups and downs of a political race between rivals for control of Monster Nation. All ages will enjoy this comical political parody following the Prez and the Challenger along the campaign trail. Watch and read their great debate. An ace reporter presents some interesting information that might change voters opinions. Will the election end in a surprise? Who will become the next President of Monster Nation? Find out by downloading the app or purchasing the hardcover storybook. The app contains many interactive elements. Guaranteed to entertain and delight children and adults from ages 12 & up.
RipplFX adapted 'Monster for President' from the original storybook written by Hal Pollock and illustrated by Anthony Parisi. Enhanced features include animation, individual words that highlight when read aloud, professional narration, background audio effects, and special, interactive pages.
"I was inspired to write 'Monster For President' while thinking about all the politicians that managed to get themselves in trouble because of their personal foibles, despite their political and intellectual savvy, said author Hal Pollock. The political process today embraces both sexes as well as all races, and I wanted to celebrate that with caricatures and humor."
Satire is a mainstay of storytelling as it keeps culture in check with itself, said Nicole Lundeen, CEO of RipplFX, Inc. Political parody is a great way to express the good, the bad, and the ugly of politics of any generation. With Monster for President, author Hal Pollock joins the ranks of political satirists like Jonathan Swift, Mark Twain, Will Rogers, and P.J. O'Rourke. We enhanced his parody by adding comical character voices and animation to bring Anthony Parisis brilliant illustrations to life.
About Hal Pollock
A successful lawyer and entrepreneur, Hal Pollock began to apply his writing skills to more than legal documents by writing song lyrics. Since 1999, he has written dozens of songs on a variety of themes, including tributes to the victims of 9/11 as well as the Columbine massacre. He has released seven CDs through his independent record label, Esquire Records, as well as had his songs recorded by others. In 2003, he turned his imagination and talent for rhyme to writing books for children. Four of Pollock's books have been published, three by Milk 'N' Cookies Press, and one by Pollock's publishing company, Esquire Publishing, Inc. Pollocks books and music are available at MonsterBooks.Net.
About A.J. Parisi
Anthony Parisi is an award-winning caricaturist, who likes to think of himself as a face specialist, but also has a knack for stylizing the human form to give one-dimensional figures the illusion of fluidity and motion. His sixteen years as an art director and keen sense of humor gives him an added advantage to be a conceptual illustrator. Visit his online portfolio.
About RipplFX, Inc.
RipplFX, Inc. is a mobile media company building a library of content for production and distribution of books, film, animation, and games as transmedia properties for multiple platforms. RipplFX also produces interactive storybooks on multiple platforms for iPad, iPhone, Android, and webOS. RipplFX professional team of producers, illustrators, and animators craft their products to enhance interactivity in storytelling to create an engaging learning experience. Using a proprietary development system, RipplFX builds quality and affordable apps for authors and publishers. To learn more about RipplFX full suite of services visit the RipplFX website.
###
Read the full story at http://www.prweb.com/releases/2011/5/prweb8345856.htm.
Page: 1
Related Keywords:
economy, business and finance, financial and business service, business enterprises, business (general), government aid, government debt, government contract, government health care, government, national government, government departments, non government organizations (NGO), government aid, government debt, government contract, government health care, national security, national elections, government, national government, government departments, non government organizations (NGO), national or ethnic minority, (US) National Football League (NFL) (North American), Major League Baseball (North American Professional) - National League, National Basketball Association (North American Professional), National Hockey League (North American), national federation,
---