Mobile App Delivers the First "Personal Dietitian," Enabling Healthy Weight Loss and Diabetes Control: "What You Buy Is What You Eat"
"Shop to Lose" -- the Newest PICKKA(TM) Mobile Application -- Guides Dieters to the Right Foods in the Grocery Store or Restaurant in Accordance With Their Health Objectives
(March 30, 2010)

MOUNTAIN VIEW, CA -- (Marketwire) -- 03/30/10 -- Evincii, a Silicon Valley based innovator in search technology, today announced "Shop to Lose," the second offering from its PICKKA line of mobile applications for health and wellness. Over 200 million Americans are overweight or obese. Shop to Lose addresses a vital part of healthy weight loss management: Guiding consumers to buy the right food products and prevent them from making unhealthy food choices.
"It's the root of any diet -- we eat what we buy," said Dr. Charlie Koo, founder and CEO of Evincii. "Every visit to a supermarket or restaurant is an opportunity to violate our dieting effort. A 'dietitian in the pocket' will keep us honest every step of the way. Shop to Lose takes the guesswork out of weight loss and healthy eating by recommending personalized food products based on health conditions and diet restrictions."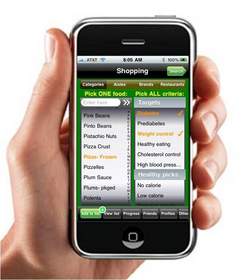 Shop to Lose employs its patent-pending expert-guided search technology to cover the entire lifecycle of healthy eating and weight control from planning to buying to eating to managing. It advises on everything we eat, from fresh to packaged to restaurant food. It also accommodates prevalent diet choices and health conditions. Recommendations are made from a nutrition-expert-verified knowledgebase of 130,000 packaged food items and tens of thousands of restaurants according to an individual's health needs, just as would be made by a dietitian.
"PICKKA's Shop to Lose is 'revolutionary' and makes front-of-pack labeling instantly obsolete," said Dr. Adam Drewnowski, nutrition expert and the Director of the Center for Public Health Nutrition at the University of Washington in Seattle. "You can make instant product comparisons while shopping, and recommendations are personalized. It even tracks daily progress toward your weight goals and allows you to engage your friends' support."
A consumer looking for frozen pizza in a store, for example, can easily select it on Shop to Lose based on his/her specific health conditions (overweight, diabetes, high blood pressure, etc.). A select list of pizzas that meet the specified health profile can be viewed instantly, along with nutrition facts and personalized advice, before making a decision.
Shop to Lose tracks shoppers' product purchases over time, managing the "what to buy" portion of their programs. It ensures that the consumer's pantry is stocked with the right foods for weight loss and healthy eating objectives. Shop to Lose also equips the shopper with its smart Shopping List Builder that streamlines the list-creation process for virtually all grocery items for the entire family.
"Shop to Lose is a great day-to-day assistant for patients who are diagnosed with diabetes, or other disease states," said Susan Sloane, a registered pharmacist and Certified Diabetes Educator in New York and a mother of two sons with diabetes. "It helps me personally in managing my family meal plans and relieving me from tedious label-sniffing. Every home should have this tool."
Understanding the emotional challenge of weight control, PICKKA Shop to Lose motivates the consumer with self-tracking tools and social networking support. It offers multiple ways to engage friends and family to keep the consumer going until the health objective is achieved. One can invite friends to cheer him/her on, or set up friendly wagers by betting he/she will meet a weight loss goal.
PICKKA Shop to Lose is available today, free of charge for the next six months at www.PICKKA.com/Shoptolose, or in the Apple App Store at http://www.pickka.com/shoptolose/getiphoneapp.html for iPhone. Learn more at http://www.youtube.com/watch?v=xTjcJwkoZ9c.
About Evincii
Evincii is a Silicon Valley-based innovator in consumer-facing search technology for health, wellness, and well-being. The company's new suite of mobile applications, trading under the brand PICKKA, enables consumers to make better shopping decisions in these crucial and complex categories. The first application, PICKKA Med, gives consumers a fun-and-easy tool for selecting the right medicine products for specific symptoms and any medical conditions with just a few simple clicks on their iPhones. For more information, visit www.pickka.com.
Image Available: http://www2.marketwire.com/mw/frame_mw?attachid=1210565

Add to Digg Bookmark with del.icio.us Add to Newsvine
Media Contact:
Becky Quinlan
The Conversation Group
916.508.8050
[email protected]


Copyright @ Marketwire
Page: 1
Related Keywords:
Evincii,Applications,Networking,Marketwire,Apple Computer,Medicine,Diet,Disease,Medication,Vitamins/Nutrition,Restaurants,Social Networking,Family,Other,
---