MobiHand and MotionApps Announce the Grand Opening of the First Classic App Store
Palm Pre Owners Now Have Access to Wallet-Friendly Deals on a Growing Selection of Certified Palm OS Apps
(June 24, 2009)

SAN MATEO, CA -- (Marketwire) -- 06/24/09 -- MobiHand, Inc., a leading provider of mobile content and application stores, and MotionApps, a leading developer of software for smartphones, today announced the grand opening of the MobiHand Classic App Store. It is the first and only store dedicated to offering a large selection of Palm OS apps that will run on the new Palm Pre using the MotionApps Classic Palm OS emulator. The MobiHand Classic App Store (http://classic.mobihand.com) features daily, weekly and monthly special offers and exclusive deals on a wide variety of games, entertainment, personal productivity and other popular apps.
The MotionApps Classic Palm OS emulator for webOS (http://www.motionapps.com/classic/), which is available for purchase from the App Catalog on the Pre, seamlessly unites two operating systems. It leverages many of the Pre's hardware capabilities and will run Palm OS apps two times faster, giving Pre owners the best of both worlds.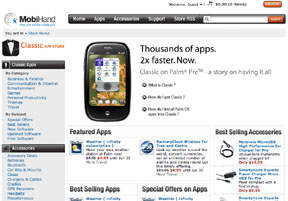 "The Palm Pre and Palm's webOS have garnered accolades from industry experts and ignited an air of excitement around Palm that hasn't been felt for years," said Steve Howard, president and CEO of MobiHand, Inc. "Thanks to the MotionApps Classic Palm OS emulator, new Pre owners will be able to run many of the leisure and business apps they love such as Aces Texas Hold'em, Bejeweled, BlackJack Deluxe, Agendus, and SplashID immediately -- which will help them comfortably make the transition to this incredible new platform."
"Our goal with the Classic Palm OS emulator is to provide users with a way to migrate to the Palm Pre smoothly, safely and on their own terms," said Voja Lalich, CEO of MotionApps. "MobiHand, with their large catalog of popular Palm OS apps covering a wide range of categories and needs, is a great resource for Palm Pre owners and one as committed as we are to making the lives of smartphone users happier and easier."
Lalich continued, "Additionally, we will soon be introducing Classic Well, a user driven forum where the Palm OS user community will be able to report and discuss apps they have tried in Classic. The recommendations made and information being exchanged about how certain apps behave will be valuable for both peers and Palm OS developers. We plan on working closely with MobiHand to communicate up-to-date information to Pre owners and promote apps that achieve Classic Certified status as they are being added to the Classic Store."
MobiHand has a rapidly growing catalog of Palm OS apps that have been proven to work perfectly in Classic, with new apps being tested and added daily. Furthermore, because the company has cultivated relationships with developers in the Palm OS community over many years, special offers and exclusive deals are made available on a regular basis.
Additionally, MobiHand powers a network of co-branded stores for popular enthusiast sites such as PalmInfoCenter, Palm247, EverythingTreo, Treonauts, and Brighthand, where the Classic app catalog will also be available.
"MobiHand has made it possible for our readers to access a growing list of apps that will run on the Palm Pre using the MotionApps Classic Palm OS emulator," said Ryan Kairer, founder of PalmInfocenter.com. "The long list of unique titles and special offers that can be found at our Classic App store will make it a destination to visit often."
Grand Opening Special on MotionApps Classic Palm OS emulator:
To celebrate the Classic App Store's grand opening, MobiHand is offering a 20% storewide discount on all apps, from now until July 4, 2009. Just enter coupon code, "CLASSIC" during checkout.
The MobiHand Classic App Store can be found at http://classic.mobihand.com.
About MobiHand:
MobiHand, Inc. is a leading distributor of software and content for a wide range of mobile devices, including BlackBerry, Windows Mobile, Palm, Symbian and Android. With a catalog of over 15,000 mobile applications, media products, and subscription services from over 1000 content providers, MobiHand powers hundreds of co-branded app stores worldwide. The company delivers end-to-end services for the aggregation, marketing, purchasing, and provisioning of mobile content. MobiHand's best-in-class management platform, MobiReach, provides comprehensive tools for catalog management, localization, store design and administration, marketing and ad campaigns, and reporting. The company is headquartered in the San Francisco Bay Area. For more information about MobiHand, please visit corporate.mobihand.com.
About MotionApps
MotionApps is a company with an intense drive to make clever software for smartphones. Designed for on-the-go people who are demanding and knowledgeable, the company's intuitive applications coupled with its dedicated service, make lives a bit happier and easier. Founded in 2001, MotionApps was the first developer awarded with the "Designed for Palm Products" logo and was among the first members of the "Palm Selected Developers" program. Other smartphones devices supported include BlackBerry, iPhone, Windows Mobile, and the new Palm Pre. More information is available at www.motionapps.com.
Copyright 2009 MobiHand, Inc. All other product names, servicemarks, and trademarks mentioned herein are trademarks of their respective owners.
Image Available: http://www2.marketwire.com/mw/frame_mw?attachid=1010446

Add to Digg Bookmark with del.icio.us Add to Newsvine
For more information, contact:
Annie Gladue
MobiHand Inc.
415-302-8990
Email Contact

Danijela Tomazovic
MotionApps LLC
415.495.7700
Email Contact


Copyright @ Marketwire
Page: 1
Related Keywords:
MobiHand, Inc., Digital Media Software,Communications,Digital Audio,Smart Phone,PDA,iPods,iphone,Applications,Sales & Marketing,Computer Technology,Hardware,Mobile Devices,Blackberry,Smartphone,Management,CEO/CFO,Business,Marketing,Copyright,PDA/Smartphone,OS (Operating System),Marketwire, Inc.,Apple Computer,Discount,Computer Science,Business,Entertainment,Other,
---