Mobclix Unveils Enhanced Analytics & Social Features for Mobile Applications
Leading Analytics, Monetization and Distribution Platform for iPhone & Mobile App Developers
(March 31, 2009)

SANTA CLARA, CA -- (Marketwire) -- 03/31/09 --

CORE NEWS FACTS
Mobclix is the only mobile applications platform to couple real-time application analytics with a yield optimization advertising solution
Mobclix today announced an enhanced set of analytics and monetization features adding to its award-winning platform to solve pain points for both developers and advertisers
With the release of this version, both developers and advertisers can better understand and monetize their apps with the most comprehensive set of tools built on Mobclix's three fundamental pillars:

Analytics - Offers actionable business insights
Monetization - Provides highest possible eCPMs for each impression
Distribution - Promotes viral growth through social networking platforms

With the only mobile yield optimization advertising solution available, Mobclix can help developers instantly monetize and provide 100 percent fill rates by leveraging its ad network relationships for higher eCPMs
In addition, marketers can leverage Mobclix to buy ads targeted to specific interest-based segments through geographic, demographic and behavioral insights
Advertisers also have the ability to run highly interactive brand-related ad campaigns that leverage the iPhone's capabilities
To demonstrate the breadth and depth of Mobclix analytics, the company released new data points and trends from the iPhone App Store over the last three months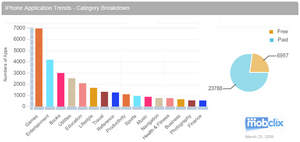 ENHANCED FEATURES
Yield Optimization - Provides 100 percent fill rates for U.S. inventory by leveraging Mobclix ad network relationships for highest eCPMs
Link Exchange - Provides additional free distribution and targeted new users on remnant inventory
Audience segmentation - Allows advertisers to simplify their ad targeting; Mobclix effectively optimizes ad campaigns for performance by targeting ad campaigns to the right users
Interactive Advertising - Allows brand advertisers to serve interactive ads that incorporate the accelerometer, sound, force and gesture resulting in high engagement rates
Touchstream(TM) Event Logging - Helps identify a sequence of events and determine the latency periods between those events, in turn optimizing the application
Social Capabilities (e.g., Facebook Connect, Twitter and Open Social) - Enhances viral growth and distribution
Updated Developer Interface - Newly designed dashboard featuring in-depth analytics for event logging visualization, application health and crash reporting -- enabling application optimization
Updated SDK Library - Central hub for ad caching, app analytics, rich media advertising and virality hooks
Comments & Rating Capabilities - Shows real-time ratings and user feedback directly from applications providing in-depth understanding of users sentiments
New Ad Dashboard - Provides on-demand self serve ad reporting
NEW MOBCLIX IPHONE APP STORE DATA
Stats:
Over 800 million iPhone apps downloaded
Over 31,000 iPhone apps in the App Store
$1 billion marketplace in the next 24 months
Trends:
App Store is growing at an average of 38 percent per month -- with an average of 200 applications being released daily
Pricing Trends: 23 percent of apps are free; 49 percent cost $0.99
Buzz Index: 60 percent of all comments made are regarding free apps; 16 percent of comments are made around $0.99 apps
Device Breakdown: 56 percent are iPhones; 43 percent are iPod Touches *
Data Usage: 58 percent WiFi traffic; 33 percent carrier traffic; 9 percent None (no data connection present) *
* Mobclix Network, March 2009
QUICK COMPANY FACTS
Mobclix is a privately held company that launched in September 2008 and is headquartered in Santa Clara, Calif.
Mobclix growth-to-date includes:

Of the apps that Mobclix has worked with, 75 percent have been on the Top 100 Free App List
1,500+ apps on App Store
15,000+ downloads of analytics

Mobclix was a TechCrunch50 finalist and SeedCamp winner in 2008
PRE-APPROVED QUOTES
FROM KRISHNA SUBRAMANIAN, MOBCLIX CO-FOUNDER


"As brands follow consumers to the mobile channel, optimizing the performance of apps becomes increasingly important for both developers and advertisers," says Krishna Subramanian, Mobclix co-founder. "Mobclix is solving key developer and advertiser pain points by transforming mobile analytics into actionable business insights."


FROM SUNIL VERMA, MOBCLIX CO-FOUNDER


"According to recent data released by Mobclix, the iPhone App Store is growing at approximately 38 percent per month with 49 percent of all apps priced at $0.99 -- proving that consumer demand is exploding and expectations on cost are clear," says Sunil Verma, Mobclix co-founder. "Providing developers insight into pricing and performance trends of the top apps helps them optimize their performance and make more money."


FROM JOHN KIM, PELAGO VICE PRESIDENT, ADVERTISING PRODUCTS


"We thought about creating our own metrics and reporting system but then we met Mobclix," says John Kim, Pelago vice president, advertising products. "They have everything we want in an analytics package. The service and their responsiveness, which is often underappreciated when making these choices, have been superb."


FROM MIKE SANFORD, FLIPSIDE5 CEO


"Using Mobclix significantly cuts down the overhead of my integration," says Mike Sanford, FlipSide5 CEO. "By leveraging their yield optimization we've been able to consistently outperform the market on eCPMs and revenue generation."
Image Available: http://www2.marketwire.com/mw/frame_mw?attachid=949983

Add to Digg Bookmark with del.icio.us Add to Newsvine
PRESS CONTACTS:
Colleen Wickwire
SHIFT Communications
(415) 591-8414
Email Contact


Copyright @ Marketwire
Page: 1
Related Keywords:
mobile marketing, mobile advertising, mobile analytics, iPhone apps, applications, apps , Sales, Applications, Advertising, Marketing, Sales & Marketing, Networking, USA, Marketwire, Apple Computer, Communications Technology, Internet Technology, Business, Social Networking,
---