Mo-DV to Demo Two of Its Patented, Innovative HD Video Delivery Technologies During CES
Secure, Economical Cross-Platform Solutions From Fast Growing Company
(January 05, 2012)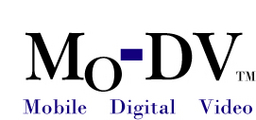 CAMPBELL, CA -- (Marketwire) -- 01/05/12 -- Mo-DV (Mobile Digital Video), an innovator of HD video content delivery via SD Micro cards, USB flash drives, and advanced applications, will be demonstrating two of its patented multimedia delivery technologies during the 2012 International CES. The first feature is a cross-platform common-medium technology that brings movies, music videos, and promotional video content to memory-card-capable mobile phones, tablets, and PCs. The other technology is a special application that provides rapid loading of video content directly to a mobile device from a kiosk location.
Mo-DV demonstrations will take place in the Las Vegas Venetian® Resort-Hotel-Casino on January 9, 2012 and at The Hilton Grand Vacations Suites, January 10 - 12.
"We are excited to be able to show CES attendees our latest technologies for quickly and economically delivering movies and other content directly to consumers," said Jessica Fullmer, CEO and founder of Mo-DV. "Mo-DV know-how is providing innovative ways for turning mobile phones, tablets, and PCs into veritable entertainment centers."
Mo-DV's memory card-based cross-medium technology solves the formatting problems mobile devices and HDTV sets encounter with other consumer electronic devices. It permits playback of movie content on all platforms, regardless of operating environment. Mo-DV's patented technology automatically orients and sizes content to fit different screen sizes and shapes, ranging from low to full-high resolution HD.
Mo-DV Flash Memory Technology Solves Bandwidth Problems
One of the biggest problems in movie entertainment content today is the lack of wireless bandwidth needed to accommodate all streaming and downloading. Mo-DV delivery through flash memory devices solves this problem. Most portable devices are compatible with flash media, unlike optical discs, which cannot play on mobile phones, notebooks or many tablets, and on fewer and fewer PCs. Its Digital Rights Management (DRM) technology has proved to be a hacker-proof anti-copy solution for delivering movies stored on flash memory devices.
Kiosks Deliver Movies to Mobile Devices
The new Mo-DV application for rapid loading of movies directly to a mobile device from a kiosk location provides movie enthusiasts with a continuous supply of new movies without ever having to return a disc. Mo-DV's application can rapidly transmit a two-hour movie directly to a device or external flash media.
Rapid Delivery of Movies from Kiosks
Kiosks using this patented Mo-DV technology provide a viable, lower-priced, time-saving alternative to physical rentals and sell-thru's. Downloading speeds offered by this special application are a tremendous advantage over Wi-Fi or network downloads in both cost and time. Combining cost and time savings with the convenience of a kiosk location make this method of renting or purchasing movies a perfect tool for impulse transactions.
About Mo-DV
Mo-DV provides its patented multiplatform video player with Digital Rights Management (DRM) to store and distribute video and audio content securely via USB Flash Drives and SD cards for use on mobile devices and PCs. Its technology turns portable devices with USB and SD card ports into movie, music and video players. With its software technology, Mo-DV aims to revolutionize the way media distributors, retailers, kiosk manufacturers, memory card manufacturers, and movie studios distribute video and other multimedia content to consumers. Founded in 2002, Mo-DV is a privately held company based in Campbell, Calif. For further information, visit www.mo-dv.com.
All products/services and trademarks mentioned in this release are the properties of their respective companies.
© 2012 Mo-DV. All rights reserved.
Add to Digg Bookmark with del.icio.us Add to Newsvine
Copyright @ Marketwire
Page: 1
Related Keywords:
Mo-DV, Computers/Peripherals, Notebook/Laptop, WiFi/Wireless, Tablets, USB, Digital Media Software, WiFi, Movies & Music, Home Networks, Movies by Genre, Broadcast, Management, Streaming, Digital, Prosumer/Consumer, HDTV, Flash, Consumer Electronics, Broadcast Technology, Graphics/Design, Consumer Technology, Internet Media, HDTV, Software, Interactive/Multimedia, Marketwire, , CES Attendees, Television, Music, Entertainment, Other,
---