Mitratech Enhances Product Accessibility for Maximum Adoption and Anytime, Anywhere Support
From VPAT to iPad, Mitratech's TeamConnect Is the Most Accessible Legal Operations and Compliance Management Platform, for Multi-Device and Special Needs User Populations
(May 12, 2010)

LOS ANGELES, CA -- (Marketwire) -- 05/12/10 -- Mitratech, the leader in collaborative accountability applications including enterprise legal and compliance management automation, today announced enhanced accessibility features to maximize user adoption by extending the cost control, risk management and collaboration capabilities of the TeamConnect platform to all users, regardless of their physical condition, IT infrastructure or hardware device.
TeamConnect is a holistic platform for automating the significant legal and governance, risk management and compliance processes of enterprise organizations while enabling more productive collaboration and control over costs and liability. To satisfy compliance regulations detailed in Section 508 of the Rehabilitation Act requiring Federal agencies to provide disabled persons the same information access that is available to others, TeamConnect adheres to W3C Priority 1 guidelines through the Voluntary Product Accessibility Template, or VPAT. Leveraging Job Access with Speech (JAWS) functionality, TeamConnect enables visually impaired users to access matter management, e-billing, legal hold, contract management, and governance, risk, and compliance applications through screen reader software programs. As part of its accessibility roadmap for disabled users, Mitratech is committed to providing advanced features in product navigation with tabbing and keyboards shortcuts.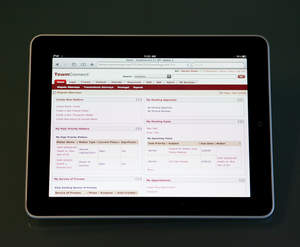 Enterprise architects will find that expanded platform support makes TeamConnect the legal and compliance industry's most versatile system. Platform agnostic, TeamConnect runs on a variety of client-side browsers including Internet Explorer 7 and 8, Firefox 3.6, Safari 4.x for Mac, and Google Chrome 4.1. Supported application servers include IBM WebSphere 6.1.x and 7, Oracle WebLogic 10 and 11, Tomcat 6.0, and RedHat JBoss 5; supported database servers include Oracle 10 G and 11 G, MS SQL 2005 and 2008. TeamConnect's versatility in application servers and its hardware independence enables IT departments to re-use existing resources and reduce investment costs, while making the system easy to deploy in a heterogeneous computing environment.
"TeamConnect offers a unique combination of accessibility and versatility," said Mitratech CTO Richard Levy. "This directly translates into faster system implementation, lower overall IT costs and immediate improved departmental productivity."
To accommodate the influx of tech-savvy Generation Y legal staff entering the workforce while empowering those whose job functions already require a high degree of mobility, TeamConnect can be accessed on mobile devices, including the iPad tablet computer recently released by Apple. Corporate legal professionals whose positions require them to be constantly on the go can stay connected to TeamConnect and their pending matters, whether on the corporate campus or traveling abroad.
"We know that Generation Y legal staff approach problem-solving in a markedly different way than do other generations," said Mitratech CEO Afshin Behnia. "Their approach is technology infused without being wed to a particular platform, especially with respect to operating in a mobile environment, and this is usually by choice rather than by necessity." He continued, "TeamConnect provides the desired openness and flexibility."
About Mitratech
Mitratech provides market-leading Collaborative Accountability Applications for businesses and their trusted partners. Mitratech's TeamConnect platform has proven the value of collaborative accountability in corporate legal operations, government case management, compliance and insurance claims litigation management. Applications built on the TeamConnect platform improve the transparency of financial reporting, reduce exposure to risk and boost operating discipline, information security and the efficiency of enterprise processes. The company's Collaborati browser application also meets the accountability and collaboration needs of proliferating extraprise teams, wherein vendors, partners and service providers often have to be included in sensitive teamwork projects such as electronic billing, litigation hold and collaborative budgeting, or those which expose businesses to liability. http://www.mitratech.com
Image Available: http://www2.marketwire.com/mw/frame_mw?attachid=1252291

Add to Digg Bookmark with del.icio.us Add to Newsvine
Media Contacts:
Renee Deger
GlobalFluency
[email protected]
650.433.4153

Shirin Behnia
Mitratech
[email protected]
323.900.1956


Copyright @ Marketwire
Page: 1
Related Keywords:
Mitratech, Applications,Insurance,Security,Database,Internet,Business Issues,Hardware,Other,Security,Internet Server Applications,Law & Regulations,Accessibility,Management,CTO/CIO,CEO/CFO,Mac,OS9,OSX,Marketwire,Financial,Internet Technology,Internet,Browsers,Other,
---