Mini-mal Launches their pic.me iPhone 4 Case on Kickstarter.com
(March 01, 2011)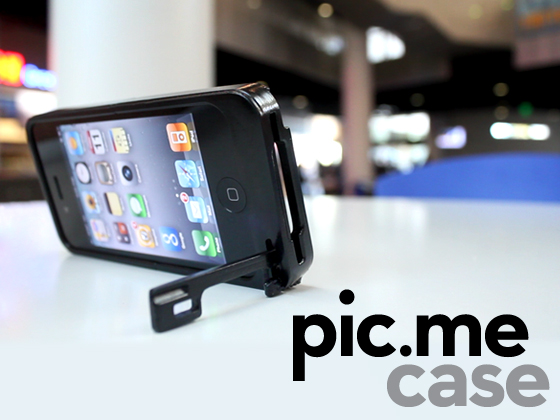 San Diego, CA (PRWEB) March 1, 2011
Mini-mal, a cellphone case developer known for their compact multi-functional iPhone cases, has launched a pre-order funding campaign for the iPhone 4 pic.me case on Kickstarter.com.
The "pic.me" case is an iPhone 4 case with an integrated arm that allows for the multi-angle positioning of the iPhone in both the traditional "viewing mode" as well as the "video recording mode". The case adds the ability to take iPhone videos and photos without the need for a tripod.
When not in use the arm folds away completely, leaving the user with a traditionally designed protective iPhone case. The case caters towards a wide range of iPhone users; from those that utilize their phones for recording videos and taking photos, to those that are looking for a compact case that allows the iPhone to stand in multiple angles. The new case is designed to fit both the Verizon and AT&T iPhone 4s.
We are very excited about the Kickstarter campaign and hope that we can garner enough support to make this case a reality. We believe the pic.me case is perfect for the everyday iPhone user who is looking for a sleek protective case, but would also like the added benefit having a multi-angle viewing and/or video recording stand when necessary. Its a great complement to the iPhone 4's many capabilities and features, including the HD camera, and high-res screen, spokesperson Joey Chun said.
The arm on the "pic.me" case can rotate over 270 degrees and lock into 19 different positions.
Kickstarter "pic.me" case project page - Kickstarter.com
Mini-mal "pic.me" case homepage - http://www.picmecase.com
# # #

Read the full story at http://www.prweb.com/releases/iphonetripodcase/picmecase/prweb5111994.htm.
Page: 1
Related Keywords:
computer crime, economy, business and finance, financial and business service, business enterprises, business (general), computing and information technology, satellite technology, wireless technology, science and technology, technology (general), electronics, identification technology, agricultural research and technology, computing and information technology, satellite technology, wireless technology, science and technology, technology (general), identification technology, agricultural research and technology, plastic art, photography, entertainment award, entertainment (general), arts (general), arts, culture and entertainment, design and engineering, computer crime,
---