Mindprint and ethica Clinical Research Inc. Announce Implementation of Highly Effective Enterprise Resource Planning (ERP) System
Implementation of Customized Axpert ERP System at ethica Was Complete in Less Than Four Months
(January 31, 2012)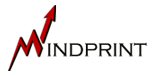 TORONTO, ONTARIO -- (Marketwire) -- 01/31/12 -- Mindprint Inc. and ethica Clinical Research Inc. announced the successful implementation of a highly effective Enterprise Resource Planning (ERP) system for managing all pre-sales, operations, and finance related processes for ethica Clinical Research Inc.
ethica Clinical Research Inc. is a full-service Contract Research Organization (CRO) operating in Canada, Mexico and India that conducts and manages ethical clinical research on drugs, biologics, medical devices and natural health products. ethica had evaluated multiple ERP systems and found that none fully met their requirements. All of the standard ERP systems either did not have the functionality needed to meet ethica's requirements or were so rigid that ethica would have had to change their internal processes to suit the software.
ethica originally engaged Mindprint for a two-week requirement gathering session that began with an assessment and exploration of ethica's internal work processes and resulted in the generation of the ideal processes for an ERP system that would fit ethica's size and culture. Mindprint then provided a fixed price quote for mapping all of ethica's work processes including customer relationship management, human resources, operations, timesheets, and invoicing into an Axpert based ERP system.
The entire ERP system implementation within ethica's organization (including design, development, installation, and data migration) was done in less than four months. Mindprint's iterative approach ensured that the key users at ethica were highly engaged during the entire implementation process and this resulted in a system that fit ethica like a glove. Mindprint's fixed price approach also significantly mitigated the financial risk of the project for ethica's senior management.
"Mindprint worked very efficiently and intuitively. It was very adept at understanding the complexities of our business processes and simplifying them in the context of developing an ERP system that suited our needs," said Dr. Janice Parente, President of ethica Clinical Research Inc. "Axpert has been successful at consolidating and centralizing ethica's key processes in a way that allows us to manage the business more effectively and efficiently."
"Midsize professional services organizations are underserved in the market by ERP vendors. This provided an opportunity for Mindprint and our Axpert platform to work together and develop a perfectly fitted ERP for ethica Clinical Research Inc., a midsize organization that operates in Canada, India and Mexico," said Prasad Sristi, Founder and President, Mindprint Inc. "As a clinical research organization managing clinical studies for drugs and natural health products, ethica's internal processes are complex. Instead of imposing a set of so called 'best practices', our belief in honing our clients' internal processes to a new level of efficiency resulted in a system that fit ethica like a glove and has been operating at 100% usage from day one. Axpert's no-coding approach ensured that the implementation was complete in less than four months as compared to the years that other ERP systems often require."
About Mindprint
Mindprint Inc. develops and implements cloud based business process software for mid-size service oriented organizations. Mindprint was founded by Prasad Sristi in 2009 and headquartered in Toronto, Canada. In 2010, Mindprint partnered with Agile Labs in India to provide cost effective software development. Agile Labs' patent pending Axpert platform enables development of custom database and workflow management systems with no coding. Mindprint's Agile Labs partnership involves its technology (Axpert), use of its project management techniques and access to over 100 Axpert developers. This partnership gives real benefits to customers - cost, implementation time, and ease of integration. www.mindprintsolutions.com
About ethica Clinical Research Inc.
ethica Clinical Research Inc. is a leading provider of contract research and ethics review services, and a staunch proponent of initiatives related to the protection and enhancement of the rights and welfare of research participants. In 2006, ethica became the first Canadian company to be accredited by AAHRPP (Association for the Accreditation of Research Participant Programs). Headquartered in Montreal, Canada, ethica's wholly-owned subsidiaries - ethica CRO Inc., Veritas IRB Inc. and Merita CQA Inc. - offer a full complement of clinical study management, ethics review and quality assurance services respectively. With offices in Canada, Mexico and India, ethica's subsidiaries support the biopharmaceutical industry's clinical research activities on drugs, biologics, medical devices, cosmeceuticals, and natural health products. www.ethicaclinical.com
Contacts:
Mindprint
Susan Kirk
778-294-0064
[email protected]
www.mindprintsolutions.com

ethica Clinical Research Inc.
Ron Kolanitch
Corporate Director of Business Development
514-337-0442
[email protected]
www.ethicaclinical.com


Copyright @ Marketwire
Page: 1
Related Keywords:
Mindprint Inc. , Canada, Toronto, Montreal, India, Marketwire, Inc., , Financial, Medical Technology, Computer Science, Business, india, mexico, Other,
---