Milyoni and Talleres Uchawi Launch Lecciones Para Un Beso (Lessons for a Kiss) on Facebook This Valentine's Day to Worldwide Audience
South American Hit Romantic Comedy Features Live Chat With Film's Director
(February 09, 2012)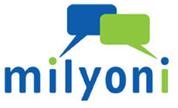 PLEASANTON, CA -- (Marketwire) -- 02/09/12 -- Milyoni, the leader in social entertainment, and Colombian production company Talleres Uchawi, today announced the worldwide Facebook launch of Lecciones para un Beso (Lessons for a Kiss) this Valentine's Day. The hit Colombian film, pegged as the first romantic comedy for men, will debut with a live broadcast and chat with filmmaker/director Juan Pablo Bustamante on Tuesday, February 14, at 8 p.m. ET/5 p.m. PT. Fans can RSVP to the live event at http://apps.facebook.com/uchawi-social-live/.
Lecciones para un Beso is the story of Alejandro (played by José Julián Gaviria), a young man who falls in love with María (Vanessa Galvis) who makes his life miserable by ignoring him. With the help of three men (Óscar Mauricio Rodríguez, Bárbaro Marín and Salvo Basile) with different strategies in the art of love, romance, lies and money, Alejandro attempts to achieve his dream: to kiss María on the lips.
Using Milyoni's Social Live technology, Facebook fans worldwide can share the unique social experience as they engage with the filmmaker during the film's live online premiere. Following that, the movie will be available to watch on-demand with English subtitles via Social Cinema, where users can chat with friends, comment on and share clips, and invite others to watch. Lecciones Para Un Beso will be available for 10 Facebook Credits or $0.99 via PayPal or credit card.
"Lecciones para un Beso has already made noise in South America and we are excited to help bring this film to a global audience," said Dean Alms, VP of marketing for Milyoni. "This romantic comedy gives a nod to the guys on Valentine's Day, and we are delighted to offer the social features they are looking for while they experience it."
"Milyoni is helping us reach our audience outside of Colombia for the first time and in an entirely new way," said Juan Pablo Bustamante, director/filmmaker of Lecciones para un Beso. "I made this movie to reveal the humorous trials of young men in love, a story that transcends culture, class and geographical location. Now the movie can reach just as far as its theme."
To RSVP to the live event or watch Lecciones para un Beso, http://apps.facebook.com/uchawi-social-live/.
ABOUT MILYONI
Based in the San Francisco Bay Area, Milyoni, Inc. is the leader in social entertainment. The company's technology provides entertainment and lifestyle companies with a way to connect and engage with Facebook fans, and turn them into customers. Whether it's watching a live concert, movie or sporting event or shopping your favorite brands, Milyoni enables companies to monetize fans pages through a unique level of engagement and a shared, social experience. Milyoni's services reach over 150 million fans from industry leading customers, including Universal Pictures, Lionsgate, Ridgeline Entertainment, Austin City Limits Live, Turner Broadcasting, University of Oklahoma and The NBA to bring a variety of digital content and physical goods to fans on Facebook. For more information, visit www.milyoni.com.
ABOUT TALLERES UCHAWI
Talleres Uchawi is a Colombian independent film production company dedicated to the creation of motion pictures that combine artistic and commercial potential with universal stories that can be perceived in every corner of the world. The company takes risks inherent to independent film production without leaving the sensitivity and taste of the public. This is evidenced by the select films we produce, including Cartagena de Indias: Una historia de cinco elementos (Cartagena de Indias: A story of five elements), a documentary that has sold more than 25,000 copies and recipient of the prestigious First Place award in the III Exhibition of New Filmmakers at the 43rd Cartagena Film Festival in Colombia. For more information, please send an email to contacto@uchawi.net.
Facebook® is a registered trademark of Facebook Inc.
PR Contact:
Sylvie Tongco for Milyoni
Email Contact
415-593-1400


Copyright @ Marketwire
Page: 1
Related Keywords:
valentine's day, facebook, movie, romantic comedy, colombian movie, milyoni, Broadcast, Digital, Camera/Film, Film Production, Broadcast Technology, Production/Post, Broadcast, Production, Film Production, email, Marketwire, Inc., , Film, Lifestyle, Entertainment, Email, Men,
---