Milyoni Is Streaming Screaming Scary Movies on Facebook This Halloween
Get Spooked With the Facebook Launch of The Perfect House and Other Horror Films
(October 20, 2011)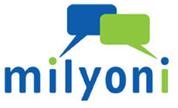 PLEASANTON, CA -- (Marketwire) -- 10/20/11 -- Milyoni, the leader in F-commerce and the company bringing entertainment content to Facebook, is gearing up for Halloween and announcing a brand new horror film, The Perfect House, exclusively available on Facebook starting today. In addition, Milyoni is making various classic horror titles available for rent on Facebook. Grab some candy corn, lock your doors, and put your Mom on speed dial, because these films will have you and your friends shaking in your boots -- all from your Facebook page.
Milyoni invites fans to stream and scream from the "privacy" of their own Facebook network as they enjoy watching The Perfect House. The fright flick, starring Monique Parent, Felissa Rose and John Philbin, is a brand new chilling saga about the history of a couple's supposed dream house. The film was made exclusively for Facebook and can be purchased for 50 Facebook Credits.
"Milyoni offers an unmatched social experience for movie lovers on Facebook," said Kris Hulbert, executive producer of The Perfect House. "Thanks to Social Cinema, terrified fans don't need to brave the movie alone. They can spread their fear and excitement by sharing clips, quotes, and comments all while watching the movie from the convenience of their own home or mobile device."
Other gripping thrillers available on Facebook via Milyoni Social Cinema include:
Saw -- the 2004 independent film that blends drama with gore for a titillating and terrifying story
Blair Witch Project -- the 90's student filmmaker production lets you experience the raw horror of being lost in the woods amongst the unknown
The Orphan Killer -- a gruesome tale of torture that showcases the suffering genre of horror
Red Riding Hood -- a haunting take on the Brothers Grimm classic, this film is a medieval creep-fest full of deception and suspense
Cube -- a paranoia drama involving a maze, seven strangers, and deadly traps along the way
Leprechaun -- one of Jennifer Aniston's first roles was in this creepy tale of Irish folklore gone wrong, full of edge-of-your-seat drama
The Dark Knight -- the action-packed instant classic features Heath Ledger in his legendary role as the creepiest Joker of them all
All these titles are available to rent now for 30-40 Facebook Credits.
"With a wide array of horror titles and the exclusive Facebook launch of The Perfect House, Milyoni will get you just the right amount of fright this Halloween," adds Dean Alms, VP of marketing for Milyoni.
Milyoni's Social Cinema technology allows Facebook fans to watch movies with a shared and interactive experience. Viewers can add comments to specific moments, share a clip with a friend, or watch together with a group. Sharing capabilities make it easy for fans to tell friends what they're watching and invite them to join in, creating a shared viewing experience for all. Discounts are also available to share -- a group of up to 5 friends can watch the same film from different places for a reduced rate. Fans can also keep it private and scare their socks off solo by watching the creepy movies from their own page without broadcasting.
Scary movies aren't the only entertainment brought to Facebook users through Milyoni. Milyoni's Social Cinema technology brings a shared viewing experience to hundreds of movies from Warner Bros, Universal Pictures, Lionsgate and independent studios directly on Facebook. Milyoni also brings live concerts to Facebook through Social Live, with the first live concert experience on Facebook, featuring American rock band Widespread Panic, attracting over 2,000 viewers in 19 countries in June.
About Milyoni
Based in the San Francisco Bay Area, Milyoni, Inc. is the leader in F-commerce. The company's technology provides entertainment and lifestyle companies with a way to connect and engage with Facebook fans, and turn them into customers. Whether it's watching a live concert, movie or sporting event or shopping your favorite brands, Milyoni enables companies to monetize fans pages through a unique level of engagement and a shared, social experience. Milyoni's services reach over 100 million fans from industry leading customers, including Warner Bros, Universal Pictures, Lionsgate, Ridgeline Entertainment, Austin City Limits Live, Turner Broadcasting, University of Oklahoma and The NBA to bring a variety of digital content and physical goods to fans on Facebook. For more information, visit www.milyoni.com.
Facebook® is a registered trademark of Facebook Inc.
Add to Digg Bookmark with del.icio.us Add to Newsvine
PR Contact:
Sylvie Tongco
for Milyoni
Email Contact
415-593-1400


Copyright @ Marketwire
Page: 1
Related Keywords:
Halloween, movies on Facebook, streaming movies, Social Cinema, scary movies, The Perfect House, Broadcast, Streaming, Digital, Camera/Film, Broadcast Technology, Internet Media, Marketwire, Inc., , Film, Lifestyle, Entertainment, Other,
---