MetalStorm: Online Brings Unprecedented Aerial Combat to the IOS Platform
(May 12, 2011)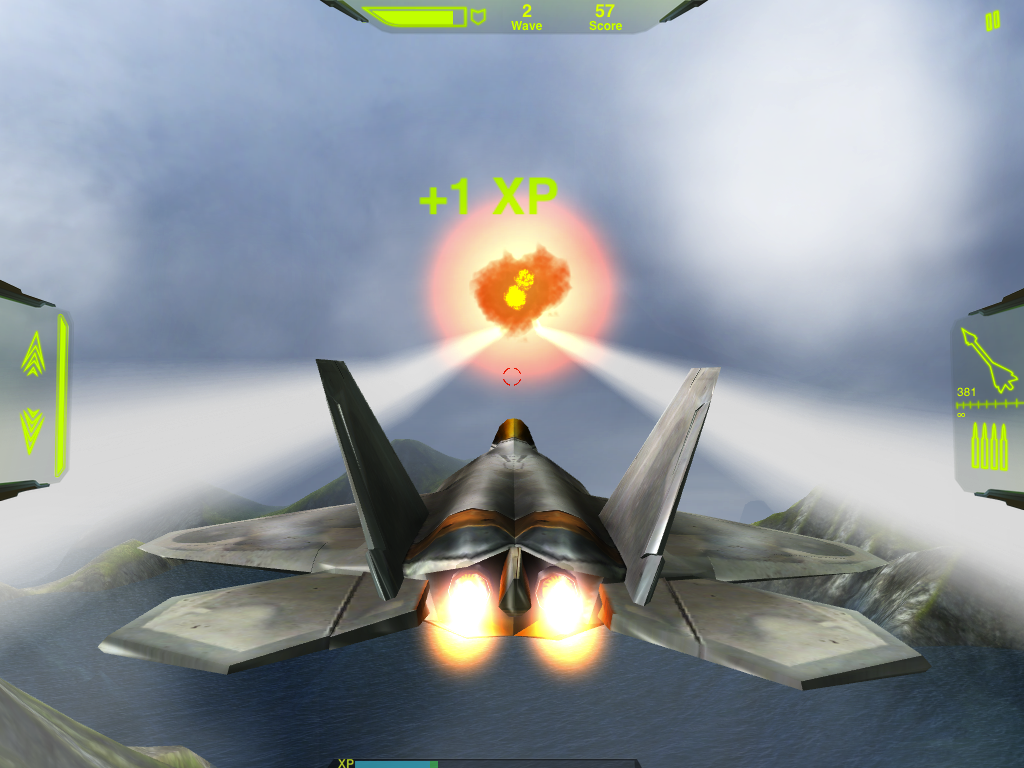 Seattle, WA (PRWEB) May 12, 2011
Rule the skies with todays launch of MetalStorm: Online for iPhone®, iPad® and iPod Touch®. Released by Z2Live, the company behind the wildly popular iOS game Trade Nations, MetalStorm: Online is a free-to-play, action-packed modern air combat game that allows players to compete in real-time multiplayer battles over 3G and WiFi. MetalStorm: Online features next-gen 3D graphics with Retina display support to deliver an eye-popping experience in a 360-degree aerial battlefield.
To get into the fight, players select one of a dozen unique aircraft and then customize them with a full arsenal of advanced weapons, such as the Aim-9 Sidewinder missile or 20mm Vulcan machine gun. Leveraging the accelerometer and on-screen controls, MetalStorm: Online is easy to master and players are able to perform advanced maneuvers, such as the classic Cobra, by swiping the screen.
Utilizing Apples Game Center, combatants can challenge other pilots, or join with friends to take on an endless number of waves in Co-Op mode. Pilots compete on three different leader boards in more than six levels of expertise. Fighter jocks can leverage over 60 customizations of their aircraft to suit their play style; employing a calculated defensive, agility or weapons strategy to defeat their foes, and collect dozens of Game Center achievements along the way. MetalStorm: Onlines in-game voice chat system makes it easy to talk with other players and coordinate attacks.
MetalStorm: Online is not only a great new freemium experience from Z2Live, but it supports iOS HDMI-out for an amazing experience in the living room, as well as play on-the-go said Lou Fasulo, Z2Live Chief Operating Officer.
About Z2Live
Z2Live is bringing the next generation of free-to-play, Massively Multiplayer Online Games (MMOG) to mobile devices. Trade Nations, the companys first title launched in late 2010 for iOS devices, has already grown to be one of the largest social MMOGs on mobile and has set the standard for financial performance. The Seattle-based company is backed by Madrona Venture Group and Draper Fisher Jurvetson. Find out more at http://www.z2live.com.
iPad, iPhone, iPod Touch and Apple Game Center are trademarks or registered trademarks of Apple Computer Inc.
# # #
Read the full story at http://www.prweb.com/releases/2011/5/prweb8420168.htm.
Page: 1
Related Keywords:
computing and information technology,satellite technology,wireless technology,science and technology,technology (general),identification technology,agricultural research and technology,Commonwealth Games,Winter Goodwill Games,Summer Asian Games,Winter Asian Games,Panamerican Games,African Games,Mediterranean Games,SouthEast Asiatic Games,PanPacific Games,SouthPacific Games,PanArabic Games,Summer Goodwill Games,World games,paralympic games,computer crime,arts, culture and entertainment,entertainment (general),entertainment award,computer crime,Commonwealth Games,Winter Goodwill Games,
---