MashON Launches Dabble, "The Cure for the Common Shop," at Demo Fall 2011
The First Supply Chain Solution for On-Demand Product Customization and Personalization Seamlessly Integrated With Leading eCommerce Shopping Carts
(September 12, 2011)

SANTA CLARA, CA -- (Marketwire) -- 09/13/11 -- MashON, Inc., a leading provider of web-based product personalization technology and fulfillment services, today launched its new flagship product Dabble at DEMO Fall 2011. Dabble is an HTML5 patent-pending embeddable web application that provides a comprehensive product personalization and customization platform and "on-demand" manufacturing solution for shop owners operating on the leading eCommerce platforms. Dabble's Cart Adaptor technology, Fulfillment Adaptor, Product Customization Tool, and Self-Service Administration Dashboard work together to provide "The Cure for the Common Shop."
Until now, shop owners were limited to complex home-grown customization tools that have been time consuming and costly to develop and maintain; or to sending their hard-earned traffic to third-party, off-site product aggregators for manufacturing and fulfillment, relinquishing control of both their transactions and brand assets. Dabble's free tool is a full supply chain solution designed for online shop owners of all sizes, available immediately on all Magento-powered shops, with adaptors for Yahoo, Shopify, Demandware and many more coming soon. Once embedded into a shop, the Dabble Cart Adaptor facilitates seamless, two-way communication between the shop's product catalog, the shopping cart, and the order processor.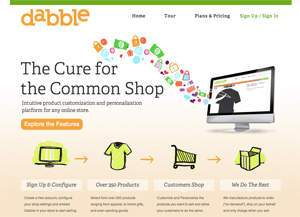 Dabble offers shop owners complete control of the product customization process -- from asset management to product selection, design and manufacturing all the way through to fulfillment. They'll find Dabble allows them to expand their merchandise mix -- risk-free -- simply by choosing from more than 350 current products available in its catalogue, while simultaneously eliminating the burdens of inventory and fulfillment -- all in a timely and cost-effective manner. Shoppers will experience endless product combinations that are never sold out, lower shipping and handling fees, pride of creation, and increased purchasing confidence with a single, secure checkout.
"Mass product customizations and user-generated product creation is one of the hottest and fastest growing trends in eCommerce. Online store owners want to take advantage of that trend, and maximize their profits just as worldwide brands like Nike have been doing so successfully, but there hasn't been a flexible, intuitive tool available to meet the rigors of real world on-demand manufacturing," says Philippe Benoleil, President & CEO of MashON. "As of today, Dabble can provide a simple turn-key solution to online shops eCommerce of all sizes."
"We're pleased to include Dabble in DEMO's Fall 2011 class of new product launches," says Matt Marshall, executive producer, DEMO. "We think this is a killer app for online store owners and operators, manufacturers, and eCommerce platform developers. It's flexible and simple for the shop owner and customer, and we look forward to seeing it gain real traction in the marketplace."
Dabble Key Features
Cart Adaptor: Integrates and embeds seamlessly into existing stores on Magento, Yahoo, Shopify and Demandware.*
Product Customization Tool: HTML5 web application, allows shoppers to customize from a growing catalogue of over 350 diverse product combinations. Accessible from any device (PC, Mac, Mobile, or Tablet). Cutting edge product customization and fulfillment platform.
Fulfillment Adaptor: Integrated, built-to-order manufacturing ("on-demand"), fulfillment and shipment aggregation using the latest digital on-demand manufacturing techniques without the costly burden of maintaining inventory.
Self-Service Administration Dashboard: Configure to select products, preferences, and Dabble features.
No development, no upfront cost, instantly available.
*Additional Cart Adaptors available soon.
Shop Owner Benefits
Intuitive integration into an existing eCommerce shop.
Painless configuration using the Dabble Administration Dashboard.
Immediately customize and personalize over 350 different products.
Manufactured-to-order products (on-demand).
Eliminate inventory risk and burden of fulfillment (manufacturing, warehousing, and shipping).
Maintains traffic at store and improves sales conversions. Owner retains complete transaction control.
Protects brand assets and designs, while allowing visitors to customize products.
Positive cash-flow: Shop owner pays wholesale price for the product and shipping only after transaction is completed.
Forrester Research reported that U.S. online sales are targeted to reach $279BN by 2015, and more than 35% of U.S. online consumers are already interested in customizing products or in purchasing build-to-order products (Forrester Research: Feb. & Apr. 2011). Dabble enables anyone with a "common shop" to take advantage of this exponentially growing sector of eCommerce.
About Dabble
Dabble (www.justdabble.com) is the first comprehensive product customization and personalization supply chain solution, providing eCommerce stores of all sizes with the ability to generate on-demand customized and personalized product selection, while eliminating inventory risk, and managing the entire purchase cycle through a simple intuitive dashboard. Dabble's embedded cart adaptor is available immediately for all Magento-built stores, with Yahoo, Shopify, and Demandware coming soon. All products are proudly manufactured in the U.S. Visit the website to learn more about embedding Dabble in your ecommerce cart. Please join the conversation on Dabble's Facebook page and Twitter.
About MashON
MashON, Inc. (www.mashon.com) is a leading provider of web-based creative, promotional applications and turnkey ecommerce solutions for premium entertainment properties such as MGM Studios, The Jim Henson Company, Penguin Publishing and Blip Toys. Leveraging its patented product customization and on-demand manufacturing platform, MashON redefined online shopping for branded merchandise by combining traditional licensed products with user created merchandise under a single cohesive, branded and entertaining web store, providing a deeply immersive and consolidated shopping experience.
About DEMO
Produced by the IDG Enterprise events group, the worldwide DEMO conferences focus on emerging technologies and new product innovations, which are from across the spectrum of the technology marketplace. The DEMO conferences have earned their reputation for consistently identifying cutting-edge technologies and helping entrepreneurs secure venture funding and establish critical business. For more information on the DEMO conferences, visit http://www.demo.com.
Image Available: http://www2.marketwire.com/mw/frame_mw?attachid=1727850

Add to Digg Bookmark with del.icio.us Add to Newsvine
Contact:
Karyn Cooks
[email protected]
213-399-3544


Copyright @ Marketwire
Page: 1
Related Keywords:
product customization, product personalization, eCommerce, shopping cart adaptor, magento, estore , Mac,OS9,OSX,USA,Marketwire, Inc.,Shipping,Internet Technology,Business,Entertainment,
---